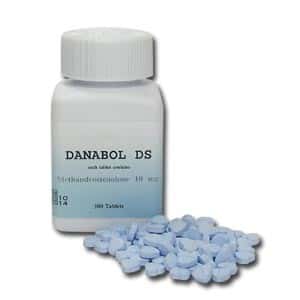 I'm here to cut through the noise and get you the bottom line on Danabol. We took the time to dig deep and write a comprehensive review, looking closely at the side effects, ingredients, clinical research and overall customer service. Plus we read hundreds of user comments and remarks from all over the web. Finally, we summed up all of the information we collected to give you the crucial facts and details you need.
EDITOR'S TIP:
Click here
to substitute Danabol with a proven testosterone booster such as Pronabolin for better results.
What is Danabol?
Firstly, Danabol is an anabolic steroid. Ingredients simply include Methandienone, which is also called 17α-methyl-1-dehydrotestosterone. It is also sold under names like Metanabol, Averbol, Naposim or Vetanabol. It's basically supposed to boost natural testosterone levels, improve muscle size and increase overall strength. This product is available in pill form, and is mainly for men who're trying to bulk up and add lean muscle mass.
From what we gathered, Danabol has been around for many years. The original Methandienone formula actually dates back to the 1960s. It was developed in Germany. It generally requires a prescription. However, you may not need one in countries like Mexico, but read on…
Side Effects – "Is It Safe?"
The first issue we have is with Danabol side effects. "This anabolic steroid can lead to adverse reactions such as severe acne, hair loss, kidney problems, high blood pressure, heart disease, irritability and aggressiveness," reported our Research Editor.
One user stated, "Danabol caused me to lose some hair. Not good. I also get serious acne from this, on my back and face. Not worth it."
But, a different person had this to say, "This stuff is effective. It does cause some acne and irritability, but I think it works."
Another revealed, "Started taking Danabol a few weeks back. I definitely see the difference."
Scroll below for one of the best products we've seen over the last year.
Discouraging User Reviews – "Not A God Sign"
Another concern is discouraging user reviews. For instance, one person posted, "This steroid has too many drawbacks for me. It's just not worth the headache. I will look into alternatives."
However, a different user said, "Pretty solid results overall. I can see the muscle gains. Makes me a bit agitated, but I can deal."
"I've tried a few like this. Danabol is pretty decent. However, injections work better for me," mentioned another.
The intensive research we've conducted has shown if there's a specific aspect of a testosterone booster or fitness supplement that is very concerning or bothersome (side effects, discouraging user reviews, high cost) the chances of long-term success are pretty slim. So, if Danabol does in fact cause serious adverse reactions in a lot of people, this could be a deal breaker.
The Science – "Is It Solid?"
There is some clinical research that supports Danabol. In short, this steroid can possibly help boost testosterone levels and increase muscle mass and strength. On the other hand, it is unlikely worth the serious adverse effects it can cause. We at DietSpotlight prefer to see products that are both effective and safe.
The Bottom Line – Does Danabol Work?
Okay, now the moment you've been waiting for. Here is our bottom line on Danabol. To start, we like that this product has been around for many years. We also appreciate that some helpful user feedback is posted on the web. Then again, we have some reservations about this formula because it can lead to serious adverse effects. Not to mention, we're concerned about the discouraging user comments we found online.
If you really want to boost testosterone levels, build lean muscle mass and improve overall strength, then we encourage you to select a product that does not cause any serious adverse effects, is easy to obtain online and is supported by encouraging user feedback.
Among the best products we've seen in 2016 is one called Pronabolin. It is packed with nine key ingredients, which have demonstrated in clinical studies to help elevate testosterone levels, improve overall muscle strength and boost vitality. We have not discovered any discouraging customer comments, and user reviews on the web show people are seeing good results.
The makers of Pronabolin are so excited about their product they're offering every customer a 120-day money-back guarantee and multiple-bottle discount.