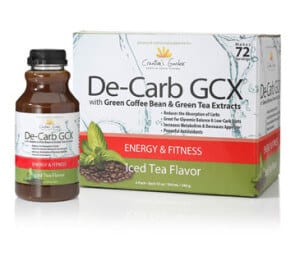 Diet products either work or they don't. Period. Let's find out which one De Carb GCX is. We took the time to create a detailed review, examining the ingredients, side effects, customer service and scientific research. We also focused on hundreds of user comments and responses from around the web. Finally, we compressed all the data we found in order to give you the bottom line.
EDITOR'S TIP:
Click here
to combine De-Carb GCX with a proven fat burner such as Leptigen for better results.
What is De Carb GCX?
First off, De Carb GCX is a liquid supplement for weight-loss. According to the bottle, this product helps reduce the absorption of carbohydrates, provides antioxidant protection against free radicals, increases metabolism, reduces appetite and promotes energy and fitness. You simply combine one ounce of this concentrate with 8-12 ounces of water and then drink (twice a day) 20 minutes before meals. The ingredients found in De Carb GCX are Green Coffee Bean Extract, Lemon Flavor, Filtered Water, Tea Extract, Citric Acid, Iced Tea Flavor, Green Tea Extract, Potassium Sorbate and Sucralose.
De Carb GCX is made by Creation's Garden, and it has been around since at least 2013. This weight-loss beverage is available online. This product is also available in a powder (packet formula) as well. It contains some natural ingredients and it's fine for all body types, but read on…
Unpleasant Taste – "Can You Handle It?"
The taste of De Carb GCX ingredients was our first concern. According to our Research Editor, "There are numerous customer complaints regarding the actual flavor, which is certainly a major concern."
"It does not taste very good and I had loose stools both times I tried it," said one user.
Another commented, "Tasted nasty and made my fiancée and me angry. Steer clear!"
Scroll below for one of the best products we've seen over the last year.
Too Many Customer Complaints!
There are quite a few customer complaints for De Carb GCX, posted online. One person stated, "My cousin and I split a 6 month supply; we have been taking it for 3 weeks with no results. We were told to keep eating like we normally eat and we should see results; NOTHING. I still crave sweets and it doesn't curb my appetite. DISAPPOINTED!"
"Not losing but gaining weight, very disappointed," revealed another customer.
According to our research, if there is some specific facet of a diet pill or weight-loss product that is especially burdensome (unpleasant taste, customer complaints, poor BBB rating) the odds of long-term success are not good. Therefore if De Carb GCX does in fact result in a high volume of problems, this could be a serious dilemma.
Any Real Science?
There is some science provided on the official website regarding Green Tea and Green Coffee Bean, two ingredients found in De Carb GCX. While we do appreciate this, unfortunately the actual amount used in this product is not revealed. Therefore it could be a very minimal, which would make the product ineffective for weight-loss. We at DietSpotlight need to see some solid evidence that the product works as claimed and we didn't find that this time.
The Bottom Line – Does De Carb GCX Work?
So, should you buy De Carb GCX? Well, we appreciate that De Carb GCX contains some natural ingredients and it's easy to purchase online. Some people will also like that this is a drink and not a pill. However, we have some concerns about this weight-loss beverage because it's not really backed by any solid science. Also, we're unsure about the taste because many customers have complained about it.
If you'd like to get rid of more pounds of fat, then we advise you to select a product that is backed by real scientific testing, does not have an unpleasant taste and is supported by all sorts of encouraging user reviews.
Among the best products we've seen in 2016 is one called Leptigen. Its formula is a unique combination of four powerful ingredients, which have been shown in published scientific tests to help kick-start metabolism and improve fat loss. Also, we can't find many negative comments about side effects and user feedback on the web shows people are seeing excellent results.
The makers of Leptigen are so positive about their product they're offering a Special Trial Offer, which is uncommon.