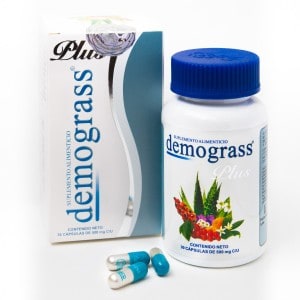 We've heard a lot of buzz concerning Demograss weight loss capsules, so we spent some time researching and writing a detailed review, examining the side effects, ingredients, scientific research and customer-service quality. Moreover, we sorted through countless dieter responses and user reviews from around the web. Finally, we compressed all of the data and feedback we found to give you the important info you need.
EDITOR'S TIP:
Substitute Demograss with a proven fat burner such as
Leptigen
for better results.
What You Need To Know
Demograss is a Mexican weight loss supplement that is available online. This product is claimed to help you lose weight naturally. More specifically, this product helps reduce appetite, burn off fat, clean the kidneys and minimize constipation. Demograss contains the following ingredients; White Tea Leaf, Red Tea Seed, Dandelion Stem, Yarrow Stem, Water Plantain Seed, Aloe Vera, Guarana Fruit, Horehound Stem, Tlanchalagua Leaf, Bromelina, Orange Leaf, Zarzaparrilla Leaf, Flax Seed, Cocolmeca Leaf, Milenrama Stem, Prickly Pear Cactus and Alisma Root. In order to use this diet aid, you need to take one capsule each day after breakfast (with juice).
It looks like Demograss has been available since 2011. It sells via the official website for $26 (30 capsules). This supplement is claimed to help you drop 4-15 pounds each month and only natural ingredients are used, but read on…
Adverse Effects –Watch Out!
According to our Research Editor, "The official website states that Demograss can lead to adverse effects such as constipation, dizziness, nausea, loose stool, sleeplessness and even vomiting. This is not something dieters should take lightly."
One customer complained, "Just another weight loss scam product that does absolutely nothing but give you extreme stomach cramps and diarrhea."
"I had muscle spasms and was not able to stand. My eyes bulged so bad, PEOPLE it's not worth it," said another user.
Scroll below for one of the best products we've seen in 2015.
User Complaints – Not a Good Sign
There are several customer complaints posted online for Demograss capsules. One dieter commented, "No good for me, gave me diarrhea for a whole week and muscle aches, didn't feel good, I got all side effects of this product."
Another user stated, "After taking a pill a day for a couple of days I started feeling bloated, constant headaches, tired, and constipated (in which my bowel movement was fine before taking these pills)."
Our extensive research has shown if there is an individual facet of a weight loss product or diet system that is quite problematic (too many user complaints, side effects, a really high price) the likelihood of prolonged fat loss success is very low. So, if Demograss capsules do lead to a high number of customer complaints and adverse effects, this could be a major problem.
The Science
After reviewing the official website for Demograss, we concluded that there is no clinical research that supports this weight loss supplement. We took a close look at the ingredients used and it's clear that Demograss is not backed by any real science. Since we at DietSpotlight need to see clinical studies that support the diet product, we cannot recommend this supplement for weight reduction.
The Bottom Line
It's good to see that Demograss capsules contain natural plant extracts, but there are clearly a lot of customer complaints regarding this supplement. This is especially true about adverse effects, which is a red flag. Since Demograss is not backed by any solid clinical studies, we do not encourage you to use this diet product. The reality is there are safe weight loss supplements available that really work.
Dieters who wish to slim down and get rid of excess body fat, we advise you to select a diet supplement that uses clinically proven weight loss ingredients, does not lead to harmful side effects and comes with great customer service.
One of the top-rated weight loss products we've spotted in 2015 is Leptigen. It uses a unique blend of four proven ingredients, which have been shown in documented scientific research to help speed up fat loss and ignite metabolism. Also, we can't locate any talk of negative side effects and customer reviews around the web express people are seeing solid results.
Also, the makers of Leptigen are so confident in their product they're offering a Special Trial Offer, which is a good sign.