Updated: 09/29/2015 - Sponsored by Leptigen
Dexatrim Max Complex 7 Review - Does This Diet Supplement System Work?
Are side effects and lack of weight loss deal breakers?
PUBLISHED: 09/19/2015 | BY: SUMMER BANKS, SENIOR REVIEWER
Editor
's Review:
3.5
/ 5.0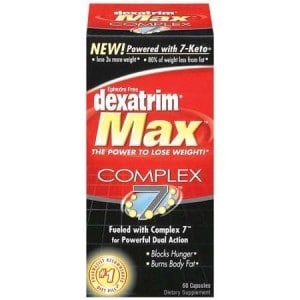 There's been a lot of discussion about Dexatrim Max Complex 7 lately in online forums and among weight loss experts, so we took an in-depth look at what people are saying about this product. We looked at the ingredients, online reviews and comments, harmful side effects, and any scientific or clinical data that was readily available online. This review is the condensed summary of what we found.
EDITOR'S TIP:
Substitute Dexatrim Max Complex 7 with a proven fat burner such as
Leptigen
for better results.
What You Need to Know
Dexatrim Max Complex 7 is a weight loss supplement designed to help the user burn fat, block hunger, and ultimately lose weight. The main ingredients are Thiamin, Riboflavin, Niacinamide, Caffeine, Ginseng, and a proprietary herbal blend. The recommended dosage is twice per day, on an empty stomach, with water, before a meal. Because these capsules are portable, Dexatrim Max Complex 7 is convenient to take with you on the go.
The company behind this product has been around for over 30 years, and has a bit of a history. The ingredients that it originally used in the 80s were later found to be harmful. They then switched to ephedra, which is now banned by the FDA. The current iteration of this product has not been approved by the FDA. There was a lot to like in our research about Dexatrim Max Complex 7. The company has been around for over 30 years, which is encouraging, the cost is affordable, even for those on a budget, and the product is readily available online and in stores, but read on…
Harmful Side Effects – Nausea, Heart Palpitations, and Jitters
One of our primary concerns at DietSpotlight is our readers' health and well-being. Because of that, we always look at the negative side effects associated with a product. "The stimulants, appetite suppressors, and weight loss ingredients combine to form a potentially harmful cocktail," said our research editor. "This supplement has the ability to cause heart palpitations, headaches, dehydration, stomach ulcers, and nausea if not taken properly or if you are easily affected by diet supplements." Many users' experiences echoed the comments from our research editor.
"My first month went fine and I lost a pound, but after the first month, I started experiencing heart palpitations from and caffeine addiction," said one user.
"Taking this on an empty stomach made me feel like my stomach was eating itself," said another; "I was constantly nauseated and dizzy, which eventually suppressed my appetite enough to lose a few pounds."
Scroll below for one of the best products we've seen in 2015.
Lack of Weight Loss – Another Concern
Something else that we look for in a product is whether or not it actually helps lose weight. Unfortunately many people that have used Dexatrim Max Complex 7 have been disappointed in their overall weight loss. The capsules are designed to be a part of a balanced lifestyle, with healthy eating and regular exercise an important supplement, and many reviews online mentioned that they're not sure if the pills are doing any additional good for them. "I started Dexatrim Max a month ago, and I'm down 5 pounds, but I've also taken up running, spin class, and have started counting calories, so I'm not sure how much these pills are actually helping," said one customer online.
"I haven't lost a single pound, and I'm always hungry," said another. Many online reviews were similar, claiming that they either hadn't lost weight, or that they lost weight only when exercising more than they were used to and eating less.
We've studied weight loss for years, and our research has shown that any negative aspects of a diet program (side effects, disappointing results, cost, difficulty, etc.) reduce the likelihood of long term success and keeping the weight off for good. If Dexatrim Max Complex 7 really does have the negative side effects that people mentioned, and is as ineffective as it sounds, this could be an issue for those using this product to try to maintain long term weight loss.
If you do want to try this supplement, we recommend you follow one reviewers advice: "I lost 7 pounds in 8 weeks with this product, but you have to work for it. I started exercising and limited my caloric intake to 1800 calories per day and saw gradual, consistent weight loss."
The Science
Dexatrim Max Complex 7 does have some ingredients that are proven to block hunger and help weight loss, but because they have a proprietary blend, it's impossible to find out if the correct amounts are in each dose. There are also no scientific studies proving that this specific product helps weight loss more than diet and exercise alone. The product claims to triple your weight loss, with 80% of weight loss coming from the body's fat stores, but there's no science backing these claims. Most reviewers that had significant weight loss also exercised and ate healthy, so most of their weight loss could be attributed to a healthier lifestyle. At DietSpotlight, we like to see the science behind a product in order to be sure that our readers' money is well spend, so we only recommend products with scientific research proving their claims.
The Bottom Line
The longevity of Dexatrim Max Complex 7 made this an intriguing review, but the lack of scientific data or clinical studies backing up their weight loss claims means that we can't recommend this product to our readers. We're also concerned with the company's history of using harmful ingredients and the fact that the current version of Dexatrim Max is not FDA approved. The side effects that many reviews mention and the lack of results create one too many red flags for this to be a product that we endorse.
If you'd like to shed weight, we recommend you find a product with ingredients that don't cause harmful side effects, and that has weight loss claims that are backed up by scientific research and clinical studies. We also suggest that you find a product that does not have a history of using harmful ingredients, and changing them only when they are banned by the FDA.
Leptigen offers safe ingredients, has plenty of scientific information and even a clinical trial that proves its claims, and it's one of our favorite products so far in 2015. It contains a proprietary blend of four ingredients that boost weight loss by burning fat and boosting metabolism. We also haven't been able to find any users claiming that they experienced negative side effects, and people have seen significant results using Leptigen.
At DietSpotlight, we love when a company is confident enough to back their product, so naturally we like that the makers of Leptigen are currently offering a special trial offer.