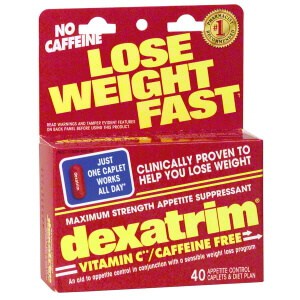 Because it's available over the counter, Dexatrim has become a go-to product for weight loss. With its increasing popularity, we decided to do one of our in-depth reviews, looking at the ingredients, harmful health concerns, clinical studies, effectiveness, and customer experiences of this product. We read reviews online from actual users and compiled what we found in our summarized review to help you make a decision.
EDITOR'S TIP:
Substitute Dexatrim with a proven fat burner such as
Leptigen
for better results.
What You Need to Know
Dexatrim is a weight loss supplement that claims to block hunger, burn fat, and help you lose weight. It contains caffeine, green tea extract, ginseng root extract, and DHEA. The supplement comes in capsule form, making this an easy supplement to take, even for those with busy lifestyles.
Dexatrim has been around since the 1990s, and it is made by a variety of manufacturers. Because any supplement manufacturer can make its own version of this product and because there are no proprietary ingredients, the formula varies from company to company; however, the general combination is stimulants, green tea extract, and a few filler ingredients. Dexatrim has been around for over 25 years, which is a good sign. It's an affordable weight loss product, and it uses minimal ingredients, but read on…
Efficacy–"No Better than a Placebo"
The ingredients in Dexatrim have some proven benefits, but we were concerned with the quantities of the ingredients in this supplement. "While the ingredients can be helpful, in the quantities listed, the caffeine is no better than a placebo," said our research editor. "In fact, studies dating as far back as 1992 have proven that Dexatrim's main benefit is psychological."
"I'm naturally a skeptic, so when I tried this for 2 months, and didn't lose a single pound, I wasn't surprised," said one Dexatrim user.
"I'm not sure about other reviews, but this did nothing for me," said another.
Scroll below for one of the best products we've seen over the last year.
Harmful Side Effects–Long-Term Health Concerns
Something else that we noticed as a recurring complaint in online reviews was the side effects associated with Dexatrim. Taking this supplement over an extended period of time can lead to hair loss, a deeper voice, upset stomach, high blood pressure, insomnia, and more. These side effects stem from the usage of ginseng root and DHEA in Dexatrim's formula. "I started Dexatrim last week, but the only weight I've lost is because I've had constant bowel issues," said one customer.
"This may work, but I can't put up with the sleepless nights and restlessness to find out," said another. Many customers agreed with these comments with users seeing health issues ranging from slightly upset stomach to excess hair growth in women. As in any case, please consult your doctor prior to taking this supplement to make sure that the ingredients are safe for your consumption.
In our years researching diet supplements, we've learned that when there is something particularly troublesome about a weight loss program or supplement (difficult workout program, harmful side effects, slow results, bad taste, etc.), the likelihood of sustained weight loss is rare. If Dexatrim really does cause these harmful side effects, it could cause issues for those using it to lose weight and keep it off.
If you are set on trying Dexatrim, we recommend you start slowly, watch for harmful side effects, and stop taking it immediately if you see any of the noted side effects.
The Science
Regarding the main four ingredients in this supplement, there is plenty of research; unfortunately, that's not good news for Dexatrim. The caffeine ranges from 50-200 mg per serving, and studies have shown that 200 mg of caffeine is no better than a placebo when used for weight loss. The green tea extract has no sufficient data proving its efficacy in weight loss, and the ginseng root is used without FDA approval; also, scientific research does not support its claims. Finally, the DHEA is a hormone that can create severe side effects, and it has no known benefits for weight loss. It is also banned by many sports organizations, including the NCAA. When we see a product without science, we're skeptical; but when the science shoots down a product's claims, we see immediate red flags.
The Bottom Line
We were intrigued with a product that was readily available over the counter, had a few positive reviews online, and was an affordable solution for weight loss; however, with the scientific evidence stacked against it, we can't recommend Dexatrim as a weight loss supplement for our readers. We're concerned about its effectiveness versus a placebo, the harmful side effects associated with it, and the long-term risks that the ingredients pose.
If you're looking for a product that offers affordable weight loss, we suggest a product that has claims backed up by published research.
One of our favorite products so far in 2015 is a product called Leptigen. Leptigen offers a proprietary blend of just four ingredients that are all proven to help you lose weight by accelerating fat loss and boosting your metabolism. We've looked online and found that Leptigen's ingredients have been featured in published studies and have outperformed placebos. We've also looked in online reviews, and we can't find any mention of harmful side effects associated with Leptigen.
To top it off, the makers of Leptigen are so confident you'll love their product that they're offering a special trial offer.