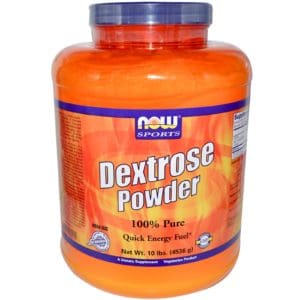 This review is what happened after I obsessed for weeks over Dextrose. We really took the time to dig deep and conduct a thorough investigation, scrutinizing the ingredients, side effects, scientific studies and level of customer service. We additionally read all sorts of user comments and feedback from all over the internet. Lastly, we compressed all of the facts and specifics we found to give you the info you really need.
What is Dextrose?
First of all, Dextrose is a sweetener with no ingredients to worry about. It is a simple form of glucose that comes from starches. It's found in countless processed foods, desserts, diet supplements, protein shakes and baking products. This substance is sometimes referred to as d-glucose. It is often derived from corn. Furthermore, it is basically identical to blood sugar. This sweetener is sometimes used to treat low blood sugar levels (hypoglycemia). It can cause fast blood glucose spikes. This helps boost energy. Some weight lifters use this ingredient to improve workout performance.
Many of the packaged foods you encounter contain Dextrose. This sweetener is 20 percent less potent/sweet than sucrose. It has been used for years in energy drinks, canned foods, candy products and sauces. This ingredient can also be used to help with packing on some pounds, but read on…
Weight Gain – "Something To Consider?"
One concern we have is weight gain. "Since this substance is a form of glucose, it can certainly cause Dextrose side effects like insulin spikes. This in turn can cause your body to store more fat. Unfortunately this may increase your body weight," says our Research Editor.
Some studies have shown that, "Dextrose has a high glycemic index. Therefore this substance raises blood sugar levels quickly."
On the other hand, Med Health Daily states that, "Dextrose is a good source of energy and can be beneficial during workouts."
Also, WebMD says, "Dextrose, a type of sugar, could kick athletes' sports performance up a notch, new research shows."
Scroll below for one of the best products we've seen over the last year.
GMOs – "Another Concern"
Another issue is GMOs. For instance, according to livestrong.com, "Most dextrose is made from genetically modified (GMO) corn, using GMO enzymes." This may not be very beneficial to overall health and wellness.
However, one dieter revealed that, "You can buy organic forms of dextrose. You just have to shop around a bit."
Another person stated, "Found a non-GMO Dextrose product on Amazon. It's made by Now Foods."
According to our research, if there is some particular part of a diet ingredient or weight management product that is very burdensome (weight gain, GMOs, side effects) the odds of long-term success are not very promising. Therefore if Dextrose does in fact lead to weight gain in a lot of people, this could be a serious dilemma.
The Science – "Any Presented?"
There have been plenty of studies done with Dextrose. For instance, it has been shown that this sweetener can help with health conditions like hypoglycemia. On the other hand, some research has also revealed that this ingredient can cause weight gain. Especially if too much is consumed in prepackaged foods and supplements.
The Bottom Line – Does Dextrose Work?
So, should you run out and buy diet foods and supplements containing Dextrose? Well, we like that this sweetener can help boost energy levels for workouts. We also appreciate that it's made from natural sources like corn. Then again, we have some reservations about this ingredient because it is mostly manufactured from corn that contains GMOs, which is unhealthy. Also, we're concerned about the weight gain it can cause.
If you're really trying to get rid of some pounds, then we encourage you to find a product that does not cause any weight gain, is backed by solid clinical research and gives you plenty of bang for your buck.
Among the best products we've seen in 2016 is one called Leptigen. This supplement uses four potent ingredients, which have demonstrated in published clinical research to help kick-start metabolism and improve fat loss. We have not found any negative user remarks, and comments on the web reveal people are seeing wonderful results.
The makers of Leptigen are so certain of their product they're offering a Special Trial Offer, which is a good sign.