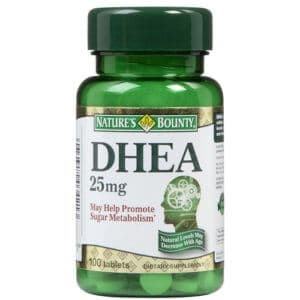 I paused before I hit the "publish" button on this one, because my conclusion was a bit of a shocker. We believed DHEA deserved a closer look, so we focused on all aspects of the hormone, side effects and clinical research. Additionally, we examined hundreds of user comments and reviews. Then, we condensed and summarized to give you the info you need.
EDITOR'S TIP:
Click here
to combine DHEA with a proven testosterone booster such as Pronabolin for better results.
What is DHEA?
First off, when used in nutritional products, DHEA ingredients include dehydroepiandrosterone 50mg, cellulose, vitamins and minerals, among others. The chemical promotes athletic performance, increases libido and helps muscle-building by serving as a precursor to androgen and estrogen; hormones that control gender-specific characteristics. The recommended serving, based on supplement manufacturer, is about one to two capsules per day.
DHEA is made naturally in the body and is found in foods like soy and wild yam. Studies show that dehydroepiandrosterone levels won't increase simply by eating either food. Supplements containing this ingredient are readily available and are relatively inexpensive. We like that it's found naturally and that customers shared their positive experiences, but read on…
Side Effects – "Not What You Expected?"
The first concern centered on DHEA side effects not being as positive as claimed. "There's scientific evidence showing it plays a critical role in counteracting the signs of aging," said our Research Editor. "While supporting the benefits, the same studies showed that using this could lead to adverse reactions."
"My blood pressure skyrocketed. Lowered dose to 12.5mg/day…still high BP. Stopped taking," commented a customer.
"Side effects included headaches, anxiousness and nervousness, sleeplessness, problems with bowl movements," said another.
Although some users shared negative experiences while using DHEA, we found that this type of reaction isn't always the case. "The first time i took it, about 45mins later i felt it. It was just like something kicked inside me! The next 2 days, stress was gone, muscle fatigue minimized, my appetite was back to normal," stated a user.
Scroll below for one of the best products we've seen over the last year.
Ineffectiveness – "Any Results?"
After examining hundreds of user comments about DHEA, we found that several complained about it not producing results. "Both times I took DHEA, I had to suspend the treatment after just a few days because on two separate occasions it was supposed to help with depression and it just made it once," said a user.
"I've been taking DHEA 50mg for two months and there were no positive results of taking DHEA," stated a consumer.
On the other hand, we found that some users noticed solid results while using DHEA. "With DHEA my libido came back to life," said a customer.
"Was prescribed 10 mg of DHEA to help elevate hormones which are all low. After 6 weeks…I was a bit stronger physically," said another.
We have experience researching supplements and have found that any part of a formula is considered concerning, such as not being effective, the chances of long-term success are reduced. If you use DHEA and don't notice results, it may be time to consider an alternative.
The Science – "Backed by Research?"
There's information stating that DHEA improves libido, build muscle and reduces the signs of aging. When we wanted to know how, we turned toward research. We found scientific evidence proving it works to improve gender related characteristics, so we dug deeper to find if it helps boost testosterone. Studies showed that to boost levels, participants used DHEA 200mg, zinc, vitamin D and fenugreek. The direct connection to improving performance is mixed. At DietSpotlight, solid science is a critical part of the review process. If the facts aren't conclusive, this could be a sign of bigger issues.
The Bottom Line – Does DHEA Work?
DHEA supposedly reverses the signs of aging; so what's our take on it? Well, we like that it occurs naturally and is found in some foods, but we're a bit hesitant about this one because the science is mixed when it comes to how well it works. Also, we have concerns about this one because users are talking about their lack of results and how it causes negative side effects.
Getting older doesn't mean you have to slow down. We recommend going with a supplement packed full of ingredients proven to reduce the signs of low testosterone levels that's not connected to harmful side effects.
Among the best products we've seen in 2016 is one called Pronabolin. The supplement contains nine clinically-tested ingredients connected to boosting natural testosterone levels and has been shown to help increase energy, jump start libido, as well as build muscle and strength. The talk online isn't about harmful side effects, but users seeing excellent results.
Also, the makers of Pronabolin are confident in their supplement, so they're offering a 120-day money-back guarantee and multiple-bottle discounts.