Updated: 08/25/2015 - Sponsored by Leptigen
Dherbs Review – Does This Detox System Work?
Are Dherbs side effects and poor customer reviews deal breakers?
PUBLISHED: 08/19/2015 | BY: TORY GRAY, SENIOR REVIEWER
Editor
's Review:
3.5
/ 5.0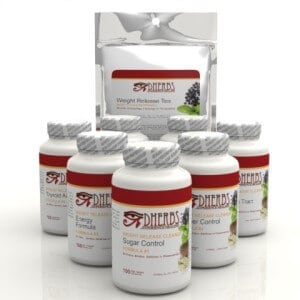 Talk about the Dherbs diet is hot right now, so we took the time to dive deep into the detox program. We reviewed the ingredients, potential side effects and company headquarters. There's also a multitude of customer comments, so we took those into consideration as we presented you with the facts.
EDITOR'S TIP:
Substitute Dherbs with a proven fat burner such as
Leptigen
for better results.
What You Need to Know
First, Dherbs body cleanse is a detox program that focuses on several areas of the body, including the liver, spleen, lungs and lymphatic systems. The instructions say to take the product daily, but no detailed directions are available. You can take Dherbs on the go, but there are six bottles to lug around.
Dherbs.com full body cleanse was created by a company started in 2003. The official website does list all of the ingredients in the formulas, a positive sign. You can buy the kit online via the official website or outside retail stores. We like that there are some supportive reviews, but read on…
Side Effects – "Painful!"
Dherbs full body cleanse may claim to promote weight-loss, but that's not what dieters are reporting. "There are a ton of ingredients in Dherbs, but the formula looks more like a natural cleanse," says our Research Editor. "Some side effects can be painful."
"I vomited so violent the first night it was ridiculous. It had me sick for days. I still have all the product. What a waste of my money. Very very disappointed," one dieter reports.
Another user claims, "I was violently sick for 2 days after taking the first day dose. I discontinued use after the first day."
Keep going for one of the best products we've found in 2015.
Poor Customer Reviews – "A Definite Concern"
No matter what a company says about a product, if the customer does not have a good experience, others will tend to err on the side of caution. There are many negative reviews about Dherbs cleanse. "I had zero energy, and no, I'm not a caffeine addict at all…the lack of protein is what I blame. I'm done with this cleanse. I'll just eat healthy and have the energy to do my runs that I so enjoy. Don't waste your money," a user says.
Another buyer claims, "This was the worst stuff I have ever put in my body I only took day 1 and all night I was throwing up and very bad diarrhea."
If there is just one problem with a weight-loss product, that could lead to reduced long-term success. If Dherbs full body detox does cause the side effects customers claim, that's an issue.
The Science
None of the ingredients in Dherbs are clinically proven to boost weight-loss. There are a few diuretics that promote water loss and some natural laxatives, but these are not often associated with diet supplements. DietSpotlight is all about finding research to support claims. If there's none, we wave off the product.
The Bottom Line
Dherbs cleanse initially interested us. The company has been around for quite some time and a few customers actually liked the product, but we can't give dieters a thumbs up to try a system if there are issues. We're concerned about the reported side effects, lack of clinically-supported ingredients and less than professional headquarters.
If you're ready to take control of your weight, we suggest a weight-loss supplement with researched and proven ingredients, a great price and a helpful customer service department.
Of all the products we've researched in 2015, Leptigen is one of the best. There are four clinically-proven ingredients in the proprietary blend that work to help support metabolism and promote fat loss. Dieters don't mention side effects and, according to customer reviews, users are seeing great results.
Leptigen is made by a company confident in their product. They're offering a free trial offer – great choice.
(Feel free to scroll below for our previously published full-length reviews of Dherbs)
Previous Dherbs Review (Updated March 18, 2014):
What You Should Know
Click Here To See Our Highest Rated Review
Dherbs.com is a company that has dedicated itself to informing and adequately educating consumers on the significance of overall wellbeing and sustenance. The products offered in the market by Dherbs are thus designed to act as detoxifiers in order to cleanse the body. The Colon Formula, which is part of the full body detoxification, is one such product.
The full body detoxification program is constituted of six products of which the Colon Formula is included. The other five products are the Blood and Lymphatic Cleanser, Cardiovascular Cleanser, Liver and Gall Bladder Cleanser, Lung cleanser and Kidneys-Bladder-Adrenal Cleanser. The Colon Intestinal Cleanser like all Dherbs products is a purely herbal extraction thus is ideal for vegetarians. Each supplement in the total body detox retails at about $19.95. This makes the entire program cost nearly $120.00.
Other products on the site include Jackrabbit Formula, Fibroid Buster, Anti-Viral Formula, Bowel Mover and Weight Release Formula. The Weight Release Formula is said to help maintain weight lost on the detox program.
Ingredients
Each of the supplements has a different ingredient list. The Weight Release Formula ingredient list includes chickweed, bladderwrack, celery seed, fennel, hibiscus, orris, gotu kola, orange peel, lemon peel, bissey nut, burdock, green tea, chicory, uva ursi, yerba mate, cleavers, birch and rhatany.
Product Features
The product comes packaged in form of capsules with each bottle holding one hundred pills. This Dherbs.com product is said to be derived from herbal plants utilized by old cultures for reason of conditioning the entire digestive system. The Colon Formula should be taken in dosages that include three capsules that are to be ingested on a daily basis. This is not to mention the other supplements in the total body detox.
The Weight Release Formula is a laundry list of natural diuretics.
Advantages
It conditions the digestive tract by gently invigorating peristalsis which is the wave like motion that moves food through the esophagus and the rest of the digestive tract.
Cleans the intestinal walls as a result of the bulking, moist and sticky properties.
It assists in the mending of microscopic villi.
The mucilage property associated with the formula helps lubricate the colon.
As it contains fiber and roughage it assists in stool softening.
Disadvantages
The Colon formula encourages bowel movement which may inconvenience someone with frequent visits to the bathroom.
In order to function at its maximum it is to be taken frequently, therefore requires discipline.
Again the entire regime is supposed to include a full body detoxification which is relatively expensive, $120.00.
The Weight Release Formula is a diuretic.
Conclusion
Dherbs.com provides total body cleansing and while some people lose weight when cleansing, this is not a long term option for weight loss. The majority of the ingredients in body cleansers are natural diuretics and laxatives. This leads to water loss and increased bowel movements but not real weight loss. The product is also very expensive. In order to lose weight, we recommend going with a weight loss supplement that help increase the thermogenics in the body paired with a higher fiber diet.
GD Star Rating
loading...