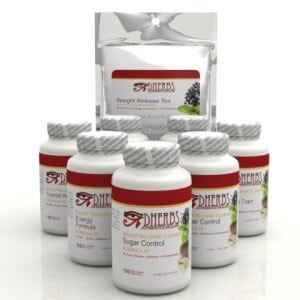 Talk about the Dherbs diet is hot right now, so we took the time to dive deep into the detox program. We reviewed the ingredients, potential side effects and company headquarters. There's also a multitude of customer comments, so we took those into consideration as we presented you with the facts.
EDITOR'S TIP:
Substitute Dherbs with a proven fat burner such as
Leptigen
for better results.
What You Need to Know
First, Dherbs body cleanse is a detox program that focuses on several areas of the body, including the liver, spleen, lungs and lymphatic systems. The instructions say to take the product daily, but no detailed directions are available. You can take Dherbs on the go, but there are six bottles to lug around.
Dherbs.com full body cleanse was created by a company started in 2003. The official website does list all of the ingredients in the formulas, a positive sign. You can buy the kit online via the official website or outside retail stores. We like that there are some supportive reviews, but read on…
Side Effects – "Painful!"
Dherbs full body cleanse may claim to promote weight-loss, but that's not what dieters are reporting. "There are a ton of ingredients in Dherbs, but the formula looks more like a natural cleanse," says our Research Editor. "Some side effects can be painful."
"I vomited so violent the first night it was ridiculous. It had me sick for days. I still have all the product. What a waste of my money. Very very disappointed," one dieter reports.
Another user claims, "I was violently sick for 2 days after taking the first day dose. I discontinued use after the first day."
Scroll below for one of the best products we've seen in 2015.
Poor Customer Reviews – "A Definite Concern"
No matter what a company says about a product, if the customer does not have a good experience, others will tend to err on the side of caution. There are many negative reviews about Dherbs cleanse. "I had zero energy, and no, I'm not a caffeine addict at all…the lack of protein is what I blame. I'm done with this cleanse. I'll just eat healthy and have the energy to do my runs that I so enjoy. Don't waste your money," a user says.
Another buyer claims, "This was the worst stuff I have ever put in my body I only took day 1 and all night I was throwing up and very bad diarrhea."
If there is just one problem with a weight-loss product, that could lead to reduced long-term success. If Dherbs full body detox does cause the side effects customers claim, that's an issue.
The Science
None of the ingredients in Dherbs are clinically proven to boost weight-loss. There are a few diuretics that promote water loss and some natural laxatives, but these are not often associated with diet supplements. DietSpotlight is all about finding research to support claims. If there's none, we wave off the product.
The Bottom Line
Dherbs cleanse initially interested us. The company has been around for quite some time and a few customers actually liked the product, but we can't give dieters a thumbs up to try a system if there are issues. We're concerned about the reported side effects, lack of clinically-supported ingredients and less than professional headquarters.
If you're ready to take control of your weight, we suggest a weight-loss supplement with researched and proven ingredients, a great price and a helpful customer service department.
Of all the products we've researched in 2015, Leptigen is one of the best. There are four clinically-proven ingredients in the proprietary blend that work to help support metabolism and promote fat loss. Dieters don't mention side effects and, according to customer reviews, users are seeing great results.
Leptigen is made by a company confident in their product. They're offering a special trial offer – great choice.