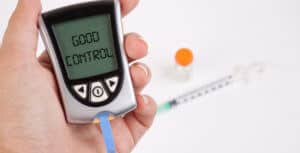 I need to make a confession. I was obsessed with researching Diabetisyn. So, we created one of our in-depth reviews, looking closely at the ingredients, side effects, customer care and scientific studies. Then we read numerous user comments and all sorts of feedback from around the internet. At last, we summed up all of the facts and details to give you the info you really need.
What is Diabetisyn?
To start, Diabetisyn is advertised as a weight management supplement. It is supposed to help balance blood sugar levels, reduce food cravings and treat obesity. This formula contains ingredients such as garcinia cambogia, cinnamon, gymnema sylvestre, bitter melon, chromium, and glucomannan (a source of fiber). It's available online and no prescription is needed. Both men and women alike can use this diet product.
After doing some digging, it's still unclear when Diabetisyn was first released. The company behind this supplement is not mentioned. On the other hand, we did find some positive comments about this formula, posted online. Also, this product may be beneficial to those with type 2 diabetes or those who are borderline diabetic, but read on…
Fad Ingredients – "Concerning?"
The first concern we have is with Diabetisyn ingredients. "This diet supplement relies on herbs like garcinia cambogia and cinnamon, which are not supported by any solid clinical evidence," says our Research Editor.
One customer reported, "Diabetisyn does not work as well as advertised. Big surprise there. I feel like I wasted $50."
But, a different person posted, "I think this helps regulate blood glucose levels. Seems to reduce some of my regular food cravings."
Another commented, "Only been using it for about three days, but I think it helps some."
Scroll below for one of the best products we've seen over the last year.
Side Effects – "Watch Out"
According to some of the user feedback we found online, there are some Diabetisyn side effects that can occur. For instance, one person reported, "Makes my stomach and head hurt. That can't be a good sign. Will not buy it a second time."
However, not all users mentioned adverse effects. One customer stated, "I take this in the mornings. It's good for stabilizing my blood sugar."
"I like that it's an herbal alternative to some prescription options. Trying to stick to natural remedies these days," said another.
Our extensive research has revealed if there is a certain aspect of a diet product or weight-loss pill that is especially difficult or concerning (fad ingredients, side effects, customer complaints) the likelihood of real success for the long run is minimal. Therefore, if Diabetisyn does in fact lead to unpleasant reactions in a lot of people, this could be a serious dilemma.
The Science – "Find Any?"
First off, Diabetisyn does contain ingredients such as chromium and gymnema sylvestre, which may help regulate or stabilize blood glucose levels. On the other hand, this product does not contain any major components to aid with fat loss. At DietSpotlight, we need to see some solid research that supports the supplement's marketing claims.
The Bottom Line – Does Diabetisyn Work?
So, what is our final take on Diabetisyn? Well, we appreciate that this supplement is easy to use anywhere and it does not require a prescription. On the other hand, we have some concerns about this diet product because it lacks key ingredients to help with weight-loss and treating obesity. Also, there are some user complaints regarding side effects, which should not be overlooked.
If you'd like to get rid of some excess weight, then it's wise to check into a diet product that contains clinically tested ingredients, does not lead to any unpleasant adverse effects and is backed by numerous user testimonials.
Among the best products we've seen in 2016 is one called Leptigen. This supplement uses a proprietary blend of four unique ingredients. which have been shown in published clinical research to help boost metabolism and speed up fat loss. It is not formulated with fads of any kind and there are no reports of harmful side effects.
The makers of Leptigen are so confident in their product they're offering a Special Trial Offer, which is very encouraging.