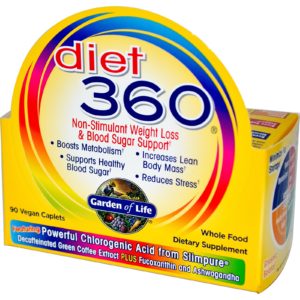 We're hearing a lot of buzz about Diet 360, so we decided to take a closer look. We reviewed the ingredients, possible side effects, quality of customer service and science. We took to heart hundreds of user posts and comments. Then, we condensed all that info to give you the bottom line.
What is Diet 360?
First off, Diet 360 is a holistic weight-loss supplement with Slimpure (decaffeinated green coffee extract), blueberry leaf extract, ashwagandha root and leaf extract, fucoxanthin, bayberry bark extract and coconut oil. You take just one caplet about 30 minutes prior to each of three meals. You're supposed to notice increased energy, reduced stress and a boost in lean muscle.
Garden of Life makes Diet 360. The business history is a little vague, but we know the website was purchased in 1997. That's a long time to be around in this market. We didn't find it for sale on the official website, but we did find it on Amazon. We like the all-natural ingredients and some customers did notice changes in weight, but read on…
Lack of Results – "Common Problem?"
One of the first things that came to our attention with Diet 360 ingredients is that they didn't work for everyone. "There's no way for a company to provide a product that works for 100% of dieters," said our Research Editor. "But, when you see the same complaints coming up time and again, that's a red flag."
"I have about three days left of this supplement and I have not seen any results from using this product. I work out five days a week and eat very healthy meals," offered one dieter.
Another shared, "NO jitters but did not notice a loss of hunger whatsoever."
On the opposite end of the spectrum are positive reviews.
"For those of you looking for a gentle, safe and caffeine free weight loss product, this is it," said a user.
"I have tried other weight loss products, and these tablets are very gentle on my system, and I do not get the jitters or "out-of-body" sensations I had before," offered a customer.
Scroll below for one of the best products we've seen over the last year.
Increased Energy – "Not What Dieters Expected"
If you're looking for a boost in energy as a Diet 360 side effect, you may be left disappointed.
"Took it for three weeks and didn't notice a thing," one review explained.
A user said, "I didn't notice a thing! No added energy."
An increase in energy did happen for some.
A comment claimed, "I have noticed increased energy."
"It also keeps my energy levels high," as another user put it.
We've found a connection between the smallest of things, like no energy boost, and lesser results over the long term. If Diet 360 doesn't do what dieters need it to, there are a hundred and one other supplements out there waiting in the wind.
The Science – "Any Solid Proof?"
There is some evidence that ashwagandha root can help control cortisol levels and blood sugar. These are both beneficial if you give in to stress eating or sweet cravings. However, we're not too happy about the coconut oil because it supplies 12g of saturated fat per serving. These are bad fats you want to avoid.
The Bottom Line – Does Diet 360 Work?
Have we already decided to give this one a try? Well, the ashwagandha root is a good start and you can easily buy it online, but there are definitely some negatives to consider, which leaves us with reservations. The formula is not clinically proven and the coconut oil supplies bad fats – two things the dieter cannot forget.
Is it about time you lose that weight once and for all? You may want to switch out Diet 360 for a formula that is clinically tested and shown to help you reach your weight-loss goals.
Among the best products we've seen in 2016 is one called Leptigen. It's made with four scientifically tested ingredients that work to help spark metabolism and fat loss. Our review of side effects showed few, if any. Plus, it's amazing just how many dieters have seen fantastic results.
Also, there is a Special Trial Offer from the makers of Leptigen because they're confident you'll see results with the formula.