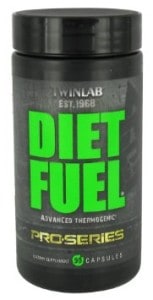 Well over half of weight-loss products out there have absolutely ZERO scientific backing. Let's see if Diet Fuel is one of those. We conducted a detailed review, examining the ingredients, side effects, overall customer service and clinical studies. Plus we sorted through countless user reviews and dieter responses posted online. Finally, we summarized all the facts to give you the bottom line.
What You Need To Know
To start off, Diet Fuel is available online for $42.99 (90 capsules). This product contains green tea leaf, raspberry ketones, caffeine anhydrous, guggulsterones, green coffee, kelp, dendrobium noble stem extract, fucus nodosus, capsimax, citrus aurantium, dulse powder, nettle root, bioperine, diiodotyrosine and brassica campestris root extract. It is touted as an "advanced thermogenic." This supplement is part of the pro series available from TwinLab. The directions suggest taking it daily as 1-2 capsules. It aims to burn off fat, suppress appetite, boost energy levels and increase thermogenesis. With the size of the bottle we see no issues with taking this one on the go.
TwinLab was founded in 1968, and it appears that Diet Fuel was initially released in 2013. This supplement can be used by women and men alike. Moreover, this it contains some natural ingredients and is available at discounted rates through online stores, but read on…
Ineffective – "What's Up?"
Our first concern was with Diet Fuel ingredients. "While examining the label, we noticed that this weight-loss aid contains fad elements such as raspberry ketones, which have not been clinically proven to assist with fat loss," said our Research Editor. "This may be part of the reason dieters are not reporting the results they wanted to see."
One customer said, "Slight boost in energy, nothing special."
Another stated, "Did absolutely nothing for weight loss. Not buying again!"
Scroll below for one of the best products we've seen over the last year.
Customer Complaints – "Another Concern"
There are definitely a number of customer complaints regarding Diet Fuel. In fact, one user said, "Not for me. Made me vomit and break out. I threw them away."
Another complained, "It did not work for me because it made me feel like I was under the influence of speed. It was way too intense and made me sick to my stomach a lot of the time."
Our research has shown that if a specific facet of a weight-loss pill is especially burdensome (side effects, too many customer complaints, fad ingredients) the probability of success for the long-term is pretty low. So, if Diet Fuel does lead to a lot of consumer issues, this could be problematic.
The Science – "Any Validity?"
We couldn't find any documented science listed on the official website supporting Diet Fuel as an effective weight-loss product. Green tea and caffeine have been the subject of such research with some positive results, but you can buy these online for less than $5 a bottle. There are also studies on ingredients like citrus aurantium showing some negative side effects like increased heart rate and elevated blood pressure, especially when taken with a stimulant. We at DietSpotlight have to see published proof supporting the product. Unfortunately there is nothing backing claims made about Diet Fuel.
The Bottom Line – Does Diet Fuel Work?
Alrighty then, what did our detailed look into Diet Fuel reveal? It's always nice to see a weight-loss product that uses natural ingredients, but we are hesitant to suggest you use it. Aside from the fact that this supplement is not supported by clinical studies, it appears to have been discontinued as well. We're also concerned that synephrine may be associated with some potentially negative side effects.
If you'd really like to shed more pounds and slim down quickly, we suggest you try out a supplement that contains ingredients that are supported by clinical studies with no reported side effects. Customer reviews are also a huge part of the equation with positive experiences being the same as a green light.
Among the best products we've seen in 2016 is one called Leptigen. Its formula is a blend of four key ingredients, which have been proven in documented scientific studies to help increase fat loss and elevate metabolism. Moreover, we didn't find any discussion of harmful side effects and user comments posted on the internet indicate people are seeing amazing results.
Also, the company behind Leptigen are so confident in the ingredients that they're offering a Special Trial Offer, a nice surprise.