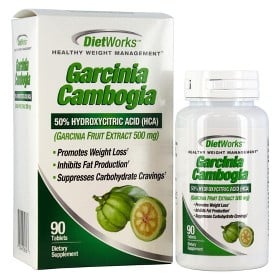 Why are people talking about Diet Works Garcinia Cambogia? We at DietSpotlight dug deep, looking at the ingredients, side effects, clinical research and overall customer care. Plus we looked at dozens of responses and comments posted online. Finally, we compressed and summarized to give you the bottom line.
EDITOR'S TIP:
Click here
to substitute Diet Works Garcinia Cambogia with a proven fat burner such as Leptigen for better results.
What You Need To Know
Firstly, there are plenty of garcinia cambogia weight-loss products on the market today. Diet Works Garcinia Cambogia is one of them. This supplement says it will work against fat creation and carbohydrate cravings. The main ingredient is garcinia cambogia fruit extract, which provides hydroxycitric acid. You need to take one tablet three times daily, an hour before each meal. A healthy diet and regular exercise are encouraged.
It's easy to purchase Diet Works Garcinia Cambogia online via websites like Amazon. It has been available since 2013 and the key ingredient in this formula is completely natural, but read on…
Fad Ingredient – "Something to Consider?"
Our first concern is the Diet Works Garcinia Cambogia ingredient. "According to WebMD, there is not much clinical evidence for the fruit as an effective weight-loss aid," says our Research Editor.
"I am an emotional eater. I have used it for 2 weeks. It has not reduced my craving for food. Instead, I eat more with good appetite, feel heavier, and my pants get tighter around the waist band," said one customer.
Another person stated, "It does not work. I followed the directions and also incorporated exercise & well balanced diet and no results. In fact I put weight on!!"
Scroll below for one of the best products we've seen over the last year.
Customer Feedback – "Negative"
If you take a look around you'll find negative customer reviews for Diet Works Garcinia Cambogia. One person commented, "Not only did I not lose weight on these horse pills, but I felt very bloated."
"Very disappointing. Followed instructions and gained 8 lbs," mentioned another user.
Our research shows that if there is one issue with a product, like fad ingredients, the likelihood of weight-loss success is slim. If Diet Works Garcinia Cambogia does not help the dieter in any way, this could be an issue.
The Science – "Any Proof?"
Here at DietSpotlight, we need to see some real clinical research that supports the weight-loss product and how it works. Sadly, there is no solid science presented with Diet Works Garcinia Cambogia to back up claims. Therefore we're not sure about this one.
The Bottom Line – Does Diet Works Garcinia Cambogia Work?
So, is it time to pick up some Diet Works Garcinia Cambogia? Firstly, we appreciate that this pill contains a natural fruit extract and we like that it's readily available online, but we have some reservations because there is no clinical research. We're also concerned about the numerous negative user reviews we found posted on the web.
If you'd really like to lose some weight, we advise you to go for a diet product that contains clinically proven ingredients. Make sure is supported by all kinds of positive user reviews and does not rely on fads.
Among the best products we've seen in 2016 is one called Leptigen. Its formula is a proprietary blend of four unique ingredients, which have been proven in published scientific research to help accelerate fat loss and ignite metabolism. We can't find any complaints of harmful adverse effects and customer responses all over the web indicate people are seeing significant results.
The makers of Leptigen are so sure about their product they're offering a Special Trial Offer, which is a positive sign.