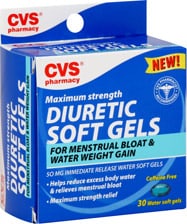 This review is what happened after I obsessed for weeks over diuretics. We did one of our in-depth examinations, taking a close look at the ingredients, side effects, customer care and clinical studies. Furthermore, we read through countless dieter comments from all over the internet. At last, we compacted and refined to give you the info you need.
What You Need To Know
A diuretic is basically a "water pill" that encourages more frequent urination. These often contain key ingredients such as senna leaf, caffeine, cascara sagrada, buchu leaves, dandelion root, juniper berry and apple cider vinegar. Most cost between $10 and $50 per bottle and they're available online, as well as in shops and drugstores. There are many dietary supplements that are classified as diuretics and these products are often marketed as weight-loss aids. They work by pulling excess salt and retained water from the body, which in turn makes you look slimmer.
Diuretics have been used for many years and they often contain natural herbs. Furthermore, there are plenty of these supplements available for weight-loss and some of them come with a satisfaction guarantee, but read on…
Lack of Real Fat-Loss Results – "A Problem?"
The first issue we feel needs attention with the ingredients in diuretics is that they're not proven to have any effect on your weight. "At times water can cause the scale to jump, but losing the extra fluid is not the same as shedding those pounds," claims our Research Editor. "It is extremely important to consider the different when looking at a diuretic."
One customer commented, "I've been taking this twice a day for 5 days and have GAINED 3 pounds…I don't feel any less bloated, I actually feel much worse."
"These pills did the exact opposite it advertises for me. I feel more bloated with excess water weight now than I ever have. No weight-loss at all," said another user.
Scroll below for one of the best products we've seen over the last year.
Side Effects – "Be Careful!"
Some people certainly experience adverse effects while using diuretics. In fact, one customer stated, "I had extreme palpitations and felt sick after taking this."
Another complained, "It gave me really bad stomach pain."
Our research has shown if there is one facet of a weight-loss pill or diet system that is very burdensome (side effects, lack of fat loss results, terrible taste) the probability of extended success is low. In other words, if a diuretic does in fact lead to unwanted adverse reactions in a high number of people, this could be very problematic.
The Science – "Effective?"
First off, there have been some clinical studies done with diuretic supplements. However, these have shown that they can help lower high blood pressure by expelling excess salt from the body. There is no scientific research that directly links these pills to fat loss, so we at DietSpotlight have to turn the other way.
The Bottom Line – Do Diuretics Work?
Should you speed out to pick this one up? While diuretic pills can help you get rid of excess water weight and swelling, they are not a good choice for long-term weight-loss and actual fat reduction. You should also keep in mind that diuretic supplements can lead to problems like diarrhea and dehydration. So, in this case, we are hesitant to recommend this one to help you lose more.
If you need to slim down more quickly and get rid of excess fat, we recommend you go with a diet supplement that does not cause side effects and is backed by real clinical trial results.
Among the best products we've seen in 2016 is one called Leptigen. This diet formula contains four key ingredients that have been shown in documented clinical research to help ignite metabolism and improve fat loss results. We are unable to find any complaints of bad side effects and dieter feedback posted on the web shows people are seeing substantial results.
Also, the makers of Leptigen are so confident in their product they're offering a special trial offer, which is a good sign.