Updated: 09/29/2015 - Sponsored by Leptigen
Diurex Water Pills Review - Does This Diuretic Work?
Are ineffectiveness and side effects deal breakers?
PUBLISHED: 09/12/2015 | BY: SUMMER BANKS, SENIOR REVIEWER
Editor
's Review:
3.5
/ 5.0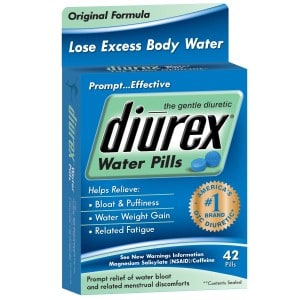 There's been some interest in Diurex Water Pills, so we delved deep into the ingredients, side effects, quality of customer service and clinical research. Additionally, we picked apart hundreds of customer comments and reviews. We then scrutinized and summarized to give you the info you need.
EDITOR'S TIP:
Combine Diurex Water Pills with a proven fat burner such as
Leptigen
for better results.
What You Need to Know
First off, Diurex Water Pills is a diuretic containing caffeine and magnesium salicylate. The recommended dose is four to six capsules per day, not to exceed eight pills, which supposedly results in water weight-loss. One of the benefits is that the supplement is available in many stores.
There is no information as to when Alvo-Amco introduced Diurex Water Pills, but the company was founded in 1904, which is a good sign. You can shop for the supplement at local retailers and trusted online stores. We do like that the business is more than 100 years old and the favorable BBB rating, but read on…
Ineffectiveness – Doesn't Work!
The first concern we have with Diurex Water Pills is ineffectiveness. "When dieters choose a weight-loss supplement they want something that works long-term," offers our Research Editor. "With Diurex Water Pills the effect is short-term or not at all."
"Didn't work for me…..was looking to lose pms water weight and I didn't see any difference," commented a user.
"Terrible purchase, did nothing for me. My mother tried it and it did nothing for her also," said a dieter.
Scroll below for one of the best products we've seen in 2015.
FDA Concerns
On August of 1997, Alvo-Amco received a warning letter from the Food and Drug Administration relating to misleading statements about the company's supplements. The claims have since been removed from the official website.
Side Effects
According to numerous customer comments Diurex Water Pills side effects are a bit taxing. "Made me sick to my stomach. Didn't help the bloating matter of fact made it worse. I took it for one day and had to discontinue use because I felt so horrible," said a customer.
"I had a lot of unpleasant side effects while taking these. Keep in mind I drank plenty of water, at least 8 glasses. Nausea and diarrhea, which would start about 1 hour after taking. I also had a splitting head ache after taking each of my doses that day," reports a consumer.
"Caused a beeping in my ear for about 3 days," offers another user.
Our research concludes that if any part of a supplement is deemed a concern, like ineffectiveness, there's a chance of hindering long-term success. If Diurex Water Pills don't work, there's an issue.
The Science
According to the official website, the Diurex Water Pills ingredients will help reduce fluid retention and bloating, but we couldn't locate published clinical studies linking the formula to weight-loss. At DietSpotlight, finding concrete science supporting the claims is critical. If there's no science, we have concerns.
The Bottom Line
After thorough consideration of Diurex Water Pills, we've come to a conclusion. There are positives, like the length of time the company has been in business and we noticed favorable customer comments, but we can't recommend it because of there's no clinical studies supporting weight-loss claims. Plus, we're concerned about the FDA warning letter.
If you'd like to slim down, we suggest going with a product offering proven effectiveness without side effects. A good price and supportive cusotmer service team are also important.
One of the best supplements we've seen in 2015 is one called Leptigen. The formula contains a four-ingredient proprietary blend, which has been shown in published studies to ignite fat loss and enhance metabolism. There's no one talking about negative side effects and the comments online show people seeing excellent results.
Also, the company that makes Leptigen shows confidence in the product by offering a special trial offer, a good decision.