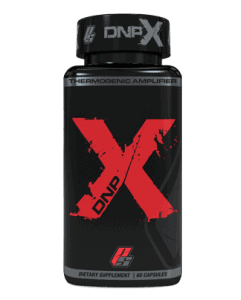 97% of dieters just want a product that works. Yeah, we can't figure out the other 3%, either. There's a lot of curiosity surrounding DNPX, so we dug deep into the ingredients, side effects, clinical research and customer support. We took the time to read hundreds of comments and reviews. We then summarized and refined to give you the info you need.
EDITOR'S TIP:
Substitute DNPX with a proven fat burner such as
Leptigen
for better results.
What You Need to Know
First off, DNPX is a fat burner containing 1,3-dimethylamylamine, caffeine, tannins, vasicinone, casicine, vasicinol, phytoterols, mucins, yohimbine, 3,5-diiodo-l-thyronine, white willow bark extract and black tea extract. The recommended serving is one capsule per day, which supposedly increases weight-loss. One of the benefits is ease of use.
The supplement, introduced as a fat burner in 2010 by Pro Supps, includes a few natural ingredients, a good choice. Customers can purchase the product on the official website and through other online stores. We do like that we found some positive comments, but read on…
Ineffectiveness – "Does it Work?"
The first problem we have is that DNPX ingredients don't work, according to users. "Dieters take fat burners typically to speed up weight-loss," said our Research Editor. "If you take the time and money to try out a new product and it doesn't work, why go back for more of the same?"
"Well crap, took 1 cap this morning at 9:00 on an empty stomach. Felt nothing, what-so-ever. No raise in body temp, no raise in heart rate, nothing," said a consumer.
"More expensive and less effective than real DNP," said a customer.
Scroll below for one of the best products we've seen over the last year.
FDA Investigation
On April of 2015, Pro Supps was investigated by the Food and Drug Administration. The company had supplements on the premises that contained more of an active ingredient than the label reported. The FDA has also banned DMAA from products due to potential side effects. DNPX continues to use it in the formula.
Side Effects – "Feeling Bad!"
According to numerous customer comments, DNPX side effects are a problem. "I made the mistake of taking it before cardio and had to stop after 10 minutes on the trail and lay down to get my heart rate down," says one comment.
"I had a 30 min long hot flash, pounding head ache and was shaking," reported a user.
"After finishing the bottle (30 day supply) I felt extremely tired and fatigued. The fatigue was so bad that the only thing I can compare it to is like when you take a sleeping pill – I felt drugged," said a dieter.
Our research shows that if something about a supplement is deemed troublesome, like adverse side effects, the likelihood of long-term success is off the table. If DNPX causes negative reactions, there is a call for concern.
The Science – "Evidence?"
The official website makes the case that DNPX will improve focus, eliminate fat and suppress appetite, but we can't find any published clinical studies linking the formula to weight-loss. We found an FDA page warning dieters about the dangers of using DMAA, an ingredient in this product. For us at DietSpotlight, locating scientific research supporting claims is imperative. If a company can't produce the science, we don't see the purpose.
The Bottom Line – Does DNPX Work?
Well, ladies and gentlemen, what do we say on this one? After thoroughly digging into DNPX, we've come to a conclusion. There are some positives, like we found a few supportive customer comments and the favorable BBB rating, but we have trouble getting behind it because the weight-loss claims are not supported by published clinical research. Plus, we're concerned about the FDA findings, ineffectiveness and negative reactions.
If you'd like to shed those extra pounds, we recommend going with a product that's proven to give you the weight-loss results you desire, without having to worry about harmful side effects.
Among the best products we've seen in 2016 is one called Leptigen. The formula contains a four-ingredient proprietary blend, which has been shown in published scientific studies to help speed up fat loss and ignite metabolism. There's no one talking about negative side effects and reviews say dieters are seeing great results.
The makers of Leptigen, showing confidence in the supplement, are offering a Special Trial Offer, which is a good choice.