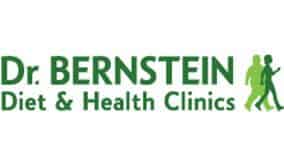 As you may be aware, there has been plenty of gossip surrounding the Dr. Bernstein Diet, so we did one of our in-depth reviews, focusing closely on the ingredients, side effects, customer service and scientific research. Plus we sorted through countless user comments and customer reviews posted on the internet. Finally, we compressed all the data we collected to give you the important facts you need.
EDITOR'S TIP:
Combine Dr. Bernstein Diet with a proven fat burner such as
Leptigen
for better results.
What You Need To Know
The Dr. Bernstein Diet is a weight loss method developed by Dr. Stanley K. Bernstein, MD. This diet is suitable for both women and men of all body types. The program involves going to the nearest weight loss clinic to get started. The clinic locations are in Canada, and there is a locator tool provided on the main website. The Dr. Bernstein Diet involves reducing your daily calorie intake, eliminating sugars and simple carbohydrates, avoiding restaurants and frozen dinners and taking vitamin and mineral supplements. When you visit the clinic, you receive one-on-one support to help you break bad habits and reach your weight loss goals. Nurses and doctors are available at these clinics to assist you. Diet pills and surgery are not part of the Dr. Bernstein Diet method. According to the official website, you will lose up to 20 pounds per month.
The Dr. Bernstein Diet has been around for about 40 years. Convenient contact information is provided on the official website, in addition to some customer success stories. A BMI (body mass index) calculator is also provided on the website, but read on…
High Price – Yikes
According to our Research Editor, "The average cost of the Dr. Bernstein Diet is about $600 per month, which is $7,200 a year. This is plain and simply unaffordable for many people trying to lose weight."
One customer stated, "The cost is about $600 each month! Wow!"
Another dieter commented, "It's about $160 per week with an additional start up fee. Pricey!"
Scroll below for one of the best products we've seen over the last year.
Poor Customer Service
There are some complaints regarding the customer service these clinics provide. One dieter said, "I refuse to give Bernstein's my money yet again when they have HORRIBLE customer service."
"I have some problems with the customer service. It's terrible!," said another individual.
Our research has proven that if there is a certain facet of a diet program or weight loss supplement that is especially concerning or bothersome (steep price, poor customer service, a difficult or painful exercise) the odds of fat loss success for the long term are not good. In other words, if the Dr. Bernstein Diet is unaffordable to numerous dieters and often provides unsatisfactory customer care, this could be a big problem.
The Science
Since the Dr. Bernstein Diet is a medically-supervised weight loss program, it is supported by some studies and professional knowledge. Needless to say, drastically reducing your daily caloric intake does lead to weight loss, which is no big secret. At DietSpotlight, we do prefer to see some real science in order to fully understand how a diet program or product really works.
Even though there is some science presented to support the Dr. Bernstein Diet, we feel that the cost of this weight loss method is simply unaffordable for many dieters. Also, the complaints about customer service will definitely raise a few eyebrows.
The Bottom Line
We are glad to see that the Dr. Bernstein Diet provides professional medical assistance. However, you must be realistic; there are not clinic locations provided all over the United States and other parts of the world, which makes this diet plan useless to many people. Furthermore, you need to be able to afford the $600 per month, which many people are not. Also, you may have to reduce your daily caloric intake to 800-1,000 calories.
Those who really want to lose weight and rock their best body, we recommend you go with a diet program or weight loss product that does not break your back account, is backed by solid clinical trials and provides excellent customer service.
One of the most impressive diet products we've encountered in 2016 is Leptigen. This diet supplement uses a combination of four key ingredients, which have been proven in published scientific studies to help speed up fat loss and elevate metabolism. You should also know that we can't find any complaints of harmful adverse effects and customer comments posted online reveal people are seeing great results.
Also, the makers of Leptigen are so confident in their product they're offering a Special Trial Offer, which is a good sign.