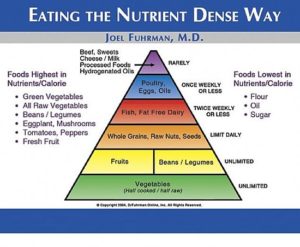 I'm here to cut through the noise and get you the bottom line on Dr Fuhrman weight-loss, nutrition and health advice. We dug deep and came up with a detailed review, examining the ingredients, side effects, clinical studies and overall customer care. We also read dozens of user remarks and comments from all over the web. At last, we summarized and compacted everything to give you the facts and details you need.
Who is Dr Fuhrman?
First of all, Dr Joel Fuhrman M.D. is a nutrition researcher and family physician. He focuses on helping people with weight-loss, diabetes, heart disease and overall health. Some of the books he's written include Eat To Live, The End of Diabetes, Super Immunity, Fasting and Eating for Health, and The End of Dieting. All of these texts are available online via Amazon. He emphasizes the importance of plant-based foods such as fruits, vegetables, beans, legumes, nuts, seeds and other rich sources of nutrients.
From what we gathered, Dr Fuhrman has been specializing in health and weight-loss for more than 25 years. He offers all sorts of recipes in his books, and his diet plans are suitable for people of all ages and body types. There are some customer testimonials posted on the official website. Furthermore, there are some supplements available as well, but read on…
Minimal Recipes – "Something To Consider?"
The first concern we have is with minimal recipes. "According to some readers, Dr Fuhrman does not include a very broad assortment of recipes in his books like Eat to Live. This can make it difficult to really stick to this diet plan," commented our Research Editor.
One person posted, "I tried the Eat to Live diet. Unfortunately there are NOT enough recipes in the book. So, what happens is you get stuck trying to come up with ways to eat healthy, especially at night."
Then again, a different individual said, "Some decent recipes and meal plans in this book."
"If you can get past the long list of Dr Fuhrman ingredients you'll need for these recipes, it's not a bad book," revealed another.
Scroll below for one of the best products we've seen over the last year.
Dieter Complaints – "Another Concern"
We definitely noticed some dieter complaints posted on the web for the Dr Fuhrman approach. In fact, one person stated, "I'm afraid I was very disappointed in this book – and I read it cover to cover. Over half of the book is spent arguing for his diet."
But, a different dieter said this, "Some good info in here from Dr Fuhrman, but not totally trustworthy."
"Gave me some good ideas for nutritional meals," posted another.
Our research has shown if there's some particular aspect of a diet program that is especially concerning or troublesome (minimal recipes, dieter complaints, adverse reactions) the likelihood of long-term success is slim. In other words, if Dr Fuhrman weight-loss plans do lead to a long list of discouraging user comments, this could be a real problem.
The Science – "Is It There?"
To start, we appreciate that this approach to health and weight-loss is presented by an actual physician with a good education. It's no secret that eating healthy and cutting out bad calories can result in weight reduction. On the other hand, if people have trouble following these diets, this will make them less effective. After all, you need to be able to stick with it in order to see real results.
The Bottom Line – Does Dr Fuhrman Work?
So, should you order one of these diet books? Well, to start with, we appreciate that there are no major Dr Fuhrman side effects to worry about. Also, eating plant-based foods is generally considered heart healthy. Then again, we have some reservations because of the discouraging user comments we found posted online. Also, we're concerned about the minimal recipes provided in these texts, which may not be sufficient for some dieters.
If your goal is to drop more pounds, then we suggest you select a diet program or product that is supported by all sorts of positive user reviews, is easy to use/take anywhere and gives you plenty of bang for your buck.
Among the best products we've seen in 2016 is one called Leptigen. This formula contains four powerful ingredients, which have been shown in published clinical studies to help ignite fat loss and speed up metabolism. There are no negative user remarks posted online, and comments around the web express people are seeing solid results.
The makers of Leptigen are so sure about their product they're offering a Special Trial Offer, which is a positive sign.