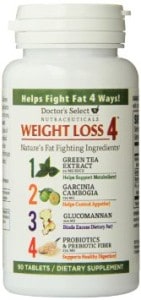 You may be surprised by what I have to say in this Doctor's Select Weight Loss 4 review. We created a detailed review, examining the side effects, ingredients, scientific research and level of customer service. Plus we focused on countless user comments from the internet. Lastly, we summarized all the data to give you the bottom line.
What is Doctor's Select Weight Loss 4?
First off, Doctor's Select Weight Loss 4 is an over-the-counter diet pill for women and men. This supplement contains green tea leaf extract, garcinia cambogia extract, glucomannan and a pre/pro-biotic blend. This product is taken three times daily for maximum results, along with meals. Doctor's Select Weight Loss 4 claims to support metabolism, suppress appetite and bind excess dietary fat.
This diet supplement first emerged in 2013 and it is available online. Natural ingredients are used in Doctor's Select Weight Loss 4 and there are plenty of customer reviews posted on distributor websites such as Amazon, but read on…
Fad Ingredients – "Uh Oh?"
The first issue we have with Doctor's Select Weight Loss 4 ingredients was the fact that they're more hype than anything else. According to our Research Editor, "The formula contains garcinia cambogia, which is an Asian fruit extract. Unfortunately, there is no solid clinical evidence that supports this as an effective aid to help you lose more."
One customer stated, "I didn't lose any weight and had to stop taking them after 2 1/2 weeks as it was causing my stomach to be upset."
According to another user, "No effect! Doesn't do a thing!"
Some felt the opposite to be true. One dieter said, "I am happy to finally find something that is natural and healthy."
A user shared, "Doesn't make me feel any different, just a little less hungry."
Scroll below for one of the best products we've seen over the last year.
Side Effects – "Watch Out!"
We discovered numerous customer complaints about side effects from Doctor's Select Weight Loss 4 tablets. In fact, one dieter said, "Had stomach aches and headaches every day, got the chills every now and then."
Another user complained, "My blood pressure went up."
We have to look at the positive sometimes. We found a dieter that claimed, "It doesn't have any side effects."
One more said the same thing, "I experienced no unwanted side effects."
According to our research, if there is one facet of a weight-loss pill or diet program that is very burdensome (unpleasant taste, side effects, fad ingredients) the likelihood of real success for the long run is minimal. In other words, if Doctor's Select Weight Loss 4 does cause adverse reactions in a lot of people, this could be a major issue.
The Science – "Valid?"
No actual scientific research was found online to support the weight-loss claims regarding Doctor's Select Weight Loss 4 pills. Here at DietSpotlight, we need to see documented science that backs the ingredients. We have to say that glucomannan is a fiber and it's been shown to help reduce hunger by slowing the digestive process. However, in regards to Doctor's Select Weight Loss 4, we only see a big red flag.
The Bottom Line – Does Doctor's Select Weight Loss 4 Work?
So, what've we got to say about this one? First of all, we appreciate that Doctor's Select Weight Loss 4 uses an all natural formula. However, we have doubts about recommending this supplement for long-term weight management. After all, it is not supported by any real science and there are plenty of user complaints about side effects. Also, this one contains fad ingredients such as garcinia cambogia, which is not reassuring.
If you want to drop more pounds of fat and slim down quickly, we advise you to try a weight-loss formula that is backed by real clinical studies and does not cause any harsh side effects.
Among the best products we've seen in 2016 is one called Leptigen. This diet formula contains a blend of four special ingredients, which have been shown in published clinical studies to help elevate metabolism, increase fat loss results and curb appetite. Also, we have not seen any talk of harmful effects and user reviews on the web show people are seeing substantial results.
Also, the company responsible for Leptigen is confident enough in the product to offer a Special Trial Offer, nice touch.