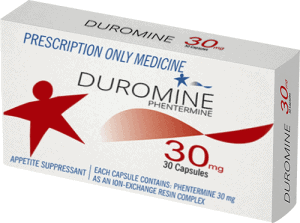 You're at the point where you want to shed that extra weight without fighting through another failed attempt. We took an in-depth look at Duromine side effects, ingredients and clinical research. We read through hundreds of forum posts, online discussions and comments. Then, we summarized to give you the bottom line.
EDITOR'S TIP:
Substitute Duromine with a safe and proven fat burner such as
Leptigen
(reliable shipping to Australia & New Zealand) for better results.
What is Duromine?
Firstly, Duromine is a branded prescription appetite suppressant that contains phentermine, which is only available while under a doctor's care. You take the medication once daily, or as directed by your physician. It only works to help you eat less, it doesn't boost metabolism or increase calorie burn. It is portable, so there's no issue taking it on the go.
Valeant Pharmaceuticals is a division of iNova Pharmaceuticals.The company behind Duromine was established in 2001. You can purchase it in Australian pharmacies and online with a prescription. We like the fact that the business has been around for quite a while and there are positive reviews of the medication, but read on…
Side Effects – "Watch Out!"
Our first concern deals with Duromine side effects, something all dieters should consider. "This is something of an issue with prescription medications," says our Research Editor. "You have to weigh the pros against the cons to see if the outcome is worth a try. Some of the adverse reactions can be harsh and you're not getting that kick to metabolism available from some weight-loss supplements."
A dieter reports, "I just started taking Duromine…and my body is shaking and I have a headache."
"I have been taking [Duromine] tablets for three days now, I woke up [last] night and could not stop vomiting," says another user.
"The side effects [are too] severe and I can't cope with feeling depressed. Headaches, pressure on my chest, muscle cramps…nausea, insomnia, loss of concentration. It's not worth it," one dieter claims.
Scroll below for one of the best products we've seen over the last year.
Price – "A Serious Concern"
We found dieters in forums complaining about the price of Duromine. You can expect to pay a minimum of $100 a month for your prescription. That cost is in addition to the initial doctor's visit expense and subsequent appointments. Plus, you don't have access to a guarantee or return policy like you would with a diet supplement from a trusted company.
"I just got Duromine…today and it costs a fortune," one dieter reports.
Another buyer claims, "Duromine is EXPENSIVE – I nearly fell off my seat when I found out it was around $3 per pill."
When there are issues with a diet pill, our research shows a hiccup in long-term success. If the dieter really does suffer side effects with Duromine, or if the price is too high, that could be a problem.
The Science – "Any Clinical Support?"
Duromine ingredients have been clinically tested and proven to reduce appetite. That's what you'd expect from a prescription medication. But, there is also proof that side effects are a serious consideration. We also believe that appetite suppression is only one part of the equation. You need to spark metabolism so you lose fat – plain and simple.
Does Duromine Really Work?
Are we talking to our doctor right now about a Duromine prescription? We like that some dieters lose weight while taking the drug and the company has been in business for quite some time. But, with the potential side effects and high cost, we don't feel comfortable recommending the product.
For dieters who'd like to melt away the pounds, DietSpotlight suggests a supplement that comes at a price that doesn't break the wallet. It's always good if the ingredients are tested and customers consistently report some amazing results.
Among the best products we've seen in 2016 is one called Leptigen. There are just four ingredients, ALL with clinical testing. There is no prescription required you don't have to worry about the cost or side effects like those associated with Duromine. These are the exact qualities we suggest you look for in a weight-loss supplement.
Plus, the people behind Leptigen are so confident you'll see results, they're offering a Special Trial Offer. There's nothing to lose but weight!