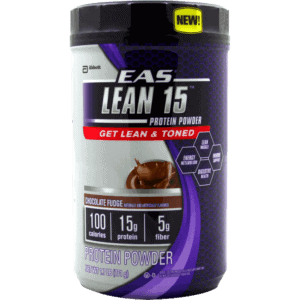 Why is it that so few diet products are backed by science? Let's find out if EAS Lean 15 is one of the good ones. Here at DietSpotlight, we created a detailed review, examining the side effects, ingredients, scientific studies and customer-service quality. We also read countless user comments and remarks that are posted online. Finally, we compressed all of the facts and details to give you the info you need.
EDITOR'S TIP:
Combine EAS Lean 15 with a proven fat burner such as
Leptigen
for better results.
What You Need To Know
First of all, EAS Lean 15 ingredients include whey protein concentrate, soy protein isolate, micellar casein, amino acids and fiber. This supplement powder is claimed to help you get lean and toned. It's recommended to be used in conjunction with a healthy diet and exercise program. You can consume up to three shakes daily. Simply add two scoops to eight ounces of water or milk and stir/mix well. This formula may help build lean muscle mass, promote regularity and jump start weight-loss.
It looks like EAS Lean 15 has been available since at least 2012. The company behind this supplement is Abbott Laboratories. Each shake provides 15 grams of protein and five grams of fiber. Furthermore, this product only has 100 calories per serving, but read on…
Scroll below for one of the best products we've seen over the last year.
Unpleasant Taste – "Can You Handle It?"
The first concern was the unpleasant taste of EAS Lean 15 ingredients. "Several customers have complained about the flavor of these protein shakes," said our Research Editor. "After all, if you can't handle drinking this supplement daily, it's not going to help you slim down."
One customer stated, "This tasted like old cardboard. It is nearly non-edible with just water, and barely passable with milk. I will not be buying it again unless my taste buds die."
Then again, not all users dislike the flavor of EAS Lean 15 powder. One person said, "The product itself tastes good, but the seal was opened when I received it and it was only half full."
Another commented, "This protein powder is pretty good. But, it does seem to clump when adding it to just straight water. I am still hungry after drinking it with just water."
Added Sweeteners – "Another Concern"
Just so you are aware, EAS Lean 15 protein powder does contain sucralose and acesulfame potassium. These are "calorie-free sweeteners." Some people do not like the taste and effects of these ingredients. In fact, one customer reported, "It must have artificial sweeteners, because it made me super dizzy."
On the other hand, a different person said this, "You get what you pay for here, decent flavor in a low-calorie shake."
"It's okay. No EAS Lean 15 side effects. However, found pretty much the same thing at grocery stores for a lower price," commented another.
Our research has revealed that if there's a particular facet of a diet shake or supplement that is quite problematic (unpleasant taste, added sweeteners, side effects) the likelihood of long-term success is slim. This means if EAS Lean 15 does in fact taste unsavory to a lot of customers, this could be a serious dilemma.
The Science – "Is Any Presented?"
Firstly, EAS Lean 15 shakes do provide protein and amino acids to help with muscle building. This supplement may also help reduce hunger. However, we did not find any specific studies posted on the official website to support this formula as an effective weight-loss aid. At DietSpotlight, we prefer to see some documented science that backs up the product we're reviewing.
The Bottom Line – Does EAS Lean 15 Work?
Now the moment you've been waiting for. Here is our bottom line on EAS Lean 15. To start, we like that this formula only contains 100 calories per serving. It's also nice to see that this powder provides five grams of fiber and 15 grams of protein. However, we have some doubts about this shake because of the artificial sweeteners it contains. Moreover, we're concerned about the less-than-savory taste that some users have mentioned.
If you really want to get started shedding excess pounds, then we suggest you select a product that does not have an unpleasant taste, is easy to use anywhere and is backed by all sorts of positive user reviews and customer testimonials.
Among the best products we've seen in 2016 is one called Leptigen. It offers a proprietary blend of four important ingredients, some of which have been clinically tested and are shown to help improve fat loss and spark metabolism. We can't find any discouraging user remarks, and customer feedback posted online shows people are seeing very good results.
The makers of Leptigen are so satisfied with their product they're offering a Special Trial Offer, which is a good sign.