Updated: 09/29/2015 - Sponsored by Leptigen
Easy 100 Review - Does This Weight Loss Supplement Really Work?
Are high price and user complaints deal breakers?
PUBLISHED: 09/15/2015 | BY: SUMMER BANKS, SENIOR REVIEWER
Editor
's Review:
3.5
/ 5.0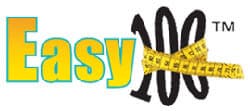 There's been a lot of talk about Easy 100 diet pills, so we did one of our in-depth reviews, examining the side effects, ingredients, customer care and scientific studies. We additionally sorted through hundreds of dieter reviews and user comments found online. At this point we summed up all the facts to give you the information you really need.
EDITOR'S TIP:
Substitute Easy 100 with a proven fat burner such as
Leptigen
for better results.
What You Need To Know
Easy 100 is an over-the-counter weight loss product that contains; Calcium Pyruvate, Green Coffee Bean Extract, Chitosan and Gamma-Linoleic Acid Complex. According to the company website, this diet aid helps burn off fat and calories. You simply take two capsules (these are time-released) each morning, over the course of six days. Then take one day off and then repeat for six more days. Stubborn fat should begin to melt off quickly. No diet or exercise is required at all.
Easy 100 is made by Skinny Nutraceuticals, which is located in Dracut, MA. This diet aid was initially released in 2012 and is available directly from the company website. Furthermore, a few customer testimonials are posted on the website, and this supplement does contain natural ingredients, but read on…
The Price – Yikes!
According to our research editor, "The actual cost of Easy 100 is $44.95 (plus shipping and handling) for only 24 capsules. This only lasts for 12 days, which makes this supplement very expensive."
One customer complained, "I sent a check for $74.90 to EASY 100. The product came, I took it as instructed, and nothing happened."
Another user said, "I too am a fool for wasting my money on this product. Absolutely no results."
Scroll below for one of the best products we've seen in 2015.
Way Too Many User Complaints
You will find plenty of customer complaints posted online for Easy 100 capsules. One dieter said, "I also feel Easy 100 is a rip-off. I took it for the first 6 days like it recommended then stopped for a day. Didn't even lose an ounce. Also I now am having pain in my left kidney, feel this product is responsible."
Another said, "Bought 'em. Tried 'em for 10 days. Gained 5 pounds."
It's clear through our research that if a particular part of a weight loss supplement or diet program is notably troublesome (high cost, pills that make you jittery, too many user complaints) the likelihood of success for the long term is very low. So, if Easy 100 does lead to a lot of customer complaints, this could certainly be a serious problem.
The Science
We noticed that clinical testing is mentioned on the official Easy 100 website in regards to this diet pill. However, we couldn't find any actual clinical test results to support Easy 100. For us at DietSpotlight, we must see published scientific research supporting the weight loss product in order to actually get behind the diet program or fat-loss supplement.
The Bottom Line
While it's nice to see a few customer testimonials posted on the official website to support Easy 100, we definitely don't recommend this 12-day diet pill. Aside from there being no real clinical results, this weight loss formula is quite expensive as well. Not to mention there are a lot of customer complaints regarding Easy 100 capsules.
If you'd like to get rid of excess body fat more quickly, then we encourage you to go with a weight loss product that is affordable, supported by science and backed by plenty of customer testimonials.
Among the top weight loss products we've come across in 2015 is one called Leptigen. This diet supplement contains a unique blend of four ingredients, which have been shown in documented scientific studies to improve fat loss and elevate metabolism. Furthermore, we can't locate any discussion of negative side effects and user reviews posted on the web show people are seeing considerable results.
Also, the makers of Leptigen are so confident in their product they're offering a special trial offer, which is a good sign.