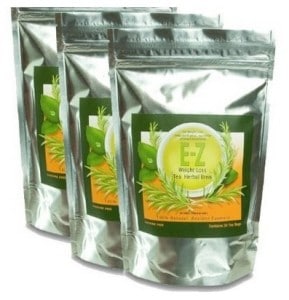 There's been a lot of buzz around Easy E-Z Herbal Weight-Loss Tea, so we dug deep and created an in-depth review, examining the ingredients, side effects, scientific research and customer care. Moreover, we read countless dieter and user comments found online. Lastly, we condensed and summarized all the facts and feedback we found to give you the bottom line.
EDITOR'S TIP:
Combine Easy E-Z Herbal Weight Loss Tea with a proven fat burner such as
Leptigen
for better results.
What You Need To Know
First off, Easy E-Z Herbal Weight-Loss Tea is a product made by YoungYou International. The ingredients used in this herbal tea are foeniculum vulgare, cymbopogen citratus, rosa canina fructus, panax ginseng, eucalyptus globulus, zingiber officinalis, pimpinella anisum, chamomilla recutita, tamarindus indica, cyanus, rabus idaeus, centaurea, cranberry and blackberry. In order to use it, you simply add one bag to a cup of hot/boiling water and let it steep for 5-15 minutes. It should be consumed once or twice each day. It's claimed to boost metabolism, control appetite and encourage a downward shift on the scale. Furthermore, it should help flush excess water, waste and toxins from the body.
This tea has been available since 2012 and it is easy to buy via the official website for $26.71 (30 servings). Easy E-Z Herbal Weight-Loss Tea is 100 percent herbal and provides some antioxidants, but read on…
Unpleasant Taste – "Uh Oh?"
The first thing we noticed with Easy E-Z Herbal Weight-Loss Tea ingredients is that the taste was less than desirable. "You have to drink products like this, so how is the dieter supported to lose more if they can't get it passed their lips?," asks our Research Editor.
One customer complained, "The tea doesn't taste good – TRUTH. For $30.00 (which is what I paid) I was expecting it to do a little something…or a lot of something…but the tea literally did nothing."
"The taste of the tea was so terrible I could not even drink it," said another user.
Scroll below for one of the best products we've seen over the last year.
No Real Results – "Too Bad"
Sadly there is no real science or clinical trials presented on the official website to support this herbal tea and the ingredients it uses for weight-loss and that means the results are just not there. One dieter stated, "HORRIBLE PRODUCT! DOES NOT WORK!!"
Another user said, "Didn't work for me. Took this tea for weeks but it was a waste of money." Yet another commented, "Did absolutely nothing for me."
According to our research, if there is one particular aspect of a supplement or program that is very bothersome (unpleasant taste, a difficult or painful exercise, no real science) the odds of long-term success are not good. So, if Easy E-Z Herbal Weight-Loss Tea is yucky, that's enough reason to choose a different product.
The Science – "Proven Effective?"
From what we could gather, there is no actual documented clinical science that supports Easy E-Z Herbal Weight-Loss Tea for fat loss or weight reduction. Therefore we at DietSpotlight we can't find reason to give this one a green light. The ingredients are simply not backed by real studies.
The Bottom Line – Does Easy E-Z Herbal Weight-Loss Tea Work?
So, are we racing out to clear the shelves of this one? Some dieters will like that Easy E-Z Herbal Weight-Loss Tea is an alternative to pills and bars, but we have reservations about recommending this. Not only does it lack real clinical results, but it also tastes bad, according to many users. Furthermore, you cannot get your money back if you do not like it. The official website does not offer a refund for opened packages.
If you need to shed more pounds of fat, we recommend you choose a diet tea or weight-loss supplement that contains clinically proven ingredients, does not cause side effects and is backed by positive customer reviews.
Among the best products we've seen in 2016 is one called Leptigen. This diet supplement uses a proprietary blend of four ingredients, which have been proven in documented scientific research to help ignite metabolism and encourage more fat loss. We have not found any discussion of harmful side effects and user reviews around the web reveal people are seeing significant results.
Also, the makers of Leptigen are so confident in their product they're offering a special trial offer, which is a good sign.