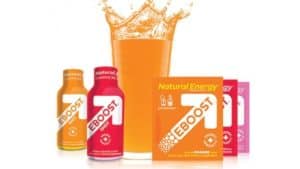 Why are people talking about EBoost energy products? Well, we took the time to create an in-depth review, scrutinizing the side effects, ingredients, clinical studies and overall customer-service quality. Then we read hundreds of user responses and remarks from all over the internet. Lastly, we summed up all of the facts and feedback we found to give you the bottom line.
What is EBoost?
First off, EBoost is a brand that offers energy supplements, powders and shots. These products are available directly from the official website, as well as via stores like Amazon. These formulas contain ingredients such as green tea leaf, glucuronolactone, green coffee bean, 5-HTP, amino acids, resveratrol, huperzine-a, vinpocetine, astragalus root, caffeine, antioxidants and various vitamins and minerals. Put simply, these beverages are supposed to help elevate mood, improve focus and boost energy levels. The powder formulas are just added to 12 ounces of water. They can be consumed before workouts or as a pick-me-up.
EBoost was founded in New York City, back in 2007. They offer several flavors, which include orange, acai pomegranate, strawberry kiwi, fruit punch, and pink lemonade. Each drink only contains 10 calories. Furthermore, these products are free of gluten and some contain no sugar, but read on…
Unpleasant Taste – "Can You Handle This?"
One issue we have is with the unpleasant taste. According to our Research Editor, "A number of customers have complained about the flavor of EBoost products. Some say they taste too sweet and/or like chemicals."
One user stated, "I took one swallow and was horrified. I gagged down the rest of it and was rewarded with no effects other than the jitters. This is just really awful."
Then again, a different person commented, "Acai pomegranate flavor is okay. Gives me a little energy."
"It's tasty but don't feel like it gives me energy. I also feel like it gives me a little gastric reflux," posted another.
Scroll below for one of the best products we've seen over the last year.
Side Effects – "Be Careful"
Another concern is EBoost side effects. Some users have reported jitteriness, headaches, nausea, stomach cramps and rapid heartbeat. In fact, one person said, "This drink makes me really jittery and nauseated. It has a poor chemical taste as well. Not for me."
But, a different user mentioned, "I get a small energy boost from this product. But not nearly as much as I get from other drinks."
Another posted, "I like the EBoost ingredients. Contains various vitamins and minerals."
Our extensive research has revealed that if there's a particular facet of an energy drink or workout supplement that is especially bothersome or concerning (unpleasant taste, side effects, discouraging user reviews) the chances of lasting results are not very good. So, if EBoost energy supplements do in fact taste bad to a lot of people, this could be a deal breaker.
The Science – "Any?"
Well, we did not locate any studies regarding EBoost products per se. However, these shots and powders do contain stimulants like caffeine. Therefore they may help increase energy levels and enhance focus. At least for some users. However, we are not convinced these supplements will provide a boost that lasts very long.
The Bottom Line – Does EBoost Work?
So, should you whip out your credit card and order EBoost shots or powders? Well, firstly, we like that these products come in various flavors. We also appreciate that these drinks contain antioxidants and vitamins. On the other hand, we have some doubts about these supplements because some customers have complained of unpleasant side effects. Furthermore, we're leery of the discouraging comments regarding the unsavory flavor.
If you really want to boost your energy levels, fight hunger and promote weight-loss, we recommend you go with a product that's supported by documented research, does not have an unpleasant taste and will not cause any harmful side effects.
Among the best products we've seen in 2016 is one called Leptigen. It contains a combination of four ingredients, which are clinically shown to help boost metabolism, kick-start fat loss and fight hunger. We have not found any discouraging user remarks. Moreover, customer feedback posted on the web shows people are seeing real results.
The makers of Leptigen are so sure of their product they're offering every customer a Special Trial Offer. That's a great deal.