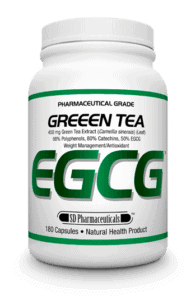 Why is it that so few diet products are backed by science? Let's find out if EGCG is one of the good ones. We did extensive research on its ingredients, side effects, customer service, and clinical research. We also read hundreds of reviews. After all this, we digested all of the facts in order to give you the bottom line.
What is EGCG?
First off, EGCG stands for epigallocatechin gallate, which is a chemical found in green tea extract. Although it is mainly found in long ingredient lists in weight-loss supplements, many retailers do sell the compound on its own. When isolated into its own product, it is usually consumed via pills, tablets, and capsules.
The origins of EGCG date back to ancient China, where it was used for traditional Chinese medicine thousands of years ago. While there is no central seller of the chemical compound, we do know that it is available from many popular shops. Some science suggests that is can be beneficial to your overall health, but read on…
Side Effects – "Is It Worth the Risk?"
The first issue we have with is potential EGCG side effects. When we were looking at customer reviews, we found that many customers had issues while consuming the supplement. "One of the main issues we have with any weight-loss product are the problems experienced while using them," said our Research Editor. "If the cons outweigh the pros, then many will believe it simply isn't worth the risk."
"I got headaches, joint pain, fatigue, and much more," complained one user.
Another had a similar experience, writing, "Whenever I take these EGCG pills I almost instantly feel nauseated."
However, some people found that they could not relate. One customer mentioned, "No side [effects] for me on these and have helped me loss a few [pounds] AND they have helped to improve my CLL blood work levels…[doctor] is pleased!!"
"In my experience, there weren't any negative side effects," agreed another.
Scroll below for one of the best products we've seen over the last year.
Weight-Loss – "Why Isn't This Working?"
The second issue we had with EGCG was its lack of weight-loss effects on some individuals. "If someone starts taking supplements to help shed those extra pounds, then they expect it to work," said our Research Editor. "Customers get disappointed when they don't see any results."
According to a user review, "I have been taking [this] product for over 3 weeks and I [saw] no benefit[s]."
"It has the same effects as a placebo," agreed another.
Some customers saw real results while using EGCG. "Seems to increase metabolism and decrease late night carb cravings," wrote one individual.
Another agreed, saying, "I take one a day, with my breakfast. I feel like it has made me eaten less, and change my appetite."
After years of research, we have found that a small problem with a weight-loss product can be a major issue that ruins any chance of long-term success. If EGCG is ineffective or causes side effects, then customers will go elsewhere.
The Science – "Proven?"
Green tea extract is backed by some incredible research, noting its intense metabolism, appetite, and weight-loss effects. However, EGCG is only a small component of green tea extract, and although lots of science backs up its health benefits, we aren't so sure about it helping you lose extra fat. At DietSpotlight, we like to see some science before we recommend any product. In this case, there might not be enough.
The Bottom Line – Does EGCG Work?
So, should you clear the shelves of the EGCG supplements? When we first started researching the chemical, we found that it did have some science and customer reviews backing it up. However, we also saw that many individuals suffered from negative side effects and a lack of any weight-loss results, something that disappointed us. For that reason, we are hesitant to recommend this product.
If you are ready to lose weight, we suggest using a supplement that's made with clinically tested ingredients, isn't associated with harmful side effects and is backed by great customer service.
Among the best products we've seen in 2016 is one called Leptigen. It is a weight-loss product that has clinically tested ingredients, positive reviews, and a supportive customer service department. Plus, no harmful side effects have been reported.
Plus, the makers are offering a Special Trial Offer for all new customers.