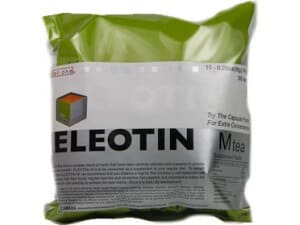 I did two things this week. I obsessed over every aspect of Eleotin and I wrote this review. We are always excited to learn about all natural supplements that may assist individuals interested in losing weight so we looked at the ingredients, side effects, customer service and clinical research. We also read all the comments and experiences we could find. Then, we gathered it all and condensed to give you the bottom line.
What is Eleotin?
First off, the basis of many of the Eleotin supplements is on the regulation of blood glucose levels. Because of this, they are heavily marketed towards individuals who suffer from some form of diabetes. The company claims that the product line will restore balance to these levels temporarily, but also that it can enhance the overall long term performance of the body in self regulation. There is a connection to weight-loss however, because even levels can mean fewer cravings.
Eastwood Bio-Medical Research is behind the Eleotin line. We couldn't find the date the company was founded, but the official website was purchased in 2003. We like that there's a unique focus on obesity products, but read on…
Weight-Loss Products – "Not Many"
There are actually several Eleotin supplements available from the manufacturer's website. Some that promote the regulation of glucose levels are in the form of capsules and teas. Others are also available, including metabolism boosting products for pets, books about childhood obesity, socks, supplements to promote cardiovascular and bone health and obesity fighters. "The selection is amazing, especially if the line was available in a physical store, but when you look up weight-loss you get only two formulas and one is for kids," says our Research Editor.
Scroll below for one of the best products we've seen over the last year.
Ineffective Ingredients – "An Issue?"
According to the manufacturer's website there are several primary ingredients in the Eleotin line, including Platycodi Radix, Schizandrae Fructus, Capsella Bursa, Glycyrrhizae Radix, Astragalus Membranaceus Bunge, Lycium Chinese, and Dioscorea Japonica Thinberg. However, the FAQ section says the customer would have to call customer service for a complete list for a given formula. The majority of testimonials online have to do with blood glucose regulation, not weight-loss.
As one customer put it, "Eleotin is effective in regulating blood glucose levels."
Another said, "A pathfinding discovery in the reversal of diabetes."
It's important to note that these quotes are from doctors who support the line for diabetes. We found nothing from physicians about weight-loss.
The Science – "Is The Line Proven?"
The company provides absolutely no scientific evidence that their products are able to do any of the things they claim. While regulating blood sugar levels may be useful in promoting weight-loss, there is no evidence that these formulas are able to actually accomplish this. Further, individuals with a diabetic condition should be careful about changing the way their treatment is managed without consulting their personal physician.
The Bottom Line – Does Eleotin Work?
Are we already checking out our buying options? While we do like that the products appear to be all natural, and the somewhat unique approach to promoting weight-loss, the scientific support is simply not there. The most effective supplements undergo thorough testing prior to being offered to consumers and those results should be easily accessible for anyone interested. Eleotin fails to offer such reassuring documentation.
If you've got weight-loss on your mind, we suggest going with a formula that's scientifically tested and shown to have a positive effect on metabolism.
Among the best products we've seen in 2016 is one called Leptigen. It's made with four tested ingredients that are well known for their weight-loss properties. After researching the claims of the product we found no negative reviews, indicating clients who were happy with their results.
The company that makes Leptigen is fully confident in the product. They are offering new customers a Special Trial Offer, which many of our readers have been quite happy with.