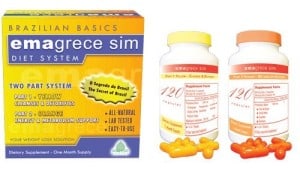 We've heard a great deal of talk about Emagrece Sim weight loss pills, so we conducted an in-depth review, scrutinizing the ingredients, side effects, customer care and clinical research. Furthermore, we took a close look at all sorts of user reviews and customer responses we found on the web. We then summed up everything we discovered to give you the important facts you need.
EDITOR'S TIP:
Substitute Emagrece Sim with a proven fat burner such as
Leptigen
for better results.
What You Need To Know
Emagrece Sim is claimed to help you get rid of unwanted pounds. This is a weight loss kit that includes two different diet formulas. There are essentially yellow capsules (90 count) and orange capsules (90 count). Also known as the Brazilian Weight Loss Program, Emagrece Sim takes you through five different levels or stages of weight reduction. According to the official website, you should experience fast weight loss, a sudden pause or slow-down in weight reduction and then a more steady or long-term weight management. In order to use this diet kit, you take one of each capsule in the morning with breakfast, and then one of each before 7pm. As for the ingredients used in Emagrece Sim, they include; Carqueja, Gotu Kola, Bladderwrack, Hydroxycitric Acid, Ginkgo Biloba, Collagen Hydrolysate, Chamomile, Horsetail, Cascara Sagrada Bark, Senna, Horse-Chestnut, Passion Flower and St, John's Wort.
Emagrece Sim has been available since 2006, and it can be purchased through the main website. Natural ingredients are used in this product and there is no prescription required, but read on…
Steep Price!
"We took a close look at the official website and discovered that the cost of Emagrece Sim is typically $199. However, it's now on sale for $109, which is enough to last for 45 days. This diet product is definitely not affordable for everyone," says our Research Editor.
One customer commented, "This is just too expensive for me. After you buy it once, you have to buy the two pills separately, which is a lot more!"
Another user said, "Does not work…too expensive."
Scroll below for one of the best products we've seen in 2015.
Lack of Real Studies – Another Drawback
There are no clinical trial results or studies posted on the official website to support Emagrece Sim. One customer stated, "Will not make you lose weight like it says."
"No weight loss so far. It's been about four weeks," said another dieter.
The research we've conducted has shown that if there is one aspect of a weight loss pill or diet program that is quite problematic (lack of real research, fat price tag, too many side effects) the chances of prolonged success are minimal. This means if Emagrece Sim does lack real science and fails to produce weight loss results in a lot of dieters, this could be a major dilemma.
The Science
We scoured the internet, but could not find any clinical research to support the weight loss claims made by Emagrece Sim capsules. Since there is no real science backing this diet product, we can't get behind these supplements. Furthermore, some of the ingredients found in Emagrece Sim are not safe.
The Bottom Line
This Brazilian Weight Loss Program has been around for several years now, which is commendable. However, you really need to pay close attention to the actual cost of Emagrece Sim before you get involved. Furthermore, we did not find a 100% money-back guarantee posted on the company website. Also, there are no user testimonials found on the website.
Dieters that need faster weight loss results, we encourage you to choose a diet supplement that contains safe ingredients, is affordable and is also supported by real scientific research.
Among the most impressive diet products we've encountered in 2015 is Leptigen. Its formula is a unique blend of four proven ingredients that have been shown in documented scientific studies to encourage fat loss and elevate metabolism. You should also be aware that we can't find any feedback about harmful side effects and dieter comments online reveal people are seeing solid results.
Also, the makers of Leptigen are so confident in their product they're offering a special trial offer, which is a good sign.