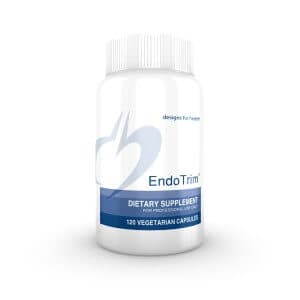 Don't laugh, but well over 50% of diet products simply don't work. So what about EndoTrim? We took the time to create a comprehensive review, investigating the side effects, ingredients, scientific research and overall customer service. Plus we looked at all sorts of customer comments from around the web. Finally, we summarized and condensed the data we found to give you the info you need.
What You Need To Know
To begin, EndoTrim is a supplement made by Designs for Health. According to the label on the bottle, this product is for "professional use only." However, EndoTrim sells online via stores like Amazon. It is claimed to help regulate blood sugar levels, improve lean body mass, boost metabolism and encourage healthy cortisol levels. You need to take two capsules with breakfast and two with lunch. As for the ingredients, they include the following; American Ginseng (200mg), Vanadium (100mcg), L-Carnitine (100mg), GABA (100mg), N-Acetyl-Tyrosine (100mg), Banaba Extract (100mg), Garcinia Cambogia Extract (200mg), Chromium (200mcg), Green Tea (300mg), Forskohlin Extract (250mg), Zinc (5mg), Magnesium (10mg), Pantothenic Acid (100mg), Vitamin B6 (5mg) and Vitamin C (100mg).
EndoTrim was released back in 2012 and it's easy to acquire online. This product is easy to use anywhere and it provides some daily vitamins, but read on…
Fad Supplement Ingredients – "A Consideration?"
The first issue deals with Endotrim ingredients. "The product contains Garcinia Cambogia Extract and Banaba Leaf to aid with weight-loss. However, these are not backed by any real science or clinical research," says our Research Editor.
According to one user, "I am sorry to say I felt absolutely nothing taking these pills. I was excited to try them, and very disappointed. I thought I would keep taking them to see if it would build up and do something, but no difference."
"Noticed no difference. Very costly. No help," said another person.
Scroll below for one of the best products we've seen over the last year.
User Complaints – "Another Concern"
There are quite a few customer complaints posted on the web for EndoTrim. In fact, one user stated, "I tried this but felt very little difference in anything. It definitely does not do what it claims to do."
Another customer commented, "Didn't work at all for me!"
Our extensive research has shown if there is one facet of a supplement or diet system that is very problematic (fad supplement ingredients, side effects) the likelihood of lasting weight-loss results is slim. This means if EndoTrim does lead to a lot of user complaints, this could be a deal breaker.
What About Solid Science?
The official website does not address any clinical research regarding this supplement. There is "science" mentioned, but nothing specifically for EndoTrim. Here at DietSpotlight, we prefer to see actual studies that support the diet product's claims.
The Bottom Line – Does EndoTrim Work?
Now the moment you've been waiting for: our bottom line on EndoTrim. First of all, we like that it provides some daily vitamins and it's easy to use anywhere. But we have some doubts about it because it's not backed by real clinical research. Moreover, we're concerned about the fad supplement ingredients and the user complaints we found posted online.
If you'd like to shed more pounds of fat, then we encourage you to try a diet product that does not contain any fad supplement ingredients, is backed by solid clinical testing and is supported by encouraging user reviews.
Among the best products we've seen in 2016 is one called Leptigen. This supplement contains four key ingredients, which have been shown via clinical testing to help boost metabolism and improve fat loss. Dieter comments around the web reveal people are seeing solid results.
The makers of Leptigen are so sure about their product they're offering a Special Trial Offer, which is a positive sign.