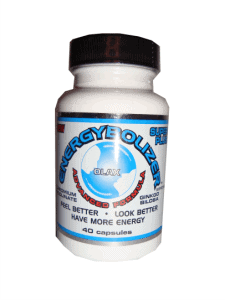 97% of dieters just want a product that's effective. Yep, we wonder about the other 3% too. There's been all kinds of chatter about Energybolizer for weight-loss, so we conducted an in-depth review, examining the side effects, ingredients, customer service and scientific studies. We also took a close look at dozens of user experiences and comments posted on the internet. Finally, we summed up all the information we found in order to give you the bottom line.
What is Energybolizer?
First off, Energybolizer is a dietary supplement. It contains white willow bark, green tea, Siberian ginseng, 72 trace mineral complex, garcinia cambogia, royal jelly, ginger, chromium picolinate, bladderwrack, foti, guarana, hawthorne berries, saw palmetto, kola nut, beet root powder, yerba mate, vitamin B-12 and gingko biloba. It is supposed to encourage weight-loss, build muscle, increase energy and aid with overall health. This product is taken daily with water and it is fine for women and men alike.
Energybolizer is made by Olax and it was released in 2011. This supplement contains natural ingredients and some customer testimonials are posted on the website, but read on…
Hidden Price Tag – "What's the Cost?"
The first problem with Energybolizer ingredients is the unknown price tag. According to our Research Editor, "The actual cost is not revealed on the official website. This is quite concerning and it leaves many dieters wondering if they are going to be charged a ridiculous amount."
According to one customer, "When I click the "buy now" button, I'm taken to a page that shows a phone number and email address. This is fishy! So what's the price?"
"I can't trust a company that doesn't tell me the price of their product," said another person.
Scroll below for one of the best products we've seen over the last year.
Fad Diet Ingredients – "Be Aware"
We noticed that Energybolizer contains ingredients such as garcinia cambogia and bladderwrack to help with fat loss, but these are not backed by real clinical studies. One user complained, "I don't think it actually works!"
Another customer commented, "This stuff does not help you lose weight. Only get a mild caffeine buzz."
After doing plenty of research, we have come to the conclusion that if there is a particular part of a product or system that is very problematic (fad diet ingredients, a difficult exercise, the price is not disclosed) the likelihood of real long-term results is slim. This means if Energybolizer does fail to yield real weight-loss, this could be a big problem.
The Science – "Effective?"
First of all, the ingredients used in Energybolizer are explained on the official website, which is great. However, we at DietSpotlight could not find any clinical research that supports this weight-loss formula. A study is mentioned on the company website, but the details are pretty vague. Since we need to see real science that backs up the product and its claims, we wonder why the dieter would take the chance.
The Bottom Line – Does Energybolizer Work?
So, has the time come to jump in the car to run out and buy this one up? We are glad to see that Energybolizer contains a natural formula and some amino acids, but we are hesitant to recommend this product for fat loss and weight management. First of all, it's odd that the company does not clearly list the price on the website. Secondly, there are fad weight-loss ingredients, which is a major concern.
For those who would like to see more weight-loss, we suggest you choose a diet supplement that contains a proven ingredient blend, is not hard on your wallet and is supported by positive user reviews.
Among the best products we've seen in 2016 is one called Leptigen. This weight-loss supplement contains four important ingredients, which have been shown in documented scientific research to help ignite metabolism and speed up fat loss. Furthermore, we can't pinpoint any talk of negative side effects and user reviews found on the web express people are seeing significant results.
Also, the makers of Leptigen are confident enough in the formula that they're offering a Special Trial Offer, which is a positive sign.