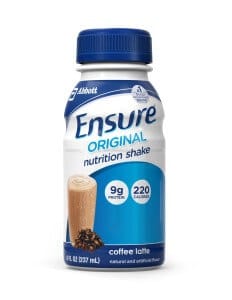 Why is it that so few diet products are backed by science? Let's find out once and for all if Ensure is one of the good ones. We created a comprehensive review, examining the side effects, ingredients, clinical studies and level of customer service. Then, we spent some time reading through user experiences we found online. Finally, we summed up and condensed to give you the bottom line.
What is Ensure?
First off, Ensure is a prepackaged nutritional shake that is ready-to-drink. It is made by Abbott Laboratories and comes in milk chocolate, dark chocolate, vanilla, strawberry, butter pecan and coffee latte. It is intended to provide daily nutrition, boost energy levels and function as an alternative to meals. Each serving provides 220 calories, nine grams of protein, 26 essential vitamins and minerals, as well as 25% of your daily B vitamins. As such, you may be able to lose weight if you use this as part of a low-calorie eating plan.
The meal replacement shake will not increase metabolism or boost fat loss directly, but there are clinically tested supplements that can help with that if you're trying to lose weight.
Ensure has been available since 1973 and can be purchased in common supermarkets and drugstores. This shake is easy to consume on-the-go and it's fine for people of all ages, but read on…
Bad Taste – "Yucky?"
The first thing you must consider with Ensure ingredients is the taste. "If dieters cannot drink a product that is supposed to provide nutrition, that can be a huge problem," says our Research Editor. "There are far too many complaints about this to ignore."
One customer commented, "This flavor was gross though. It tastes absolutely nothing like coffee or any other known flavor for that matter. The person who said sidewalk chalk – not a bad comparison."
"I don't really like the taste. I ended up holding my breath while drinking it to avoid tasting it. It tastes artificial," said another user.
According to a few users, the taste was good.
" It packs a huge amount of calories and actually tastes pretty good," said one.
Another claimed, "Ensure Plus tastes great and isn't too thick."
Scroll below for one of the best products we've seen over the last year.
Low Protein Levels in Ensure – "Another Concern"
Each bottle/serving of Ensure only proves nine grams of protein, which is quite small in comparison to most other bars and shakes in the same category. In fact, one customer stated, "Only 9 grams of protein? Really? No thanks!"
Another said, "I'll stick with my protein powder. It tastes better too."
Not everyone felt the protein levels were too low.
"The jugs are very small and yet pack 350 calories in each one. Lots of protein too," one customer shared.
Another said, "Each bottle contains 350 calories and 13 grams of protein, and 24 vitamins and minerals. It's about the healthiest drink on the market."
The research we've conducted has shown if there is one specific aspect of a diet shake that is off (bad taste, low protein levels) the likelihood of prolonged success is slim. So, if the dieter can't keep Ensure down and it doesn't provide sufficient nutrition, that is certainly an issue, especially if weight-loss is the goal.
The Science – "Valid?"
At DietSpotlight, we really prefer to see documented clinical research that supports the diet product or pill and how it helps the dieter lose. As for Ensure nutritional shakes, we could not locate any published studies that links this product to weight-loss. However, we have to note that meal replacements can work to reduce calorie intake when used regularly. Partner that with a tested and strongly supported supplement and you've got the recipe for success.
The Bottom Line – Does Ensure Work?
So, have we decided this is the best replacement out there? We are excited to see that there are numerous Ensure flavors to choose from. You should note that this shake contains 15 grams of sugar per serving, which is not the best option when you are trying to lose weight. Combine that with the fact that clinical research does not support this formula over other nutritional drinks and we're left skeptical about recommending it. Furthermore, there are plenty of customer complaints about the taste.
Dieters that wish to shed more pounds and really trim up, may want to consider a weight-loss pill that is supported by solid clinical testing, does not taste unpleasant and is backed by all sorts of positive user reviews. It's even better if you can combine a meal replacement with such a product.
Among the best products we've seen in 2016 is one called Leptigen. Its formula is a special blend of four ingredients, which have been shown with clinical testing to help ignite metabolism and encourage more fat loss. We have not seen many complaints of adverse effects and dieter feedback around the web indicates people are seeing some fantastic results. These are the exact characteristics of a strong weight-loss supplement.
Also, the company that produces Leptigen is so confident in the supplement they're offering a Special Trial Offer, which is a huge positive. You really have nothing to lose but those extra pounds that have been hanging around!