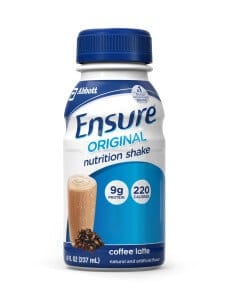 There has been a lot of talk about Ensure nutritional shakes, so we created a comprehensive review, examining the side effects, ingredients, clinical studies and level of customer service. Moreover, we spent some time reading through user comments and customer reviews we found online. Lastly, we summed up all of the facts and dieter comments we discovered to give you the bottom line.
EDITOR'S TIP:
Combine Ensure with a proven fat burner such as
Leptigen
for better results.
What You Need To Know
Ensure is a prepackaged nutritional shake that is ready-to-drink. It is made by Abbott Laboratories and comes in the following flavors; milk chocolate, dark chocolate, vanilla, strawberry, butter pecan and coffee latte. This shake is intended to provide daily nutrition, boost energy levels and function as a low-calorie alternative to fatty meals. Therefore Ensure can be used in place of meals to aid with weight loss. As for the nutrition facts, each bottle of Ensure provides 220 calories, 9 grams of protein, 26 essential vitamins and minerals, as well as 25% of your daily B vitamins.
Ensure has been available since 1973 and can be purchased in common supermarkets and drugstores. This shake is easy to consume on-the-go and it's fine for people of all ages, but read on…
Bad Taste!
According to our Research Editor, "There are a lot of customer complains regarding the taste of Ensure. We discovered plenty of negative user feedback on websites like Amazon. Any diet shake or bar that tastes unpleasant is unlikely to work well because dieters will be less likely to commit."
One customer commented, "This flavor was gross though. It tastes absolutely nothing like coffee or any other known flavor for that matter. The person who said sidewalk chalk – not a bad comparison."
"I don't really like the taste. I ended up holding my breath while drinking it to avoid tasting it. It tastes artificial," said another user.
Scroll below for one of the best products we've seen in 2015.
Low Protein Levels – Another Concern
Each bottle/serving of Ensure only proves nine grams of protein, which is quite small in comparison to most protein bars and shakes. In fact, one customer stated, "Only 9 grams of protein? Really? No thanks!"
Another said, "I'll stick with my protein powder. It tastes better too."
The research we've conducted has shown if there is one specific aspect of a diet shake or weight loss program that is very burdensome (a painful/difficult exercise routine, bad taste, low protein levels) the likelihood of prolonged weight loss success is slim. So, if Ensure nutritional shakes do in fact taste bad to a lot of people and fail to provide sufficient amounts of protein, this could certainly be problematic.
The Science
At DietSpotlight, we really prefer to see documented clinical research that supports the diet product or weight loss pill and how it assists with weight reduction. As for Ensure nutritional shakes, we could not locate any published clinical studies or science that links this product to weight loss. Therefore we cannot get behind this diet shake.
The Bottom Line
We are excited to see that there are numerous Ensure flavors to choose from. However, you should note that this shake contains 15 grams of sugar per serving, which can certainly contribute to weight gain. Also, artificial sweeteners like Sucralose are used in Ensure products, which some dieters will not like. Furthermore, there are plenty of customer complaints about the overall taste of this nutritional shake. Lastly, the protein levels in Ensure do not match what many protein powders and bars offer.
Dieters that wish to shed more pounds and really trim up, we advise you to consider a diet shake or weight loss pill that is supported by solid clinical studies, does not taste unpleasant and is backed by all sorts of positive user reviews.
Among the top weight loss products we've encountered in 2015 is Leptigen. Its formula is a special blend of four ingredients, which have been shown in documented scientific studies to help ignite metabolism and encourage more fat loss. We have not seen any complaints of harmful adverse effects and dieter feedback around the web indicates people are seeing substantial results.
Also, the makers of Leptigen are so confident in their product they're offering a Special Trial Offer, which is a good sign.