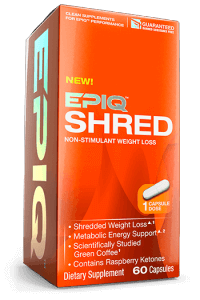 What's with all the buzz regarding Epiq Ripped thermogenic capsules? We decided to write a detailed review, focusing closely on the side effects, ingredients, customer service quality and scientific studies. Furthermore, we examined dozens of user comments and responses found on the internet. Finally, we compressed all of the facts and feedback we found to give you the info you need.
EDITOR'S TIP:
Substitute EPIQ Ripped with a proven fat burner such as
Leptigen
for better results.
What You Need To Know
First off, Epiq Ripped is a capsule formula that aims to increase thermogenesis, boost energy levels and encourage "hard-hitting" weight-loss. The ingredients used in Epiq Ripped are green coffee bean, caffeine anhydrous, green tea leaf, yohimbe bark, cayenne pepper fruit, raspberry ketones, L-carnitine L-tartrate and dandelion root. It is marketed as an ultra-intense product because it helps increase workout intensity. In order to use this supplement, you need to take one capsule 30-60 minutes prior to your two largest meals; always with eight ounces of water. However, you should never take more than two in 24 hours.
Epiq Ripped was released in 2013 and it is available for $49.99, in some stores. This product is made without any artificial colors or dyes and a few customer testimonials are posted on the official website, but read on…
Fad Diet Ingredients – "What?"
Our first concern with Epiq Ripped ingredients is the fact that some are nothing more than a fad. "If the company uses a formula that contains something like raspberry ketones, you may want to take a second look before giving it a try," says our Research Editor.
One dieter stated, "This did not work for me. It was like eating tic tacs."
"Didn't do squat for me, maybe help someone else with metabolism. Don't waste your Money!," said another user.
Scroll below for one of the best products we've seen over the last year.
Discouraging User Reviews – "A Problem"
We could not help but notice the negative user feedback posted on dealer websites like Amazon. One customer commented, "I took it as directed until finishing all the capsules and did not notice any effect. I am 44 years old and exercise intensively every day. No effect at all."
Another user said, "This is the worst thing EVER. I've had to go to the emergency room because of terrible stomach cramps. I haven't taken any pills for a few days now and I'm still feeling terrible."
Our research has proven that if there is a certain aspect of a pill or program that is very concerning (a painful/difficult exercise routine, negative customer feedback, fad ingredients) the likelihood of prolonged fat loss is slim. This means if Epiq Ripped does cause a lot of discouraging user reviews, this could be a major issue.
The Science – "Proven Effective?"
At DietSpotlight, we prefer to see published studies that support the product and how it assists with weight-loss. Sadly we could not find any clinical research that pertains to Epiq Ripped capsules. While the official website does provide the ingredient label, actual science is not addressed at all.
The Bottom Line – Does Epiq Ripped Work?
Has the time come to race out and buy up all of this one? Some dieters will appreciate that you only need to take one capsule for each dosage of Epiq Ripped. On the other hand, there are numerous customer complaints about this one not working for weight reduction. Furthermore, many users have complained of side effects as well. In the end, there are more promising weight-loss products out there, so we are skeptical about giving this one the thumb up.
If you want to speed up weight-loss and rock your best body, we advise you to choose a diet supplement that contains clinically proven ingredients, is backed by positive user reviews and does not cost you a fortune.
Among the best products we've seen in 2016 is one called Leptigen. This supplement contains four important ingredients, which have been shown in documented clinical studies to help accelerate metabolism and increase fat loss. Moreover, we can't find any complaints of harmful adverse effects and user comments posted online show people are seeing excellent results.
Plus, the makers of Leptigen are very confident in their product so they're offering a Special Trial Offer, which is a good sign.