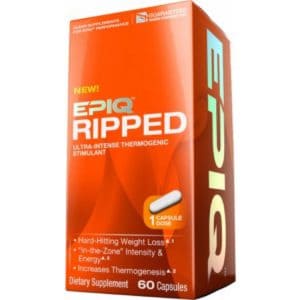 What's with all the buzz regarding EPIQ Ripped thermogenic capsules? We focused on side effects, ingredients, customer service quality and scientific studies. Furthermore, we examined hundreds of user comments and reviews. Then, we summarized and condensed to give you the info you need.
What is EPIQ Ripped?
First off, EPIQ Ripped is fat burner containing green coffee bean, caffeine anhydrous, green tea leaf, yohimbe bark, cayenne pepper fruit, raspberry ketones, l-carnitine l-tartrate and dandelion root. After taking two per day, the product supposedly increases energy levels.
EPIQ Ripped was released in 2013 and is sold on the official website as well as trusted retailers. We like that is contains a few natural ingredients and that we located some favorable customer comments, but read on…
Ineffective Ingredients – "What?"
Our first concern with ineffectiveness of EPIQ Ripped ingredients. "If the company uses a formula that contains something like raspberry ketones, you may want to take a second look before giving it a try," says our Research Editor.
One dieter stated, "This did not work for me. It was like eating tic tacs."
"Didn't do squat for me, maybe help someone else with metabolism. Don't waste your Money!," said another user.
Scroll below for one of the best products we've seen over the last year.
Negative User Reviews – "A Problem?"
We could not help but notice the negative user feedback posted on dealer websites like Amazon. One customer commented, "I took it as directed until finishing all the capsules and did not notice any effect. I am 44 years old and exercise intensively every day. No effect at all."
Another user said, "This is the worst thing EVER. I've had to go to the emergency room because of terrible stomach cramps. I haven't taken any pills for a few days now and I'm still feeling terrible."
Our research has proven that if there is a certain aspect of a supplement considered a concern, like an unacceptable response from customers, the chances of long-term success is slim. So, if EPIQ Ripped is viewed in a negative light, this could be a problematic.
The Science – "Proven Effective?"
At DietSpotlight, we prefer to see published studies that support the product and how it assists with weight-loss. Unfortunately, we could not find any clinical research that pertains to EPIQ Ripped capsules, although there's solid science backing ingredients like caffeine and green tea.
The Bottom Line – Does EPIQ Ripped Work?
Are you about to race out and buy EPIQ Ripped? Well, we like that it contains a few natural ingredients and that we found some favorable comments, but the lack of scientific research leaves us a bit skeptical. We're also concerned about the customer comments about ineffective ingredients.
If you want to drop those extra pounds, we suggest going with a supplement containing some clinically-tested ingredients and backed by positive user reviews.
Among the best products we've seen in 2016 is one called Leptigen. This supplement contains some clinically-tested ingredients, which have been shown to help accelerate metabolism and increase fat loss. Moreover, we can't find any complaints of harmful adverse effects and user comments posted online show people are seeing excellent results.
Plus, the makers of Leptigen are very confident in their product so they're offering a Special Trial Offer, which is a good sign.