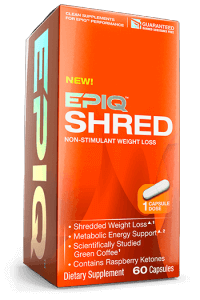 Don't laugh, but well over 50% of diet products simply don't work. So what about Epiq Shred? There's been all sorts of discussion about this supplement, so we took the time to do one of our in-depth reviews, examining the ingredients, side effects, customer service and clinical studies. Furthermore, we scrutinized countless comments and user experiences from all over the web. At this point we summarized all the facts and condensed to give you the bottom line.
What You Need To Know
First off, Epiq Shred is a one of several weight-loss supplements available from Epiq. This product is boasted as a non-stimulant formula that is effective for increasing metabolic energy, shredding fat and suppressing appetite. You simply take two capsules 30-60 minutes prior to your two largest meals of the day. Epiq Shred contains raspberry ketones, green coffee bean extract, saffron stigma, white kidney bean, L-carnitine, CLA and vitamins B6 and B12. Although it is not available on the official website, it is available through online stores like GNC for $49.99 for 60 capsules.
It appears that Epiq Shred was initially released in 2013 and it doesn't contain any artificial colors or dyes, good choice. Also, this product offers some natural ingredients and it should be taken in conjunction with a sensible diet and exercise program, but read on…
Lack of Results – "Not the Best?"
Our first issue with Epiq Shred ingredients was that they don't work as the company claims they will. According to our Research Editor, "After taking a close look at the website for Epiq Shred capsules, it's clear that no real study was conducted to support the weight-loss promises pertaining to this diet pill and that shows in dieter reviews."
One customer stated, "Don't waste your time or money. It does not work."
Another user said, "This product is complete shit!"
Scroll below for one of the best products we've seen over the last year.
Fad Diet Ingredients – "Uh Oh"
One of the core ingredients found in Epiq Shred capsules is raspberry ketones. There is no science that supports this one for actual weight reduction. One customer said, "Doesn't do anything at all."
According to another dieter, "Epiq Shred does not cause side effects, but does not cause weight loss either."
According to our research, if one particular facet of a diet pill or program is very bothersome (a painful/difficult exercise routine, no real science, fad weight loss ingredients) the likelihood of real success for the long term is slim. Therefore if Epiq Shred capsules contain a formula that is not clinically proven and fails to cause weight-loss in a number of people, this could be problematic.
The Science – "Clinical Backing?"
Unfortunately there are no scientific studies presented on the company website to support the weight-loss claims made about Epiq Shred capsules. While there is one mentioned for green coffee bean extract, the actual amount of this ingredient needed is not revealed. Therefore this supplement is not really backed by any solid research.
The Bottom Line – Does Epiq Shred Work?
So, here's our final take on this one. First of all, we like that Epiq Shred is recommended with diet and exercise. On the other hand, we are skeptical about recommending this pill because it has not been proven to actually work. Also, there is only one customer testimonial posted on the website to support this product. Moreover, a money-back guarantee is not posted on the website and this supplement contains fad ingredients.
Those who need to lose more pounds of fat and get fit more quickly, we advise you to choose a weight-loss formula that is easy on the wallet and backed by real clinical studies and customer support.
Among the best products we've seen in 2016 is one called Leptigen. This weight-loss supplement uses a combination of four key ingredients that have been proven in published scientific research to help ignite metabolism and speed up fat loss. Moreover, we were unable to pinpoint any talk of adverse effects and user feedback posted online reveals people are seeing excellent results.
Plus, the people responsible for Leptigen are so very confident in the product that they're offering a Special Trial Offer.