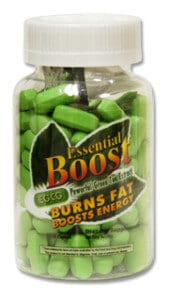 No joke- over 50% of diet products simply don't work. So what about Essential Boost? We at DietSpotlight did one of our in-depth reviews, focusing closely on the ingredients, side effects, customer service and clinical studies. We also scrutinized hundreds of user comments and dieter reviews that are posted online. Lastly, we compacted all of the facts and feedback we found to give you the information you need.
EDITOR'S TIP:
Substitute Essential Boost with a proven fat burner such as
Leptigen
for better results.
What You Need To Know
Essential Boost is a diet supplement that aims to burn off fat, slow down cellular aging, support overall health and boost energy levels. This product should be taken in the morning and at lunch (one caplet is a serving). It contains the following ingredients; Green Tea Extract, Guarana, Panax Ginseng, Vitamin B12, Magnesium, Calcium, Vitamin B6, Folic Acid, Riboflavin, Vitamin A, Zinc, Vitamin C, Pantothenic Acid, Vitamin E, Iron and Niacin.
From what we gathered, Essential Boost has been available since 2007. This supplement is available on the official website for $9.95 (plus shipping and handling). There is a 30-day satisfaction guarantee posted on the main website, but read on…
Unproven Ingredients – Something to Consider?
According to our Research Editor, "Panax Ginseng and Guarana are two of the key ingredients found in Essential Boost capsules. However, these ingredients are not backed by any real clinical research as effective weight loss aids."
One customer said, "Didn't get any weight loss results from Essential Boost. Maybe a slight energy boost."
"Not sure this product works at all. Still weigh exactly the same after one month," commented another user.
Scroll below for one of the best products we've seen over the last year.
Fraudulent Credit Card Charges!
Some customers have complained of fraudulent credit card charges after ordering Essential Boost. One customer stated, "Beware buying one bottle of Essential Boost for $9.95. The company hijacks your credit card and enrolls you in a multi-month program for five times what you think you are paying (almost $50). This is fraud, pure and simple–and it's not even a very good product."
Another person mentioned, "They charged me again, but for more money! That's criminal!"
Our intensive research has proven that if there is some certain aspect of a diet supplement or weight loss program that is especially burdensome (unproven ingredients, fraudulent credit card charges, high cost) the odds of prolonged success are not good. Therefore if purchasing Essential Boost does in fact result in a lot of fraudulent credit card charges, this could be problematic.
Any Actual Science?
At DietSpotlight, we need to see solid clinical research that supports the diet product we are reviewing. Sadly, we could not locate any real science to back up Essential Boost and its weight loss claims. No studies or clinical test results are presented on the official Leptigen. This product contains a unique blend of four ingredients, which have been proven in published scientific research to help speed up fat loss and boost metabolism. Furthermore, we can't find any discussion of harmful side effects and customer comments posted on the web indicate people are seeing excellent results.
The makers of Leptigen are so satisfied with their product they're offering a Special Trial Offer, which is a good sign.