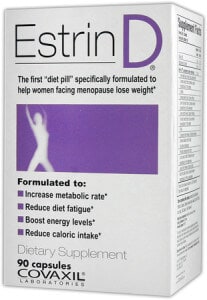 It's been a long journey but I feel I'm now qualified to advise you on whether or not to give Estrin-D a try. We did one of our comprehensive reviews, examining the side effects, ingredients, scientific research and level of customer care. We additionally took the time to sort through hundreds of dieter comments we found online. Lastly, we summed up all the facts and user feedback we discovered to give you the bottom line.
What is Estrin-D?
To start, Estrin-D is a menopausal/perimenopausal weight-loss supplement for women. The ingredients are yerba mate, guarana seed, damiana leaf, green tea, caffeine, ginger root, kola nut seed, DHEA, schisandra fruit powder, Chinese skullcap root, rhodiola crenulata root, cocoa seed, jujube fruit, vestrin-d
itamins and minerals. This product is intended to increase metabolic rate, reduce diet fatigue, boost energy levels and reduce caloric intake. Two capsules is a serving and it should be taken 15 minutes before your main meals.
Estrin-D was created by Covaxil Laboratories and it first emerged in 2005. This supplement contains some vitamins and antioxidants. Also, it's nice to see that this diet formula is specifically for women with menopause, but read on…
Class Action Lawsuit – "Watch Out?"
The first concern we had with Estrin-D ingredients was the fact that they were associated with legal issues. "While conducting some extensive research we noticed that a class action lawsuit was filed against this diet pill in 2005. Inaccurate marketing claims were at the center of the complaint," says our Research Editor. "If the company lied about effects that could mean it just won't work."
One customer said, "Did not work, made me light headed and dizzy when I took it as instructed."
"This product did not work for me, I found that I gained weight rather than lose," said another user.
Scroll below for one of the best products we've seen over the last year.
Side Effects – "Proceed With Caution!"
There are many customer complaints concerning Estrin-D side effects. This is what one person said, "I did not like it. It made me jittery all day, even with NO Caffeine. Did nothing to curb my appetite."
Another customer commented, "This is the most worst pill. I'm 46 years old good healthy condition, these pills made me feel sick, most all day had headache. Do not waste your money."
After doing plenty of research, we've concluded that if there is one facet of a diet pill or weight-loss system that is quite problematic (class action lawsuit, side effects, high price) the chances of long-term success are slim. Therefore if Estrin-D does in fact cause adverse reactions in a lot of people, this could be a deal breaker.
The Science – "Find Any Proof?"
Unfortunately we could not locate an official website for Estrin-D. This allowed us to dig a bit deeper into this one. What we found was that there are no studies connecting the ingredients to weight-loss, boosting energy levels or suppressing appetite. Since we at DietSpotlight need to see documentation of real science behind ingredients, we have questions about this one.
The Bottom Line – Does Estrin-D Work?
Alrighty then, ready for the bottom line? First of all, we think it's great that Estrin-D is specifically for menopausal and perimenopausal women. On the other hand, there are a lot of customer complaints regarding side effects, which means we have issues with recommending it. Moreover, there was a lawsuit filed against this company because Estrin-D was not helping women in the way it claims to.
For dieters who need to trim down and cut excess fat now, we encourage you to go with a weight-loss formula that contains safe ingredients, does not lead to side effects and is backed by real science. We also like companies that don't have any connection with lawsuits.
Among the best products we've seen in 2016 is one called Leptigen. Its formula is a unique combination of four key ingredients that have been proven in published scientific studies to help boost metabolism and speed up fat loss. Also, we can't pinpoint any talk of negative side effects and customer feedback around the web shows people are seeing solid results.
Also, the company responsible for Leptigen is so confident in their product they're offering a Special Trial Offer, which is a good sign.