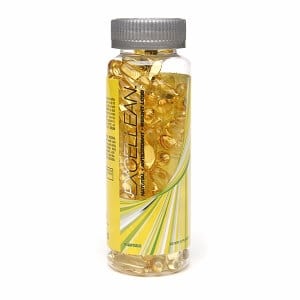 There has been plenty of buzz regarding Excellean softgels for weight loss, so we conducted an in-depth review, examining the ingredients, side effects, customer service and scientific studies. We additionally focused on dozens of customer comments and dieter reviews from all over the web. At last, we compressed all of the data we discovered to give you the important info you need.
EDITOR'S TIP:
Combine Excellean with a proven fat burner such as
Leptigen
for better results.
What You Need To Know
Excellean is made by SEI Pharmaceuticals Inc., which is a company located in Miami, FL. Unfortunately there does not appear to be an official website for this brand. As for Excellean, this supplement is marketed as a natural antioxidant weight loss product. The retail price is $49.99. This supplement should be taken three times a day for maximum results. The purpose of this formula is to reduce unsightly abdominal fat, suppress sugar cravings, promote overall heart health and provide antioxidant protection. The ingredients used in Excellean are as follows; Fish Oil, DHA (Docosahexaenoic Acid), Flaxseed Oil, Linoleic Acid ALA, Conjugated Linoleic Acid (CLA) and Evening Primrose Oil.
Excellean was released back in 2013 and it is 100 percent natural. Also, you can purchase this product online via websites like Amazon for $17.99 (90 softgels) and some customer feedback is posted on the web, but read on…
Lack of Real Science
According to our Research Editor, "There is no real science presented to support Excellean as an effective fat loss supplement. While the ingredients used in this product do promote heart health, they have not been shown to assist with weight loss."
One dieter stated, "Saw no results!"
Another user commented, "Little to zero change prior to taking it vs after taking it, waste of money, I'll be looking for something that works better."
Scroll below for one of the best products we've seen in 2015.
Negative User Reviews!
We always take a close look at the customer feedback for each supplement we review. Unfortunately for Excellean, there are numerous discouraging comments. One customer said, "Excellean is just over priced fish oil."
According to another user, "This stuff does nothing at all!"
Our research has revealed that if one aspect of a weight loss formula or diet program is very bothersome (lack of clinical studies, negative customer feedback, high cost) the likelihood of real weight loss success is minimal. So, if Excellean softgels do cause all sorts of negative customer reviews, this could be a serious issue.
The Science
While Excellean softgels certainly provide omega fatty acids to help promote heart health, we did not find any clinical research that ties this supplement to weight loss or fat reduction. Here at DietSpotlight, we need to see documented science that links the diet product and its ingredients to real weight loss.
The Bottom Line
Even though Excellean does provide some natural omega fatty acids to assist with heart health, we would not recommend this supplement for weight loss. Furthermore, there does not even appear to be an official website available. You should also be aware that there was an FDA criminal investigation into SEI Pharmaceuticals Inc. back in 2012, which is certainly concerning.
For dieters who need to trim down more quickly and get rid of excess fat, we encourage you to go with a diet supplement that is supported by actual scientific studies and is backed by customer testimonials.
Among the top weight loss products we've spotted in 2015 is one called Leptigen. This supplement contains a proprietary blend of four unique ingredients that have been proven in published scientific studies to improve fat loss and boost metabolism. You should also know that we can't find any complaints of unpleasant side effects and user feedback posted on the web shows people are seeing excellent results.
Also, the makers of Leptigen are so confident in their product they're offering a special trial offer, which is a good sign.