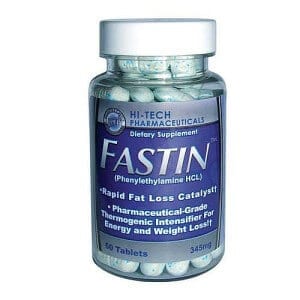 Why is it that so few diet products are backed by science? Let's find out if Fastin is one of the good ones. Our in-depth review examinied the ingredients, side effects, customer care and clinical studies. Additionally, we analyzed hundreds of dieter comments posted on the web. Then, we summarized and refined to give you the info you need.
What is Fastin?
To start off, Fastin is a "rapid fat-loss catalyst". The ingredients include thermo-rx, phenylethylamine HCL, methylsynephrine HCL, theobromine anhydrous, 1,3-dimethylamine HCL, synephrine HCL, N-methyl-b-phenylethylamine HCL, yohimbine HCL and caffeine 100mg. You'll take one or two tablets in the morning and another after lunch. It supposedly increases thermogenesis, energy and weight-loss.
Fastin was introduced around 2010 from Hi-Tech Pharmaceuticals. The supplement is sold through the official website and through trusted retailers. We like that it contains a few natural ingredients and that we found some positive customer comments, but read on…
Lack of Results – "No Weight-Loss?"
Our first concern with Fastin ingredients was the lack of results. "At first glance, the profile is promising," said our Research Editor. "But, customer reviews are telling a different story."
"I was stuck at the same weight for over 2 weeks and was working out over 60 min a day," stated a user.
"No results. I thought this was supposed to provide rapid fat loss," commented another.
We did located Fastin reviews talking about people seeing solid results.
"It curbs my appetite and gives me the energy I need to get up and go and lasts all day," said a dieter.
Scroll below for one of the best products we've seen over the last year.
Fastin Side Effects – "Complaints"
According to customer reviews, Fastin side effects are a major issue. One dieter said, "I took 1 tablet, my heart was racing. I then tried 1/2 tablet and still the same result. Not for me. I'm tossing them."
Another stated, "After 30 minutes, however, my heart started racing, my body and hands began shaking and I felt as though I was going to pass out when standing. I had to sit down until I felt in control."
While side effects are rare, we did find some Fastin reviews where customers reported no adverse reactions.
"I have had no side effects whatsoever. It never sped my heart up or gave me jitters at all," reported a dieter.
"I just started using Fastin and I like it better than other diet pills I've tried because it doesn't make me feel sick/nauseous," said a customer.
After years of research, we've concluded that if a particular part of a weight-loss supplement is problematic, like being the cause of adverse reactions, long-term success is reduced. Is it worth it if you use Fastin and experience negative side effects?
The Science – "Based on Research?"
We did not find any scientific studies to support the weight-loss claims related to Fastin diet pills, but that doesn't mean none of the ingredients are effective. Caffeine may boost metabolism, but there's no connection between the ingredient and this particular formula. At DietSpotlight, solid science is critical to the review process. When there are no studies used to back the claims, we raise the red flag.
The Bottom Line – Does Fastin Work?
Ladies and gentlemen, the clock is up on this one. While it's good to see that some Fastin ingredients are natural and that we found some positive customer comments, the lack of research used to support the claims is concerning. We're also a bit hesitant about this one due to customer comments about the lack of results and negative side effects.
If you're a dieter who wants to those extra pounds, we suggest going with a supplement that's not connected to harmful side effects and backed by reviews showing it promotes weight-loss.
Among the best products we've seen in 2016 is one called Leptigen. The supplement contains four clinically-tested ingredients that have been shown to help ignite fat loss and accelerate metabolism. While there's no mention of harmful side effects, dieter reviews reveal people are seeing outstanding results.
It's a good sign that the makers of Leptigen are so confident in the supplement that they're offering a Special Trial Offer.