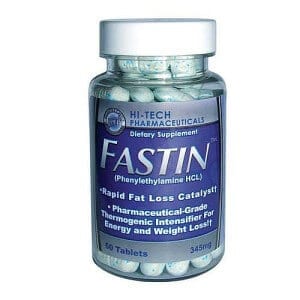 Why is it that so few diet products are backed by science? Let's find out if Fastin is one of the good ones. We took some time to write a detailed review, examining the ingredients, side effects, customer care and clinical studies. Plus we focused on hundreds of dieter comments posted on the web. Lastly, we summarized all the facts and specifics to give you the info you need.
What You Need To Know
To start off, Fastin is made by , and sells for $49.99 (60 tablets). It contains thermo-rx, phenylethylamine HCL, methylsynephrine HCL, theobromine anhydrous, 1,3-dimethylamine HCL, synephrine HCL, N-methyl-b-phenylethylamine HCL, yohimbine HCL and caffeine anhydrous. This product is boasted as a weight-loss aid that promotes increased energy, boosts the release of dopamine and norepinephrine, suppresses hunger and causes you to lose more.  In order to use Fastin, you take one tablet each morning and one after lunch. You'll have no trouble taking this one at work or play as it is portable.
Fastin diet pills emerged around 2010 from Hi-Tech Pharmaceuticals and they are readily available online. Also, this weight-loss supplement is fine for women and men alike. It contains some natural ingredients, but read on…
Class Action Lawsuit – "A Serious Concern?"
Our first concern with Fastin ingredients is that a lawsuit presents an issue with one of them. According to our Research Editor, "After doing some extensive digging online, we discovered that Fastin faced a legal problem back in 2012. It was the result of a dangerous part of the formula. Even the FDA has warned dieters about this one."
As the lawsuit states, "What Defendant fails to mention is that its Product contains the dangerous ingredient, Dimethylamylamine, also known as DMAA."
The FDA has also gotten into the fight. They offer, "Before marketing products containing DMAA, manufacturers and distributors have a responsibility under the law to provide evidence of the safety of their products. They haven't done that and that makes the products adulterated."
Scroll below for one of the best products we've seen over the last year.
Side Effects – "Complaints"
It's clear that the ingredient blend used in Fastin can cause side effects, based on user reviews. One dieter said, "I took 1 tablet, my heart was racing. I thought it would jump out of my throat! I then tried 1/2 tablet and still the same result. Not for me. I'm tossing them."
Another complained, "Severe side effects similar to heart attack/stomach virus due to the vomiting."
After doing plenty of research, we have concluded that if a particular part of a weight-loss supplement is especially problematic (serious side effects, company lawsuits, high price tag) the probability of fat-loss success for the long run is slim. In other words, if Fastin does cause a lot of adverse reactions, this could be a serious concern.
The Science – "Clinically Sound?"
We did not find any scientific studies to support the weight-loss claims related to Fastin diet pills, but that doesn't mean none of the ingredients are effective. We like the green tea extract and caffeine, but those are cheap in most stores, so you can save some money if those are all you're looking for. We at DietSpotlight, need to see documented clinical research linking the product to proven success. Unfortunately there is no science behind Fastin.
The Bottom Line – Does Fastin Work?
Ladies and gentlemen, the clock is up on this one. While it's good to see that Fastin is easy to acquire online, we are hesitant to suggest his one to dieters. First of all, it's not backed by real clinical trial results and some of the ingredients used in this product can cause adverse reactions, such as synephrine, which can lead to accelerated heart rate and high blood pressure. Also, the lawsuit linked to Fastin may make you think twice.
If you're a dieters who want to lose weight faster and slim down now, we encourage trying out a weight-loss product that does not lead to dangerous side effects, but is supported by real scientific studies. We also believe you can omit the legal issues, as well.
Among the best products we've seen in 2016 is one called Leptigen. This weight-loss supplement contains a proprietary blend of four effective ingredients that have been proven in published scientific studies to improve fat loss and accelerate metabolism. Also, we can't pinpoint any negative feedback regarding side effects and dieter reviews around the web reveal people are seeing outstanding results.
It's a good sign that the makers of Leptigen are so confident in the supplement that they're offering a Special Trial Offer.