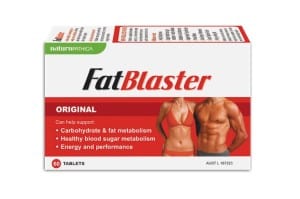 It's been a long journey but I feel I'm now qualified to advise you on whether or not to take Fat Blaster. We took a comprehensive look at side effects, ingredients, scientific research and overall customer service. Furthermore, we examined plenty of dieter comments and user experiences from around the web. Finally, we compressed all of the data we collected to give you the bottom line.
What is Fat Blaster?
To start, Fat Blaster is an Australian weight-loss supplement designed for both women and men, and it's made by Naturopathica. According to the official website, this product helps support healthy blood sugar metabolism, promotes stamina, metabolizes fats and sugars, aids with digestive function and helps you feel fuller. It contains vitamin B12, iodine, vitamin B2, psyllium husk powder, vitamin B1, chromium, vitamin B6, green tea leaf, panax ginseng, guarana extract, ginger and citrus aurantium (bitter orange). To use the pill, you take one to two tablets with water, three times daily (30 minutes prior to meals).
It looks like Fat Blaster has been available since at least 2008. This supplement can be purchased via the official website. There are some positive comments posted on the web, and this supplement does contain some fiber to help promote regularity, but read on…
Side Effects – "Is It Really Safe?"
The first concern we had was with Fat Blaster side effects. According to our Research Editor, "This supplement contains citrus aurantium, which has synephrine in it. This stimulant works in a similar manner to ephedra, a banned diet pill ingredient. Therefore use may lead to unwanted side effects."
"I've been taking these for a few days now and ever since the first day of taking them I've felt nauseous, crampy, tired and have bad diarrhea," said one user.
"Tried for 4 days – felt sick, migraines and then finally on the last day of use, day 4 – fainted and ended up in bed for the day with migraine of my life," another customer commented.
Scroll below for one of the best products we've seen over the last year.
Customer Complaints – "Too Many?"
There are plenty of customer complaints posted all over the web for Fat Blaster. In fact, one person stated, "It did not work. I tried it for 2 weeks and no result."
"Despite walking each morning for 1 hour and cutting down on food intake and taking the maximum dose as per the instructions, I have not lost any weight. These pills do not work. The only weight-loss is in the region of my wallet," mentioned another user.
Our intensive research has revealed that if there is a small thing with a weight-loss pill that is concerning (side effects, customer complaints, unpleasant taste) the probability of lasting success is rather low. This means if Fat Blaster does result in some unhappy users, what is stopping them from changing things up and choosing a clinically tested supplement with strong dieter support?
What About Actual Science?
From what we could gather, there is no solid science that backs the weight-loss claims made by Fat Blaster tablets. This is too bad, because we at DietSpotlight need to see some real research behind the diet product. While it does contain some stimulants and fiber, there is no real proof that it's any more effective than other formulas. This is a huge negative because there are choices out there with clinical support.
The Bottom Line – Does Fat Blaster Work?
Do we think Fat Blaster is THE weight-loss supplement? Well, we like that it contains natural herbs and the fiber in this supplement should help promote more regular bowel movements. But we have some reservations because it's not supported by any clinical studies. Also, we're concerned about the numerous customer complaints posted online, as well as the side effects this product has caused some users.
If you'd like to get rid of more weight, we suggest you try a product that is made with tested and proven ingredients strongly connected with weight-loss. Look for a supplement that's backed by amazing customer testimonials.
Among the best products we've seen in 2016 is one called Leptigen. Its formula is a potent blend of four key ingredients, which have been shown with clinical testing to help accelerate fat loss and increase metabolism. We can't pinpoint many discussions of harmful side effects and customer comments posted online indicate people are seeing excellent results. This one gives you everything you should be looking for in one supplement.
The makers of Leptigen are so sure about their product they're offering a Special Trial Offer, which is a positive sign. You literally have nothing to lose but those extra pounds you're fighting!
Leptigen is available with fast, reliable worldwide shipping. That means you can be from Australia, China, the UK, or others, and choose your country from the order page – it's that simple!