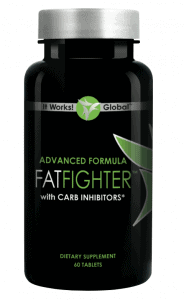 Lately there has been plenty of discussion about Fat Fighter tablets for weight loss, so we conducted an in-depth review, focusing closely on the ingredients, side effects, customer care and clinical research. We also scrutinized dozens of customer comments and dieter reviews from all over the web. Finally, we condensed all of the data we collected to give you the info you really need.
EDITOR'S TIP:
Substitute Fat Fighter with a proven fat burner such as
Leptigen
for better results.
What You Need To Know
Fat Fighter is a diet supplement made by Only Natural, Inc. This product is claimed to benefit the digestive tract, lower bad cholesterol levels, speed up the metabolism of fats and promote good bacteria in the digestive system. It contains the following ingredients; Oat Bran Concentrate, Rice Bran Concentrate, Psyllium Seed Husks, Apple Pectin, Glucomannan, Carrot Fiber, Beet Fiber, L-Acidophilus, Cascara Sagrada Extract, Lecithin, Choline Bitartrate, Inositol, L-Carnitine, Chromium Picolinate, Aloe Vera, Spirulina, Bromelian, Coenzyme Q-10, Calcium, Magnesium and Potassium. In order to use Fat Fighter, you need to take 2-3 tablets with eight ounces of water, five minutes before each meal.
From what we can tell, Fat Fighter has been available since 2011 and it sells on the official website for $22.99 (20 servings). This supplement provides some fiber and it is free of yeast and sugar, but read on…
Negative Customer Reviews
According to our Research Editor, "While doing some online research, we noticed quite a few negative user reviews for Fat Fighter. This is never a good sign. Customers have complained about the size of these tablets, how many you have to take daily and that they do not actually work."
One user said, "What a waste of money. These pills are so huge. I did try to stay with it by cutting the pill in half. I didn't lose weight at all."
"9 tablets a day is just too many, and the bottle is only good for 2 weeks," said another customer.
Scroll below for one of the best products we've seen in 2015.
Lack of Real Weight Loss Results
We were unable to find any solid research or studies to support Fat Fighter tablets. One customer had this to say, "Unfortunately didn't see any difference or results."
Another user commented, "Not good for weight loss. Kind of like a fiber supplement."
Our research has proven that if there is a certain part of a weight loss supplement or diet program that is very problematic (lack of real weight loss results, too many negative customer reviews, very high price) the likelihood of weight loss success for the long run is slim. In other words, if Fat Fighter tablets do not produce real fat loss results innumerous people, this could be a deal breaker.
The Science
Unfortunately the official website does not provide any clinical research to support Fat Fighter tablets. Furthermore, we could not pinpoint any solid science pertaining to the ingredients used in this weight loss supplement. While the fiber in Fat Fighter may help with regularity, it's unlikely to aid with actual fat loss. Here at DietSpotlight, we prefer to see documented clinical studies that support the diet product's claims.
The Bottom Line
First of all, we appreciate that this company has been around since 1986. On the other hand, we definitely do not recommend Fat Fighter for actual fat loss. This supplement is basically like a fiber powder or pill. It may help increase regularity, but we don't believe it reduces body fat. Furthermore, you have to take 9 tablets per day, which is a lot. Also, there are some customer complaints about the size of these tablets.
If you really want to see fat loss results, we recommend you go with a diet supplement that uses clinically proven ingredients, is backed by positive customer reviews and comes with excellent customer service.
Among the finest weight loss products we've encountered in 2015 is one called leptigen. This diet supplement contains four ingredients, which have been proven in documented clinical studies to help enhance fat loss and kick-start metabolism. Furthermore, we can't find any complaints of adverse effects and dieter comments found online indicate people are seeing significant results.
Also, the makers of Leptigen are so confident in their product they're offering a Special Trial Offer, which is a good sign.