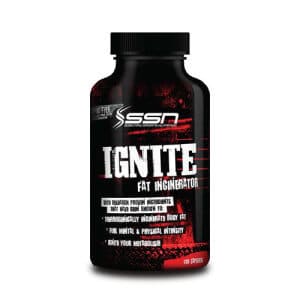 I've heard a lot of people talking about Fat Ignite. I know that the vast majority of the dietary supplements meant for weight loss simply don't work, so I decided to dig a little deeper to find out if this supplement is what it claims to be. Through extensive research about the product, user reviews, customer service and more, I found a lot of information and convinced it for you here.
EDITOR'S TIP:
Substitute Fat Ignite with a proven fat burner such as
Leptigen
for better results.
What You Need to Know
First off, Fat Ignite is a weight loss supplement Ingredients include: citrus aurantium, guarana, acetyl L-carnitine, chromium, white willow.
we were unable to locate an official website for Fat Ignite. As such, we don't know if the product is still available on the market, or anything about the manufacturer and its history in the dietary supplement space. We like the availability of product information and what some users have the say about it, but read on…
"Watch Out" – Potentially Dangerous Ingredients
The main concern with Fat Ignite is the ingredients. This formula contains bitter orange, which has been banned by the FDA for its potential to cause a number of serious health problems, such as an increased risk of heart attack or stroke. White willow has an effect similar to aspirin, so that you are using aspirin or any kind of blood thinner, you should not take this supplement.
" If you are going to take this supplement, talk to your doctor to make sure it will not interact with any prescription medications you may be taking." said our Research Editor.
"Abit concerned as I have started getting headaches the past month but I can't be certain whether it is the Ignite as I been using the product for the past 3 months and the headaches only started as of recently." said one user.
Scroll below for one of the best products we've seen over the last year.
Side Effects – Product May Be Ineffective
Many user reviews indicate people who use this product experienced headaches as a result. Several other reviews indicated those who use the product did not see any significant weight loss results. While it's true not everyone will experience these side effects and some people did get weight loss, we can't be sure it was a direct result of the supplement and not differences in lifestyle approach.
"After taking 2 capsules of IGNITE, I experienced severe migraine headaches for 3 whole days.." , said another.
Our research shows that if something has problems, such as causing side effects or being ineffective, users simply aren't going to continue using it.
The Science
We could not find any links to publish research for this product. While we were able to find shows that the ingredients could be harmful, especially to anyone who suffers from medical conditions or uses certain types of prescription medication.
The Bottom Line
Fat Ignite looked like it could be a good supplement. But, unfortunately after digging deeper into the research, we discovered a different story. With the potential for dangerous side effects, and prescription medication interactions, as well as the reports of negative side effects, we do not feel comfortable recommending this supplement. The team here at DietSpotlight needs concrete proof that a supplement works before we make a recommendation.
If you're looking to drop some pounds, you're much better off using a clinically proven safe and effective supplement the delivers value for the money.
Among the best products we've seen so far this year is Leptigen. It is made with a unique brand of four clinically proven safe and effective ingredients designed to boost the metabolism so you can lose more weight faster. As we conducted research for this review, we were unable to find any mention of negative side effects or ineffectiveness, which lets us know users are experiencing solid results.
The makers of Leptigen are so certain their product works, they're providing new customers with a special trial offer, which we love to see.