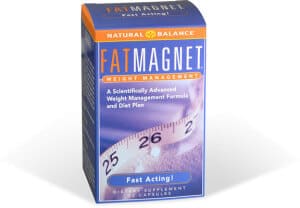 In the diet industry don't mistake marketing for effectiveness. Fat Magnet claims to be "scientifically-advanced", so we decided to take an in-depth look at the ingredients, side effects, clinical research and customer service quality. Furthermore, we examined hundreds of user reviews and comments. Then, we summarized and condensed to give you the info you need.
What is Fat Magnet?
First off, Fat Magnet ingredients are chitosan 500mg, psyllium husk 200mg, malic acid 40mg and aloe vera 20mg. It promotes weight-loss by blocking the absorption of fat. The recommended serving is two capsules, twice per day. The small pills make it easy to take on-the-go.
Fat Magnet is a fat-blocking supplement from Natural Balance. The product is sold through the official website and trusted retailers. We like that it contains a few natural ingredients and that we found some positive customer comments, but read on…
Results – "A Bit Lacking!"
The first concern was the effectiveness of Fat Magnet ingredients. "Adding fiber to your diet is a good way to improve health and wellness," said our Research Editor. "But, that may not be the best choice if you want to lose weight."
One customer commented, "Have been taking it for almost a week now and have not noticed any weight-loss."
Another user said, "I'm taking this for 3 months, nothing happened.
We noticed that some dieters were talking about their results. "Helped to remove waste without causing side effects," stated a customer.
Scroll below for one of the best products we've seen over the last year.
Side Effects – "Not too Pleasant!"
When we searched for Fat Magnet side effects, we were surprised by the results. One user revealed, "I have been using Fat Magnet for 5 days and I had very bad diarrhea."
"This stuff only makes me constipated," said another customer.
Negative side effects weren't always reported. "I thought talking a fiber supplement would cause bloating, but I was wrong," stated a user.
"No gas, nausea or trips to the bathroom. Pretty solid supplement," explained another.
The research we've done throughout the years has shown that if customers experience adverse reactions after using a supplement, the chances of long-term success are limited. It may be time to consider an alternative if products like Fat Magnet are connected to negative side effects.
The Science – "Follow the Research!"
We at DietSpotlight follow the research, especially when a company claims their product is "scientifically-advanced". There's solid science supporting the effectiveness of ingredients such as chitosan and psyllium husk, but there's nothing advanced about one that's essentially a fiber supplement. Although adding it to a diet could improve wellness, you may not achieve the results you want or deserve.
The Bottom Line – Does Fat Magnet Work?
Is Fat Magnet the real deal? Well, we like that it contains some natural ingredients and is relatively inexpensive, but we're concerned about this one because there's no connection between this formula and weight-loss. If that wasn't enough, we're skeptical about giving this one the green light because customers are complaining about side effects and not seeing results.
We want you to be successful in your weight-loss journey, so we suggest going with a supplement containing ingredients proven to work, backed by positive customer reviews and not linked to harmful side effects.
Among the best products we've seen in 2016 is one called Leptigen. This supplement contains four clinically-tested ingredients, which have been shown to promote weight-loss by boosting metabolism and jump starting fat loss. We can't find any complaints of harmful side effects and comments we found are showing people are seeing excellent results.
Plus, the company that makes Leptigen is confident in their supplement, they're offering a Special Trial Offer, which is a good sign.