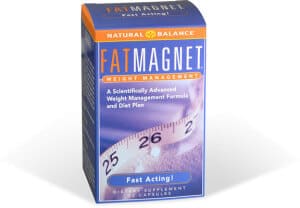 In the diet industry don't mistake marketing for effectiveness. There's been all sorts of chatter about Fat Magnet, so we decided to create a comprehensive review, scrutinizing the ingredients, side effects, customer service and scientific research. We also spent some time scouring hundreds of user comments and responses from around the web. Lastly, we compacted and condensed to give you the info you need.
EDITOR'S TIP:
Click here
to substitute Fat Magnet with a proven fat burner such as Leptigen for better results.
What You Need To Know
First off, Fat Magnet is a weight-loss product made by Natural Balance. This is an over-the-counter supplement that contains Chitosan, psyllium husk, malic acid and aloe vera. The claims say it will reduce the absorption of fats and cholesterol and promote regularity. You simply take two capsules twice a day, prior to meals. It is described as "fast acting" so it should take effect quickly. Both women and men can use it anywhere.
It looks like Fat Magnet has been around since 2010 and it contains natural ingredients. This product is available online for as low as $11.09. Some customer feedback is posted on dealer websites such as Amazon and iherb.com, but read on…
Results – "Nothing to Talk About?"
The first thing we noticed with Fat Magnet ingredients is that no real results were reported. "We could not find any clinical research to support weight-loss claims and it showed in user reviews," says our Research Editor. "That's not the best way to start off a sales pitch."
One customer commented, "Have been taking it for almost a week now and have not noticed any weight-loss. I have noticed constipation."
Another user said, "Bullshit medicine, I'm taking this tablets since 3 months, nothing happened.
"Yet another customer stated, "Don't work. Didn't see any results at all. Was really disappointed and would tell you not to waste your money on them!"
Scroll below for one of the best products we've seen over the last year.
User Complaints – "Another Concern"
There are numerous customer complaints posted on dealer websites like Amazon. One user revealed, "I have been using Fat Magnet for 5 days and I had very bad diarrhea, but I have been drinking water, but it's still the same."
"This stuff only makes me constipated," said another customer.
The intense research we've done has shown if there is some specific part of a weight-loss pill or diet program that is very annoying or burdensome (no clinical support, user complaints, dangerous side effects) the probability of long-term results is quite low. In other words, if Fat Magnet capsules do cause issues and reactions, this could be very problematic.
The Science – "Anything to Find?"
There is no real clinical science presented with Fat Magnet capsules. Furthermore, there does not appear to be an official website for this product any longer. Since we at DietSpotlight need to see documented studies that support ingredients, we cannot see why Fat Magnet should be considered an effective weight-loss supplement.
The Bottom Line – Does Fat Magnet Work?
So, what's the real bottom line on this one? At this point, there no longer appears to be a company website for Fat Magnet. This could mean the product has been discontinued. Regardless, we are skeptical about recommending this supplement for weight-loss because it is not backed by any clinical studies. Furthermore, it's reported that customers experience side effects like diarrhea and constipation.
Those who want to see better fat loss results and a slimmer figure, we encourage you to choose a diet supplement that is supported by plenty of positive customer feedback, does not cause side effects and uses ingredients that have been proven to work.
Among the best products we've seen in 2016 is one called Leptigen. This supplement contains an effective blend of four key ingredients, which have been shown in documented scientific research to help boost metabolism and encourage more fat loss. We can't find any complaints of negative side effects and user reviews around the web reveal people are seeing excellent results.
Plus, the company that makes Leptigen is confident enough in the formula to offer a Special Trial Offer, which is a good sign.