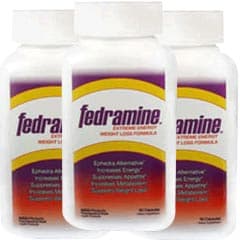 I paused before I hit the "publish" button on this one, because my conclusion was a bit of a shocker. We took a close look at Fedramine, examining the ingredients, side effects, level of customer service and scientific studies. Then we read hundreds of user comments and reviews that are posted all over the web. Lastly, we compacted all of the facts and details in order to provide you the important information.
What is Fedramine?
Firstly, Fedramine is made by Internet Marketing Solutions Group, LLC, which is located in Atlanta, GA. This diet supplement is claimed to ignite energy levels, boost metabolism and minimize hunger. For maximum results, you need to take this formula 30 minutes prior to breakfast and lunch. However, no special diet or exercise is needed. As for the ingredients in this product, they include citrus aurantium, guarana, green tea, chromium, white willow bark and metabromine.
It's unclear when Fedramine first hit the weight-loss supplement market. However, this formula is sold online, and there is a 30-day money-back guarantee provided. This product is easy to use anywhere. Just be aware, it should not be taken in the evenings, because it may interrupt sleep habits. There are some helpful user reviews posted on the web for this diet aid, but read on…
Questionable Ingredients – "Is it Even Safe?"
The first concern we have is with Fedramine ingredients. "This diet formula contains both citrus aurantium (bitter orange) and caffeine, which is a questionable combination that can lead to unpleasant side effects," says our Research Editor.
According to WebMD, "Bitter orange, particularly when taken with stimulants such as caffeine or caffeine-containing herbs, increases the risk for high blood pressure, fainting, heart attack, stroke, and other severe side effects."
However, not all users experience Fedramine side effects. For instance, one customer commented, "Seems to work thus far. No bad reactions, but this stuff will keep you awake if you take it too late in the evening."
Another reported, "Definitely contains caffeine. This pill gives me a slight buzz. Good for workouts."
Scroll below for one of the best products we've seen over the last year.
Discouraging User Comments – "Another Concern?"
We found a number of discouraging user remarks on the web for Fedramine. In fact, one customer stated, "Don't care for this diet pill. I have tried a few, and these are dangerous, in my opinion. They make me feel weird."
Then again, someone else reported, "These are like energy pills. Good for in the morning. Not sure about the weight-loss though."
"Makes me a bit nauseated, but I think it helps reduce appetite," mentioned another user.
The research we've conducted has shown if there's a certain facet of a diet pill or weight-loss program that is bothersome (questionable ingredients, discouraging user comments, side effects) the odds of real results for the long term are slim. Therefore, if Fedramine does lead to a large number of negative customer remarks, this could be a serious issue.
The Science – "Find Any?"
At DietSpotlight, we like to see some actual research that supports the diet product. As for Fedramine, there are no studies presented to back up the weight-loss claims. However, this supplement does contain some promising ingredients such as caffeine and green tea, which may help kick-start metabolism.
The Bottom Line – Does Fedramine Work?
Now the moment you've been waiting for. Here is our bottom line on Fedramine. First off, we like that this weight-loss formula contains some herbs. It's also good to see that a 30-day money-back guarantee is provided. On the other hand, we have some reservations about this supplement because no clinical studies are presented. Also, we're concerned about the questionable ingredient combination it contains and the discouraging user comments posted online.
If you'd like to drop more pounds of fat, then we recommend you select a product that does not contain any questionable ingredients, is backed by solid research and is supported by numerous customer testimonials.
Among the best products we've seen in 2016 is one called Leptigen. This supplement uses a potent blend of four ingredients, which have been shown in published clinical research to help ignite fat loss and speed up metabolism. We can't find any negative talk on the web, and user feedback indicates people are seeing substantial results.
The makers of Leptigen are so satisfied with their product they're offering a Special Trial Offer, which is a good sign.