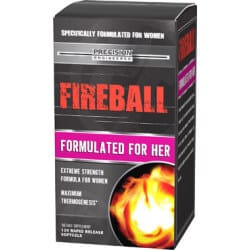 Give me two minutes of your time and I'll tell you whether Fireball Formulated For Her actually works. We did one of our comprehensive reviews, taking a close look at the side effects, ingredients, clinical research and overall customer service. Plus we examined numerous user remarks and responses from all over the web. Finally, we compressed all of the data we collected to give you the facts you really need.
What is Fireball Formulated for Her?
Firstly, Fireball Formulated For Her is a fat burner with a strong stimulant profile. It contains yohimbe, yerba mate, xanthinol, citrus aurantium, caffeine anhydrous, evodia extract, rosemary, menthol, resveratrol, cayenne and bacopa monnieri. The directions say to take one capsule each morning and afternoon (with meals). This diet formula aims to increase thermogenesis, boost energy levels and promote weight-loss. You are recommended to take it in conjunction with daily exercise and a reduced-calorie diet. It is boasted as a "rapid release" capsule formula that is extreme strength.
The company that manufactures Fireball Formulated For Her is Precision Engineered. However, we are not sure when this diet supplement first emerged. It is available online via stores like Vitamin World. Furthermore, this weight-loss product is specifically for ladies, which some women will appreciate, but read on…
Ingredient Issues – "Is It Really Safe?"
One concern we have is with Fireball Formulated For Her ingredients. "This fat-loss supplement contains both citrus aurantium (bitter orange) and caffeine. This combination can lead to some adverse reactions," says our Research Editor.
According to WebMD, "Bitter orange, particularly when taken with stimulants such as caffeine or caffeine-containing herbs, increases the risk for high blood pressure, fainting, and other severe side effects."
However, one user commented, "Seems to increase my calorie burning. I have lost two pounds in three weeks."
Another posted, "Makes me kind of wired. But I like the energy boost I get."
Scroll below for one of the best products we've seen over the last year.
Side Effects – "Yikes"
Another concern is Fireball Formulated For Her side effects. Some people have reported jitteriness, headache, rapid heartbeat, insomnia and nausea. In fact, one user stated, "Wow, this stuff will make you jittery and nauseated. No thanks."
Then again, a different customer said, "Take this before you exercise. You will see the benefit."
"It can definitely interrupt your sleep. Just don't take it at night," revealed another.
The research we've conducted has shown if there is some specific facet of a diet product or weight-loss program that is quite difficult or concerning (dangerous ingredients, side effects, negative user reviews) the real chances of long-term results are not good. So, if Fireball Formulated For Her does in fact cause unpleasant adverse reactions in a lot of people, this could be problematic.
The Science – "Is It There?"
It's clear that Fireball Formulated For Her contains some stimulants. These ingredients may help increase metabolism and energy levels. However, some unpleasant side effects may occur as well. Therefore we feel that the drawbacks are too significant. Also, we did not find any clinical studies that support this product.
The Bottom Line – Does Fireball Formulated For Her Work?
So, should you spend your hard-earned cash on Fireball Formulated For Her? Well, we do like that this diet supplement is easy to acquire online. It's also good to see that this product is easy to use anywhere. But we have some concerns about this formula because it's not backed by any clinical studies. Moreover, we're a bit leery of the ingredient combination it contains. Not to mention, the side effects some people experience.
If you really want to drop some pounds, then we suggest you select a product that does not contain a dangerous ingredient blend, is supported by clinical research and will not lead to unwanted adverse reactions.
Among the best products we've seen in 2016 is one called Leptigen. This supplement uses a combination of four key ingredients, which have been clinically shown to help ignite fat loss and elevate metabolism. We can't find any discouraging user reviews, and customer feedback online shows people are seeing good results.
The makers of Leptigen are so excited about their product they're offering a Special Trial Offer, which is very reassuring.