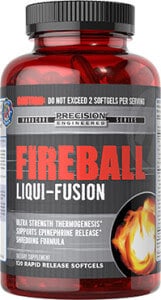 If you want the bottom line on Fireball Liqui Fusion, give me just two minutes of your time. Our attention turned toward the ingredients, side effects, scientific research and the quality of customer service. Additionally, we scoured through hundreds of comments and testimonials. Then, we summarized and condensed to give you the information you need.
What is Fireball Liqui Fusion?
First off, Fireball Liqui Fusion ingredients are caffeine 187mg, green tea extract 133mg, white willow extract, white quebracho, sesame oil, gotu kola extract, hoodia gordonii, xanthinol nicotinate, evodia extract, codonopsis extract, Indian elecampane extract, ginkgo biloba extract, huperzine and phosphatidylserine, cayenne pepper, inositol hexaphosphate, cnidium extract, black pepper extract and yohimbine. The supplement promotes weight-loss by boosting energy levels, causing thermogenesis and burning fat. You'll take two capsules, twice per day. You can take with or without food.
Fireball Liqui Fusion is a supplement from Precision Engineered and has been on the market since 2013. You can purchase the product from the official website and through trusted retailers. We like that it contains a few natural ingredients and that we located some positive customer comments, but read on…
Lack of Results – "Losing Weight?"
The first concern was the lack of results from Fireball Liqui Fusion ingredients. "Stimulants may boost metabolism and increase your heartbeat," said our Research Editor "But, you'll need a supplement that does more than that, if you want to lose weight."
"Took 2 pills every day, 45 mins before I worked out and it did not work," said a user.
"I been taking it for the past two weeks before 4mile runs, but no results," stated another.
We did locate customers talking about noticing changes while using Fireball Liqui Fusion.
"Liqui Fusion worked great for giving me energy to work out," reported a dieter.
Scroll below for one of the best products we've seen over the last year.
Side Effects – "Positive or Negative?"
When we searched Fireball Liqui Fusion side effects, we were surprised by the results. "I couldn't sit still, I couldn't sleep the first night, and my heart was racing," said a customer.
"I get jittery. I felt like I couldn't focus too much on one thing," commented another.
On the other hand, we located customers that didn't experience negative side effects.
"They give me energy to do my workouts after work when i am extremely tired," stated a consumer.
"It can make you dizzy if you don't eat with it. I always ate 15 minuted before I took my dose in the morning," said another.
Our research and data has shown that if there's something that is troublesome relating to a weight-loss supplement, like being the cause of adverse reactions, the likelihood of losing weight and keeping it off are slim. If these negative side effects really do accompany Fireball Liqui Fusion, this could be problematic for many dieters.
The Science – "Validated?"
Science has proven that many of the ingredients in Fireball Liqui Fusion do help weight-loss. For example, caffeine and green tea have been shown to boost metabolism. Black pepper extract helps with absorption. What's missing is the research proving the connection between this formula and weight-loss. One of the most critical pieces of information for us at DietSpotlight is the evidence a company can stand behind their claims. When this isn't available, we start to have hesitations.
The Bottom Line – Does Fireball Liqui Fusion Work?
Will Fireball Liqui Fusion have your weight-loss heating up? Well, we like that it contains a few natural ingredients and that we found some favorable customer comments, but we're concerned about this one because there's no direct connection between you losing weight and the formula. We're also a bit skeptical due to customer reviews about not seeing results and it causing adverse reactions.
Do you want to lose those extra pounds? If so, we suggest a supplement that offers ingredients connected to weight-loss and isn't linked to harmful side effects.
Among the best products we've seen in 2016 is one called Leptigen. The supplement promotes weight-loss by featuring four clinically-tested ingredients, which have been shown to help increase fat loss and accelerate metabolism. There's no talk about harmful side effects, but the chatter online is about people seeing great results.
The makers of Leptigen are offering a Special Trial Offer; an excellent sign of confidence in their supplement.