Updated: 09/29/2015 - Sponsored by Leptigen
Fireball Liqui Fusion Review - Does This Weight Loss Stimulant System Work?
Are increased appetite and harmful side effects deal breakers?
PUBLISHED: 09/08/2015 | BY: SUMMER BANKS, SENIOR REVIEWER
Editor
's Review:
3.5
/ 5.0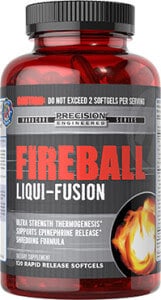 Fireball Liqui Fusion has developed a reputation as one of the go-to products for a stimulant that helps boost metabolism. We've heard a lot about it at DietSpotlight, so we decided to do one of our featured reviews on this hot product. We looked at the active ingredients, any negative side effects, scientific and clinical data behind the results, and the quality of the company that manufactures Fireball Liqui Fusion. We also looked at hundreds of online reviews and summarized what we found into this condensed review to give you all the information you need.
EDITOR'S TIP:
Substitute Fireball Liqui Fusion with a proven fat burner such as
Leptigen
for better results.
What You Need to Know
Fireball Liqui Fusion is a stimulant that is designed to increase your energy, boost your metabolism, and help you lose weight. It's quick and easy to take, even on the road, and contains a variety of well-researched ingredients that are in many popular diet supplements. This thermogenic supplement includes a heat blend with caffeine, white willow extract, sesame oil, and more; a Luqui-Force Blend designed to provide energy; and a Liqui-Delivery Blend designed to help the ingredients take immediate effect.
This product has been around for 3 years now, and has many positive reviews online. It also has a good BBB rating, is readily available online, in health stores, and from the official website, and has ingredients that are scientifically proven to produce the results that dieters are looking for, but read on…
Increased Appetite– "Yee-Ouch"
One of our first concerns about Fireball Liqui Fusion is the increased appetite that many users experienced. "Because the stimulants boost metabolism and increase your heartbeat," said our research editor "the lack of appetite suppressors can actually lead to an increased appetite and weight gain." Many users complained of this same issue. The stimulants work well, but without any appetite suppressants, it can be difficult to keep portions and caloric content down enough to experience weight loss.
"I had high energy when taking this product, but I found that I was constantly eating," said one user.
"Liqui Fusion worked great for giving me energy to work out, but I couldn't lose weight because my caloric intake increased accordingly," said another.
Scroll below for one of the best products we've seen in 2015.
Negative Side Effects – Another Concern
Something else that was a consistent theme in the online reviews was the negative side effects associated with many stimulants. Because of the abnormally high stimulant content in Fireball Liqui Fusion, even many of the positive reviews experienced jitters, fever, "fluttering heart," and other concerns often seen when taking a stimulant. "I took the full dose my first day with this product, and immediately regretted it," said one user, "I couldn't sit still, I couldn't sleep the first night, and my heart was racing."
"I'm not sure if this stuff works, but I'm sensitive to caffeine and had to stop taking it after just one day," said another review. Most reviews had similar content, with even the positive reviews having something to say about the side effects. "I started with the full dose and couldn't handle it. I then decreased to a minimal dosage, and worked my way up to the maximum dose to allow my body to get use to that much caffeine, and that seemed to work better," said one satisfied user.
Our research and data has shown that if there's something that is overly difficult or troublesome about a workout, exercise program, or weight loss supplement (supplement makes you jittery, too expensive, painful or intense workout, etc.) then the likelihood of losing weight and keeping it off are slim. If these negative side effects really do accompany Fireball Liqui Fusion, this could be problematic for many dieters.
Most reviews that recommend this product offer this advice: "If you're going to use this, start slowly and build your way up."
The Science
Scientists have proven that many of the ingredients in Fireball Liqui Fusion do help weight loss, but the ratios are a bit off. Many would argue that each dose of this product contains too many stimulants, without the correct appetite suppressants. There also is not enough Green Tea Extract to be effective, with the daily dosage falling about 100mg short of the daily goal. There also are no clinical studies that prove that this product is better than diet and exercise alone, which leads us to believe that the increased caloric intake that many experience with this product may be negating the positive effects.
The Bottom Line
There's initially a lot to like about Fireball Liqui Fusion. It has some staying power in the market, is readily available, and is affordable, but we cannot recommend this as a weight loss supplement because of the lack of published clinical trials. We're concerned about the increased appetite that many users experience, the high likelihood of dangerous side effects, and the incorrect ratios of ingredients for optimal results.
If you'd like to melt off excess weight, we suggest a supplement that offers fat burning, metabolism boosting ingredients without the negative side effects or increased appetite. We'd also recommend a product that has clinical research and scientific data proving that it does what it says it will do.
Leptigen is one of our favorite products to date in 2015. It contains a proprietary blend of just four ingredients, which have all been proven in published research to help increase fat loss, improve metabolism, and encourage weight loss. These studies have not shown anything about negative side effects, and we haven't found any harmful side effects in online forums or reviews either.
The makers of Leptigen are currently offering a special trial offer, and at DietSpotlight we're always encouraged by a company that is confident enough in their product to offer trials to potential customers.