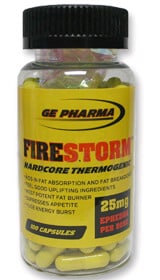 Why is it that so few diet products are backed by science? Let's find out if FireStorm is one of the good ones. We wrote one of our in-depth reviews, closely examining the ingredients, side effects, scientific research and customer-service quality. We also read countless dieter comments and user reviews from all over the web. Finally, we summed up everything to give you the bottom line.
What You Need To Know
FireStorm is made by GE Pharma, and it's advertised as a hardcore thermogenic. This diet pill is claimed to cause rapid weight loss. It needs to be taken twice each day (one capsule is a serving), but should not be used within four hours of bedtime. FireStorm is intended to boost energy levels, suppress hunger, and reduce the storage of fat. As for the ingredients in this supplement, they include; Cayenne (25mg), 5-Hydroxyttryptophan (25mg), Theobromine (10mg), Guarana (75mg), Green Tea (15mg), White Willow Bark (75mg), Yohimbine HCL (4mg), Phenylethylamine HCL (25mg), Methyl Synephrine (25mg), Hoodia Cactus Extract (40mg), Caffeine Anhydrous (255mg) and Ephedra Extract (25mg).
It's unclear when FireStorm was first released. You can purchase this supplement online for $39.99 (100 capsules). Also, this diet product is easy to use anywhere, but read on…
Dangerous Ingredients – Is This Product Safe?
According to our Research Editor, "FireStorm contains Ephedra, which is a banned ingredient that can lead to health problems, including accelerated heartbeat, increased blood pressure, chest pain, dizziness, headache and more."
One user commented, "Wow, don't recommend this stuff. Not unless you want to have a heart attack!"
Another customer said, "This diet pill is loaded with stimulants that make your heart pound like crazy and your hands shake."
Scroll below for one of the best products we've seen over the last year.
Serious Side Effects – Another Concern
There are a number of side effects that can occur while using FireStorm. In fact, one user stated, "Makes me very jittery and anxious."
"My doctor told me to stop taking this. It can definitely cause some adverse effects," mentioned another customer.
Our extensive research has shown if there is some particular part of a weight loss pill or diet program that is especially troublesome (dangerous ingredients, high cost, serious side effects) the probability of long-term success is low. This means if FireStorm does lead to side effects in a number of customers, this could be a major problem.
Is There Any Science?
There is no clinical research or scientific studies presented to support FireStorm. Therefore it's difficult to know whether this diet pill actually works as claimed. At DietSpotlight, we prefer to see some documented science that backs up the weight loss product we're reviewing.
The Bottom Line: Does FireStorm Work?
So, should you buy FireStorm? Well, we like that FireStorm is easy to use anywhere and this product can be purchased online. On the other hand, we have some reservations about FireStorm because it's not backed by any real science. Moreover, we're concerned about the dangerous ingredients in this diet pill, as well as the serious side effects some users experience.
If you'd like to drop more weight, then we suggest you choose a product that does not contain any dangerous ingredients, is backed by solid science and is supported by positive and encouraging user reviews.
Among the best products we've seen in 2016 is one called Leptigen. Its formula is a unique blend of four potent ingredients, which have been shown in documented scientific research to help increase fat loss and elevate metabolism. We can't find any complaints of harmful side effects and user comments found online indicate people are seeing solid results.
The makers of Leptigen are so confident in their product they're offering a Special Trial Offer, which is very encouraging.