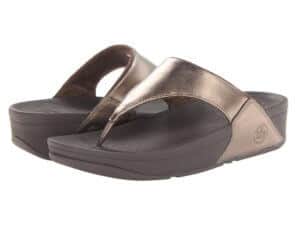 This review is what happened after I obsessed for weeks over Fitflop sneakers. We conducted a thorough investigation, scrutinizing the side effects, ingredients, clinical research and level of customer service. Plus, we looked at hundreds of user comments and remarks from around the web. Lastly, we compacted all of the information we found in order to give you the facts and details you need.
What are Fitflops?
To start, there are no Fitflops ingredients to worry about, because this is actually a type of footwear. It includes sandals, casual shoes, clogs, slippers, boots, ballet flats, sneakers and flip flops. It uses unique technology that was created by British biomechanists. It's called a triple-density Microwobbleboard midsole. The purpose of this feature is to help provide comfort, diffuse underfoot pressure, relieve back and leg pain, and help tone the thighs, calves and buttocks when you walk.
It appears that Fitflop sneakers first emerged back in 2007. The founder of this company is Marcia Kilgore. There are distributors available in several parts of the world, and these shoes can be purchased through online dealers like Amazon. Also, there is a 28-day return policy presented on the official website, but read on…
Joint Pains – "Concerned At All?"
One concern we have is with Fitflops side effects. According to our Research Editor, "This footwear can cause some aches and pains, which is ironic. Some customers have reported knee and joint discomfort, leg pains, sore feet and even backaches."
One user stated, "Wearing Fitflops seems to be causing serious knee and leg pain."
On the other hand, a different customer reported, "They are pretty comfortable overall. However, Fitflops seem to run small. Be aware."
"Not so sure about alleviating back pains. However, the sandals are comfortable," posted another.
Scroll below for one of the best products we've seen over the last year.
Negative User Reviews – "Uh Oh"
We certainly found some discouraging customer comments posted online for Fitflop sneakers. In fact, one person mentioned, "The strap breaks easily. It got ripped easily. Not happy."
However, someone else stated, "So far so good. I purchased several pairs of Fitflops. Satisfied so far."
Another individual said, "Not the best looking shoe to say the least. However, they seem to offer good support."
According to our research, if there's a specific aspect of a fitness product that is especially troublesome (joint issues, negative user reviews, high price) the likelihood of long-term success is slim. This means if Fitflop trainers do in fact cause aches and pains in a lot of people, this could be a real dilemma.
The Science – "Solid?"
First off, we did find some science presented on the official website regarding Fitflops technology. However, there are no actual clinical studies provided. At DietSpotlight, we like to see some solid research that supports the product we're investigating and this company failed to provide that.
The Bottom Line – Do Fitflops Work?
So, should you spend your hard-earned money on a pair of Fitflop shoes? Well, we like that there are all sorts of styles available for both women and men alike. We also appreciate that it's easy to purchase this footwear online. Then again, we have some reservations because we could not find any actual clinical research. Also, we're concerned about the aches and pains that some customers have experienced.
If you really want to boost metabolism and spark fat loss, we recommend you go with a product that's supported by documented research, is backed by encouraging user reviews and does not cause any aches or pains.
Among the best products we've seen in 2016 is one called Leptigen. This formula offers four ingredients, which are shown to help increase metabolism while boosting fat loss. We have not discovered any user complaints at all, and customer comments posted on the web indicate people are seeing real results.
The makers of Leptigen are so confident in their product they're offering every customer a Special Trial Offer.