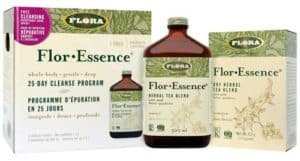 If you want the bottom line on Flor Essence, give me just two minutes of your time. We conducted a thorough investigation, scrutinizing the side effects, ingredients, scientific research and level of customer care. Plus we took a look at countless user comments and reviews from around the web. At last, we compressed all of the facts and details we discovered to give you the information you actually need.
EDITOR'S TIP:
Combine Flor Essence with a proven fat burner such as
Leptigen
for better results.
What You Need To Know
To start, Flor Essence ingredients are purified water, burdock root, sheep sorrel, slippery elm bark, watercress, Turkish rhubarb, kelp, blessed thistle, and red clover blossom. This is a liquid formula that is marketed at women and men alike. It's intended to boost immune system health, support proper digestion, cleanse the colon and detoxify the body. It is touted as gentle and may help flush out unwanted toxins and impurities. To use this product, you simply add two ounces to an equal amount of water. It should be consumed twice daily.
From what we gathered, Flor Essence has been around since at least 2006 and made by Flora. A single bottle provides 16 servings. Furthermore, this product does not contain any caffeine or preservatives. It's also free of gluten, sugar and artificial colors, but read on…
Side Effects – "A Consideration?"
The first negative we had was with some Flor Essence side effects. According to our Research Editor, "Some customers have complained of adverse reactions. These include nausea, diarrhea, dizziness, headache, constipation and even allergic reactions."
One person reported, "It gave me diarrhea, and did not help. I had high hopes, but would not recommend."
However, not all users experienced adverse effects. One customer stated, "No side effects for me. Just a gentle cleanse."
"The taste isn't too bad, but I'm not sure that it's working," mentioned another.
Scroll below for one of the best products we've seen over the last year.
No Real Results – "Uh Oh"
Unfortunately several customers have complained of no real cleansing results from Flor Essence. In fact, one user said, "It did nothing for me. Just after I finished my bottle, I actually fell ill with a huge cold. I did not feel any difference in my health, digestion, or anything measurable. Waste of money."
Then again, a different customer posted, "Works to some degree. But I can't handle the flavor."
Another commented, "I don't know if the product is working for me or not because I feel just the same."
Our research has revealed that if there's a certain part of a diet supplement or cleansing product that is especially bothersome or concerning (side effects, no real results, low Amazon star rating) the probability of long-term success is rather low. In other words, if Flor Essence does fail to produce actual cleansing results in a lot of people, this could be a deal breaker.
The Science – "Is It Solid?"
Here at DietSpotlight, we prefer to see some actual research that supports the product we're looking into. As for Flor Essence, we did not locate any solid studies that back up this cleansing tea formula's marketing claims. Therefore we only see a big red flag.
The Bottom Line: Does Flor Essence Work?
So, should you race out to the store and purchase Flor Essence? Well, to begin, we like that this product is free of common allergens. Furthermore, it's good to see that this cleansing supplement is easily added to water. But we have some reservations about this tea because it's not actually backed by any real science. Moreover, we're concerned about the side effects some customers have experienced.
If your goal is to slim down and shed more pounds, then we suggest you select a product that contains clinically-tested ingredients for weight-loss, does not lead to any unpleasant side effects and is supported by all sorts of encouraging user reviews.
Among the best products we've seen in 2016 is one called Leptigen. Its formula is a unique combination of four ingredients, which have been shown in published clinical studies to help accelerate fat loss and kick-start metabolism. Also, we can't find any negative user feedback online, and comments around the web express people are seeing wonderful results.
The makers of Leptigen are so excited about their product they're offering a Special Trial Offer, which is very reassuring.