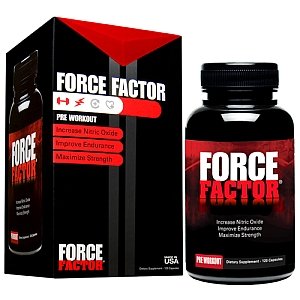 I recently started hearing a lot of buzz surrounding Force Factor, a dietary supplement that supposedly builds lean muscle quickly. Its claims sounded too good to be true, so we decided to do an in-depth review of the ingredients, side effects, clinical research, and customer service. We even read through every forum we could find to see what people are saying. Finally, we condensed it all to give you the info you need.
EDITOR'S TIP:
Click here
to combine Force Factor with a proven testosterone booster such as Pronabolin for better results.
What is Force Factor?
Let's jump right in: Force Factor's headlining ingredient is "Advanced 3x Nitric Oxide Booster," which is composed of A-AKG, A-KIC, and L Arginine Monohydrate. The "Advanced Nutrient Delivery System" rounds out the supplement, and it includes Calcium Phosphate and L-Citrulline. Each container comes with 30 servings, most of which are taken on workout days. When used as instructed, the formula is supposed to build lean muscle, promote endurance and maximize strength.
Force Factor is a Cambridge, MA-based product that came into existence in 2009. It was founded by two Harvard rowers, but the facts surrounding the company's founding isn't available. You can order online via the official website. We like the ease of use, and the formula for nutrient delivery seems original and interesting, but read on…
A Concern – "Is the 'Free Trial' Really Free?"
First off, after looking through a series of online reviews, it looks like Force Factor uses its "Try It Now" option to get people signed up for recurring shipments–all without users knowing. "No matter how interesting a dietary supplement may be, tricking people who are willing to try your product is not a good business practice," said our Research Editor.
"I received the small sample, and then they sent me a month's supply. I never acknowledged a full bottle or even accepted the credit card charge," one user claims.
He wasn't the only one. "I just ordered a free sample. After that, why are you people deducting money from my account and sending me Force Factor every month? I didn't order anything," said another. Confusion over the auto-shipping from Force Factor seemed to be a recurring theme.
Scroll below for one of the best products we've seen over the last year.
Side Effects – "Does it Cause More than it Claims?"
Besides the annoyance over shady business practices, the formula doesn't always dish out the great results it promises. In fact, many users claimed to have Force Factor side effects. "I regret taking this product because of the side effects that show up as follows; inner ear problems, vertigo, joint problems like carpal tunnel, stomach problems and the fun one when you first start a high dose then stop."
"My blood pressure went out of whack," said another. "So I'm not going to be taking it anymore. I didn't feel it do any good."
"It doesn't make any real difference in workouts at all," said a third reviewer.
We've noticed that even a small side effect can hinder a supplement's long-term success; users simply don't want to put up with reactions or a lack of results. Furthermore, if Force Factor is making returns and auto-shipments a pain to deal with, customers would probably be better off looking elsewhere.
What Does the Science Have to Say?
The NIH features many articles discussing the benefits of Nitric Oxide, but we can't find any published clinical studies supporting Force Factor itself. The website claims that the supplement has been clinically studied, but why wouldn't they mention the institution or individuals involved in the research? Without any verification, it's hard to support a proprietary blend of ingredients that costs $60/month.
The Bottom Line – Does Force Factor Work?
I've reviewed a lot of supplements, and Force Factor initially had me interested with it's approach to lean muscle building. It seems to avoid many cliche ingredients, and it's easy to use. The shady use of auto-shipping doesn't sit well, though, and some of the side effects mentioned online should be discussed on the website.
If you're still in the market for a supplement that will promote lean muscle, there are options out there that have more scientific backing than Force Factor and fewer side effects.
Among the best products we've seen in 2016 is one called Pronabolin. A supplement made from a proprietary blend of nine powerful ingredients. These ingredients have been shown, via clinical testing, to support testosterone production and muscle growth and we can't find talk of harmful side effects online. Better yet, the online reviews look great.
For the time being, there are multiple-bottle discounts and a 120-day money-back guarantee: this is a company that stands by its product.