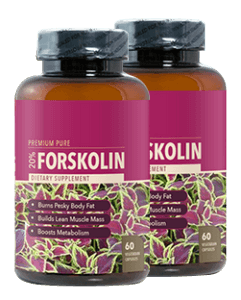 There has been plenty of talk lately about Forskolin supplements for weight loss, so we conducted an in-depth review, examining the side effects, ingredients, clinical studies and customer-service quality. Moreover, we took a close look at numerous user reviews and dieter responses from all over the internet. We then compressed all of the facts and details to give you the bottom line.
EDITOR'S TIP:
Substitute Forskolin with a proven fat burner such as
Leptigen
for better results.
What You Need To Know
Forskolin is essentially a chemical that comes from the roots of the Coleus Forskolii plant. This natural extract has been used for many centuries to treat conditions such as high blood pressure, respiratory disorders and heart problems. Nowadays Forskolin is commonly used in weight loss supplements sold online and in major supplement shops. These diet products often sell for around $20 to $40 per bottle. They typically provide 100-300 milligrams of Forskolin per serving. Put simply, these supplements are claimed to promote fat loss and aid with weight reduction. Stored fat cells are broken down and lean muscle tissue is supported. Some of these supplements even claim to boost energy levels.
Forskolin weight loss supplements have become quite common in the last five years. Most of these products are readily available for purchase on websites such as Amazon, and some of them are sold with a satisfaction guarantee, but read on…
Fad Diet Ingredient!
"Sadly Forskolin is one of several fad weight loss ingredients that is not supported by real clinical research or science. While this natural plant extract appears to be safe for the most part, it has not been proven to help with fat loss, appetite suppression or increased energy levels," says our Research Editor.
According to one customer, "I have taken Forskolin for three months (3 bottles) and have not lost an ounce."
"This stuff does not work. I have used this religiously for a month with a modified food plan and got nothing. I feel it's a big marketing scheme, and not worth the money," said another user.
Scroll below for one of the best products we've seen in 2015.
No Real Clinical Studies
The lack of real scientific research regarding Forskolin supplements should not be overlooked. Just take a look at what this dieter said, "After 1 week of using product, I gained 2 lbs and then found that in a separate study also published in 2005 and available free online that investigated the effects of forskolin on 23 female subjects, the researchers
found that their results suggest that forskolin does not appear to promote weight loss― but in fact, actually promotes weight gain in overweight females."
Another user commented, "Couldn't tell it did anything for me."
Our extensive research has revealed if there is a certain part of a weight loss formula or diet program that is quite bothersome (fad diet ingredients, lack of real clinical studies, a difficult exercise) the odds of prolonged fat loss are not good. Therefore if Forskolin supplements do fail to yield real weight loss results in numerous dieters, this could be a serious dilemma.
The Science
There is some clinical research that has been done with Forskolin. However, these studies have shown that Forskolin may help with heart conditions and asthma. On the other hand, there is no scientific research linking this plant ingredient to fat loss or weight reduction. Here at DietSpotlight, we prefer to see documented science that associates the diet product with weight loss or we cannot get behind the supplement.
The Bottom Line
We are glad to see that Forskolin may help with heart problems and asthma, but it's clear that this plant extract has not been proven to aid with fat loss. Even though these diet supplements are very easy to come by online, we do not recommend Forskolin if you are serious about real weight loss. There are certainly more promising diet products available to consider.
Those who need to see faster results and slim down now, we advise you to choose a diet supplement that uses clinically proven ingredients and is backed by plenty of positive user reviews.
One of the finest diet products we've seen in 2015 is Leptigen. This supplement offers a unique blend of four key ingredients, which are proven in published scientific research to help speed up fat loss and kick-start metabolism. Also, we have not located any complaints regarding side effects and customer comments found online indicate people are seeing excellent results.
Also, the makers of Leptigen are so confident in their product they're offering a special trial offer, which is a good sign.