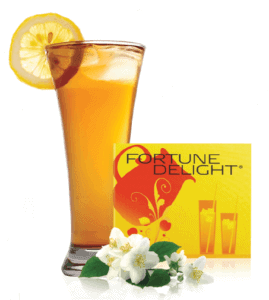 I paused before I hit the "publish" button on this one, because my conclusion was a bit of a shocker. We at DietSpotlight did one of our in-depth reviews on Fortune Delight, looking closely at the ingredients, side effects, clinical studies and customer-service quality. Plus we read numerous user remarks and comments from around the web. At last, we compressed all of the information to give you the important facts and details.
What is Fortune Delight?
To begin with, Fortune Delight ingredients include camellia extract, antioxidants, jasmine extract, lalang grass root, chrysanthemum flower and natural juice. This tea is boasted as a concentrated herbal beverage that helps combat free radicals, enhance energy and alertness, and support weight management. It comes in flavors such as cinnamon, raspberry, peach, lemon or regular. You simply add one bag to eight ounces of warm water and it dissolves instantly. This product can be consumed in place of coffee, tea, energy drinks and sodas.
The company that makes Fortune Delight is Sunrider International. This brand offers several other herbal teas and supplements as well. You can easily purchase it through Amazon. It does not contain any artificial sweeteners or preservatives. Also, there are some helpful customer reviews and comments posted online, but read on…
Unpleasant Taste – "Can You Handle It?"
The first issue we have is with the unpleasant taste. "After browsing through numerous customer comments regarding Fortune Delight tea, it's clear that some users do not like the actual flavor of this herbal diet beverage," mentioned our Research Editor.
One customer stated, "Not good. Very artificially flavored. Tastes like fake peaches to me."
On the other hand, a different person posted, "Not too bad. Been drinking this in the morning in place of my usual coffee."
Another revealed, "Not sure about the weight-loss at this point. I like that it has antioxidants."
Scroll below for one of the best products we've seen over the last year.
Minimal Results – "Uh Oh"
There are some customer complaints about minimal results from Fortune Delight tea. In fact, one user reported, "Not seeing any fat loss from this herbal tea. I feel like this is all hype."
But, a different person had this to say, "Just started drinking this yesterday. So far no Fortune Delight side effects, but not sure I will stick with it. Has an odd taste."
"It's like many other herbal teas you buy at the grocery store. Nothing really unique or amazing," posted another.
According to our research, if there is some particular aspect of a diet tea or weight-loss product that is especially problematic (unpleasant taste, minimal results, side effects) the odds of long-term success are not very good. So, if Fortune Delight tea does in fact taste bad to a lot of people, this could in fact be a deal breaker.
The Science – "Find Any At All?"
We at DietSpotlight need to see some published research that backs up the diet product we're reviewing. Sadly, we could not pinpoint any real science that supports Fortune Delight herbal tea and its weight-loss claims. On the other hand, this product does provide antioxidants, which may boost immune system health.
The Bottom Line – Does Fortune Delight Work?
Now the moment you've been waiting for. Here is our bottom line on Fortune Delight. First off, we like that this tea contains herbal ingredients and it does provide some antioxidant protection against free radicals. However, we have some doubts because it's not backed by any solid science in regards to weight management. Furthermore, we're concerned about the less-than-savory taste that some users have mentioned.
If you want to get started shedding excess pounds, then we suggest you go with a product that contains clinically tested ingredients, does not have an unpleasant taste and is supported by encouraging user testimonials.
Among the best products we've seen in 2016 is one called Leptigen. Its formula is a unique and potent blend of four ingredients, which have been shown in published clinical research to help improve fat loss and boost metabolism. We can't find any negative user reviews, customer comments around the web indicate people are seeing excellent results and there's no taste to worry about.
The makers of Leptigen are so certain of their product they're offering a Special Trial Offer, which is a good sign.