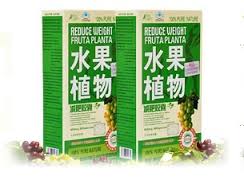 We've heard a lot of talk about Fruta Planta, so we did one of our in-depth reviews, looking closely at the ingredients, scientific research, and customer service. Plus, we read hundreds of testimonials and user reviews from all over the Internet. Then, we summarized and condensed it all to give you the info you need.
EDITOR'S TIP:
Combine Fruta Planta with a proven fat burner such as
Leptigen
for better results.
What You Need to Know
First off, Fruta Planta is a Chinese weight loss supplement that claims to help you lose weight by improving digestion. It contains: lemon, bitter melon, papaya, mangosteen (benefit fruit?) spirulina maxima, and fruit gum. As best we can tell, you're supposed to take a single capsule once per day, with a large glass of water.
We don't know who the company is behind this supplement, or how long they've been in business. We like the company's natural ingredients, but read on…
FDA Issued a Warning About the Product
Fruta Planta At first glance appears to be an all-natural supplement, as the ingredients are listed on the company's official website. However, the FDA has warned against using the supplement and others like it, because many Chinese weight loss supplements contain sibutramine, not listed on the label. This drug has been removed from the market for safety reasons. It is a harmful stimulant.
"Since you cannot be sure Fruta Planta does not have this ingredient in it, it is wise to avoid it." said our Research Editor.
"Did not work. I didn't lose weight at all" said one user.
Scroll below for one of the best products we've seen in 2015.
Negative Side Effects
Even though the formula is supposed to be all-natural, if it does indeed contain the harmful ingredient, it's no wonder we saw so many reports of negative side effects. Many people reported stomach pains, dehydrated and matter how much water they drink, and extreme constipation.
One user said, "I am extremely disappointed and if I could leave no stars I would. I have tried contacting the seller to get a refund or a replacement and no one has responded to me."
"Terrible product, it made me really sick!" said another.
Our research indicates that if there's part of a diet program that's difficult, like the harsh side effects, then users will not likely stick to the program long-term..
The Science
We were not able to find science on many of the ingredients in this formula. However, the science we did find on the spirulina ingredient actually showed it promoted weight gain, which is not what we want to see from a weight loss supplement.
The Bottom Line
We were looking forward to reviewing Fruta Planta because it appeared to be a solid company. We were disappointed to see a number of complaints about the products doing nothing to promote weight loss, and in some instances, causing some potentially harmful side effects.
If you'd like to lose weight, we recommend choosing a supplement that gives you safe and effective ingredients, and value for your money.
Among the best products we've seen so far in 2015 is Leptigen. It is made with a proprietary blend of four clinically proven ingredients known to help increase metabolism and fat burning power. Over the course of our research, we weren't able to find negative comments about the product or side effects, suggesting that users are seeing solid results.
We're thrilled to see the makers of Leptigen are so confident in their product they're giving new customers a special trial offer.