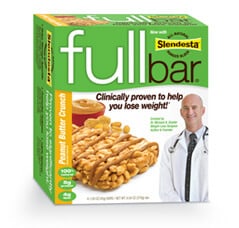 We've heard a lot of buzz about Fullbar, now known as beFullSolution, so we conducted one of our comprehensive reviews, looking closely at the ingredients, side effects, clinical research and customer service. Plus, we read hundreds of comments from across the web. Then, we summarized and condensed it all to give you the info you need.
What You Need to Know
First of all, Fullbar is a dietary supplement created by Dr. Schneider, a general surgeon who performs bariatric surgeries. His work in the field led him to create a solution to help those who wanted to lose weight without resorting to surgical procedures. It is similar to surgery in that it fills the stomach so dieters can eat less at meals. You simply eat a snack bar half an hour before meals, twice a day. These are made up of basic food ingredients and don't include any effective fat burners or appetite suppressants. You can choose from cranberry almond, cocoa chip, apple crisp, peanut butter crunch, fresh berry bliss and zesty lemon lime.
The official website does not provide any information about when the company was founded or how long they've been in business. Under the new name, all we could find was a basic YouTube channel. We like the how simple the bars are, but read on…
Ingredients – "Nothing Proven?"
The first issue with Fullbar ingredients is that none are clinically proven to boost weight-loss. Because there are no fat burners or appetite suppressant in any of these bars, we have no reason to believe that this snack bar will help you eat any less than any other product on the market today. "Other than the flavor choices, there is not much that differentiates Fullbar from other snack is available on the market today," said our Research Editor.
"These tasted ok, not great. The texture was weird. A whole bar with 24 ounces of water left me hungrier than I was before I ate it. I ended up giving the half of the box left over to a friend," said one user.
Scroll below for one of the best products we've seen over the last year.
Results – "Not Really"
Just because the official website promises you will feel fuller, does not mean that's what happened when dieters tried the product. One user said, "Oh Please this item really has no taste it like eating stale Styrofoam covered with chocolate …stale Styrofoam! Yuck!"
"They are small. I don't get full. They taste alright, but I can make something like this that makes me fuller and is healthier for me." said another.
Our research indicates that if there's part of a diet program that's difficult, like the taste of the product, it is harder for users to maintain long-term use.
The Science – "Clinical Evidence?"
Science shows that if our stomach is full of something else, like fiber and water,, we are bound to be less when we sit down at a full meal. However, there is nothing about this bar that is clinically proven and without that, we don't think dieters will be sold on this one.
The Bottom Line – Does Fullbar Work?
Should we throw every Fullbar into our shopping cart? We were initially excited to review Fullbar, because it appeared to be a solid company. We were disappointed to see a number of complaints about product taste and pricing as well as complaints about it not helping with weight-loss.
If you'd like to shed some pounds, we recommend choosing a supplement that gives you safe and effective ingredients, clinical support and value for your money.
Among the best products we've seen in 2016 is one called Leptigen. It is made with a unique blend of four clinically proven ingredients designed to help boost metabolism and fat loss. As we searched the web, we were unable to find any negative comments about side effects. Dieters are talking about the great results they are seeing.
An added bonus? The makers of Leptigen are so confident in their product they're giving new customers a Special Trial Offer, which is a good sign.